"Crying wolf," is what a leading climate change activist and former NASA scientist is doing with his "exaggerated" comments, said Canada's Natural Resources Minister Joe Oliver Wednesday.
Oliver took aim at scientist James Hansen, a vocal opponent of developing the oilsands in western Canada. Hansen has written that "if Canada proceeds [with oilsands development], and we do nothing, it will be game over for the climate."
Oliver was in Washington, D.C. to rally support for the Keystone XL pipeline which would bring bitumen from western Canada to the U.S. for refining. There have been several protests against the pipeline.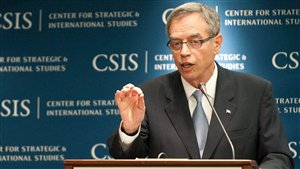 Oliver said when a source of energy represents 1/1000th of global emissions, "to say it's the end of the planet if that's developed is nonsense."
He added that "crying wolf all the time" does not advance the serious debate.
The Environmental Protection Agency in the U.S. recently urged the State Department to conduct a more thorough analysis of oil spill risks and alternative pipeline routes, as well as greenhouse gas emissions associated with the $7 billion pipeline. A draft report in March said the project would not create significant environmental impacts.
Meanwhile Oliver said that oilsands development will continue, whether the Keystone pipeline is approved or not.