A decade ago, some children's dentists in Canad were told they someday might be out of a job  as dental health improved.  That's certainly not the case.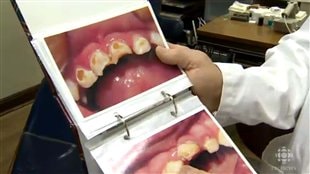 A new report from the Canadian Institute for Health Information looked at preventable dental caries (cavities) in children under age six.
Surprisingly it found about 1 in 100 preschoolers needed fairly major day surgery during the period 2010-11, and 2011-12. This included needing general anesthesia. That's 19,000 preschoolers a year.
This is the first report of its kind so it's not certain whether figures are going up or down, but Dr. Elliot Schwarz says he's busier than ever.
The problem is especially serious among poor, aboriginal and rural sectors of society.
The dentists say bad oral health also leads to other health problems resulting in increased illnesses and missed school.
Too much sugar is part of the problem but so is the attack on fluoridation of municipal water supply.
Dr. Schwarz says, "taking fluoride out, to dentists this is crazy. It prevents cavities".
The Canadian Dental Association recommends that infants see a dentist within six months of getting their first tooth or by one year of age, followed by a dental exam every six months to catch small problems early.
Elliot Schwarz's book of bad smiles