Canadians are being urged to give up using their credit card one day every week by the Canadian Federation of Independent Business. Small businesses have protested the fact that they have to pay two to three-and-a-half per cent on purchases made by credit card and much more if premium credit cards are used.
Purchases made with a debit card, whereby money is directly taken from a person's account, only cost the merchant five cents per transaction.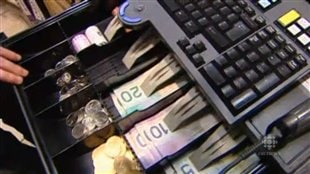 Merchants pay billions in credit card fees
"Small businesses are finding it increasingly challenging to absorb the high fees they are charged by the credit card companies and banks," said Dan Kelly, president of the federation. "Very few consumers know that five to seven billion dollars each year in credit card processing fees is embedded in the cost of everything they buy."
Canadians had a collective credit card debt of close to $74 billion in November 2012. That's more than $2,000 per capita and another good reason to forgo use of credit for one day a week, said Kelly. If consumers pay cash or debit, it can force them to consider the financial impact of each purchase.