Reliving the Rwandan genocide and the recent suicides of three Afghan war veterans have made sleep difficult for retired Lieutenant-General Roméo Dallaire and that, he says, caused him to nod off while driving to work.   Dallaire, now a senator, was unhurt in the accident.
"I fell asleep at the wheel and crashed into the barrier near the East Block (on Parliament Hill) with my car. I am very thankful that nobody was injured or worse," Dallaire told the Senate.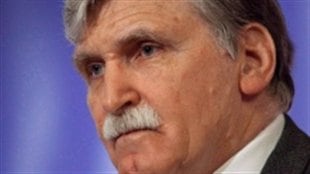 Haunted by the Rwandan genocide
Dallaire said he is still battling post-traumatic stress disorder two decades after heading the UN peacekeeping mission in Rwanda during the 1994 genocide. At the time he had asked the UN for reinforcements that never came and he was unable to intervene in the massacre. The 20th anniversary of the genocide will be in April 2014.
Books raise awareness of military stress
Dallaire has written two books about his experiences and his resulting depression and suicide attempt, drawing attention to the stress suffered by armed forces personnel.
Dallaire is an Officer of the Order of Canada and has received other awards in honour of his military service.