The 4th annual Canadian Whisky Awards event has been held in Victoria British Columbia. and announced the winners Thursday evening at the Victoria Whisky Festival.
There's a fascination and mystique around whisky. There are websites, forums, magazines, newspaper columns all devoted to uisge beattha-lively water, or water of life, along with mentions or featured in hundreds of movies.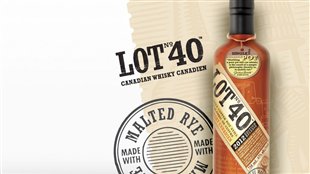 While countries that produce whisky (or whiskey in Ireland and the US) all have their unique traditions and flavours, and there are annual competitions for the best whiskies.
For its part, Canada is a well-known and long-time producer of quality whiskies with the tradition going back well before Canada was even officially a country.
Following a blind taste testing, the nine whisky experts judged Corby's Lot No.40  as being the best Canadian whisky overall for 2013.
Corby's lot 40 is distilled at the Hiram-Walker Distillery in Windsor, Ontario
Other top winners in a variety of categories include Alberta Premium Dark Horse, Forty Creek Heart of Gold, Masterson's Straight Rye Whiskey, Wiser's Red Letter, and Crown Royal Black.
Judging chairman Davin de Kergommeaux noted that Interest in Canadian whisky is growing tremendously.
He says, "Export sales of Canadian whisky world-wide were up by nearly 25% in 2013, and the upward trend continues. Canadian whisky producers are stepping up to the plate with new high-end releases. More small batch and top-end deluxe whiskies are available now than ever before."
The Canadian Whisky Awards recognize the very best Canadian whiskies and encourage distillers to maintain the highest standards for making whisky. To qualify, whiskies must be distilled and matured in Canada. An independent panel of whisky writers, bloggers, and journalists selects the winners after tasting each whisky blind. Operated on a not-for-profit basis, the Canadian Whisky Awards are fully independent of the Canadian whisky industry.
As to the quality of Canadian whisky, in 2011 Wiser's Legacy came in second in the annual World Whisky Awards in London England.