It's the longest extreme sport of its kind in the world and definitely not for the faint of heart.
Its a 3,000 kilometre long snowmobile rally called Cain's Quest which travels through the wilderness and arctic-like conditions of Labrador in winter.
This year 30 teams set off from Labrador City on March 1 in hopes of winning the $100,000 purse.
It's extremely tough on man and machine and every year a number of team's have to abandon.
In fact, due to the extreme cold this year, the original route has had to be changed, and 15 teams have pulled out due to accidents or breakdowns.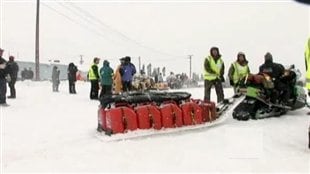 Racers are being rerouted back along the coast instead of through the interior to Churchill Falls where the overnight temperature was -21c with windchill at -31C
Windchills across much of Labrador today are around -25 C