Canada's national parks service is sending 83 bison to the American Prairie Reserve in the U.S. state of Montana. This is the third transfer of the shaggy herd animals that used to roam the prairie lands in the heart of North America by the millions, and then almost went extinct.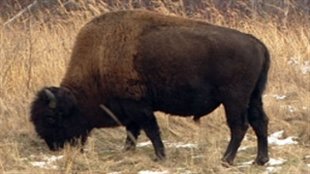 Aboriginal groups depended on the bison, but once Europeans arrived there was stiff competition for animals' skins and millions were killed. In addition, settlers turned vast tracts of grassland into farms. What the hunting and habitat destruction didn't kill, disease did.
Canada has worked hard to bring back the bison, sheltering them in national parks and raising public awareness. It's estimated there were 500,000 bison remaining in North America in 2012.