Anti-depressants have become widely used in our society, and very helpful in most cases. However, a new study may point to some concerns with patients getting dental implants and also taking common anti-depressants of the family of  Selective Serotonin Reuptake Inhibitors or SSRIs.
Dr Faleh Tamimi is an assistant professor in the School of Dentistry at McGill University in Montreal. He led the research which discovered the concern that the drugs may increase the likelihood of failure of dental implants
Listen
Dr Tamimi says he began to think about the effect that these common SSRIs may have on implants based on other research showing the anti-depressants can lead to more brittle bones and inhibit bone regrowth.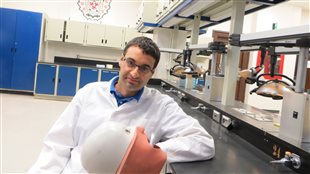 Dental implants require strong jaw bones and that the bone grows back around the screw anchor of the implant in order to solidify the implant.
The team's study was published  in the Journal of Dental Research
He says the team began looking back over the records of dental implants done over a six-year period, between 2007 – 2013, in a clinic in Moncton, New Brunswick. Follow-ups took place with the patients between three and 67 months after the implant was done to see whether it had been successful.
Dr Faleh says they were surprised by the results which indicated a strong negative result among dental implant patients taking the anti-depressants
Results of 916 dental implants done on 490 patients
| | | | | | |
| --- | --- | --- | --- | --- | --- |
| | Number of patients | Number of implants | Successful implants | Implant failures | Failures as a percentage of total implants done |
| Patients not taking SSRIs | 439 | 822 | 784 | 38 | 4.62% |
| Patients taking SSRIs | 51 | 94 | 84 | 10 | 10.64% |
Dr Faleh notes that the study was based on data collected after the implants had been done rather than through interviews with incoming patients, thus it was not possible to determine the kind of SSRI dosage that could have this effect.
He says this reearch does not mean that patients taking SSRI anti-depressants should stop, but rather that they should consult with the dental surgeon and their medical doctors for the best advice.
He notes that this applies to other procedures as well such as hip or knee replacements.
He says the research to date is not conclusive but does indicate an area of concern and a need for further research in this area. His team has already begun a new round of study using implants in lab rats, and says so far, the results seem to confirm the concerns indicated in this recently published research.