Sixteen people overdosed in the western city of Vancouver yesterday and police think the drug fentanyl was involved. They suspect victims thought they were taking heroin and didn't know it contained other toxic chemicals.
Deaths involving fentanyl have shot up in the past few years. The drug is an opioid one hundred times more potent than morphine. It is prescribed as a time-release patch for people in severe, chronic pain such as that suffered by cancer patients.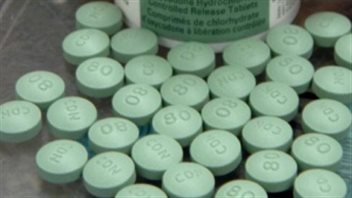 Users often don't know what they're getting
Drug dealers sometimes extract fentanyl from the patches and add it to other substances. Sometimes people cut up the patches and chew pieces. Police also suspect fentanyl is being made in China and possibly Turkey, and trafficked along a traditional underground route that used to supply ecstasy in 2012.
Health experts say users often don't know what they're getting when they buy drugs on the street. If they are not habituated to fentanyl, a small amount can cause them to become drowsy and stop breathing.
Opioid consumption high in Canada
The consumption rates of prescription opioids in Canada are among the highest in the world, according to a recent study. In 2010-13, doctors dispensed nearly 16 per cent for fentanyl prescriptions.
'A disaster' says pharmacists' official
Last year, 300 people died from illegal drug overdoses in the western province of British Columbia, according to a coroner's report. It appears 25 per cent of the deaths involved fentanyl. That proportion was up from five per cent three years earlier.
In neighbouring Alberta, 120 people died last year after taking fentanyl, compared to six in 2011. And it's not just hard-core drug addicts who are dying. Students have succumbed and recently a middle-class couple in Vancouver died, leaving behind a 2-year-old son.
"This really is a disaster that's happening right across Canada," says Philip Emberley, the Canadian Pharmacists Association's director of pharmacy innovation. "I don't think any community is actually immune to this at all."
Getting doctors to prescribe fentanyl less is not the answer to the problem, says Tara Gomes, a drug policy researcher and scientist at St. Michael's Hospital in Toronto. Too much of the drug is not from prescriptions.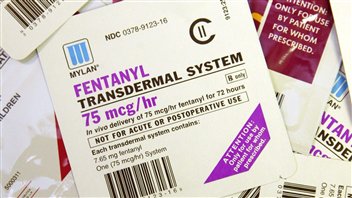 Raising awareness critical, says scientist
She says the better hope is that police have increasing success cracking down on drug traffickers and illicit makers, and making people aware of the lethal danger of taking unknown drugs, "particularly among youth who may be experimenting with this drug recreationally, so that they can become aware that these are dangerous drugs to try and that when purchasing pills that they might think they know…it could be that those pills contain a variety of different drugs in very high doses that can be fatal if used in the wrong person."
Listen