The James Bay Cree Council in Quebec has filed a lawsuit in the Superior Court of Justice in Ontario to obtain title and rights over a vast area in Ontario.
The lawsuit is filed against both the provincial and federal governments and seeks declaration of Cree aboriginal title (on a shared basis with other Aboriginal communities) to some 48,000 sq km of land south of James Bay and west of the Quebec-Ontario boundary. According to the Timmins Daily Press, this is in addition to the 500,000 sq km extending eastward across Quebec into Labrador and north to Nunavut they also have title to and or are claiming as traditional territory.
The lawsuit also seeks $495 million dollars in compensation for past breaches of their rights to this region in Ontario.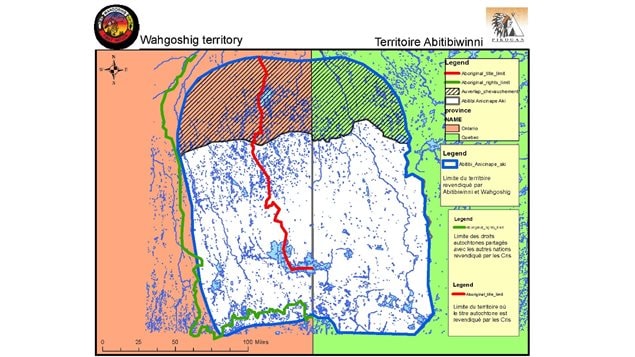 "This action is the latest chapter in the Cree Nation's long struggle to ensure that our pre-existing rights over all of our traditional lands are properly respected", said Grand Chief Dr. Matthew Coon Come, in a Cree press release.
He is the lead representative plaintiff in the lawsuit, and added, "The imposition of the Ontario-Quebec boundary cut through our homeland of Eeyou Istchee. Our people have used, occupied, governed and protected these lands in Ontario since time immemorial, but our rights in these lands have never been addressed in any treaty."
This latest action is the result of a case brought in Federal Court of Canada in 1989, in which the court said claims extending into Ontario had to be brought before the Ontario Superior Court.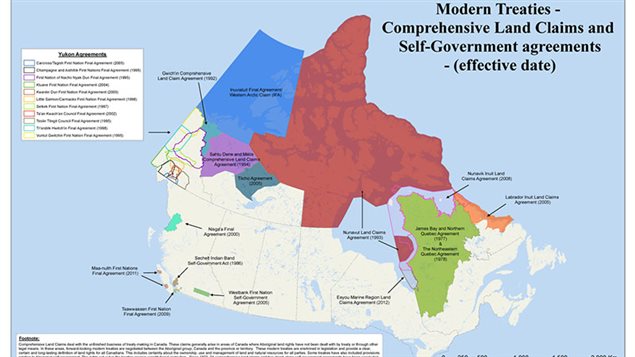 However, an added aspect is the claim of the Quebec Cree overlaps existing land claims of two aboriginal groups in Ontario.
The Wahgoshig and Abitibiwinni and of Ontario say their own claims were recognized by treaties in 1906 and 1908 respectively.
The Wahgoshig First Nation centered near the town of Matheson Ontario, has about 318 resident and non-resident members in a reserve of some 19,239 acres (77sq km).
The Abitibiwinni First Nation is on the other side of the boundary just west of Amos Quebec and has some 1,000 resident and non-resident members.
In a press release issued in response to the Cree lawsuit, David Kistabish, Chief of the Abitibiwinni First Nation said, "Our right to this land has been formally recognized, which makes the initiation of such proceedings all the more shocking. We received no forewarning nor a request to consult on this matter from the Cree authorities prior to them submitting this request".
In the same release  Dave Babin, Chief of the Wahgoshig First Nation said, "It is impossible for us not to react to this threat, and we will use all the means at our disposal to protect our ancestral rights to this land".
The two Ontario groups say they will begin consultations with differing government authorities, but first will consult with the Cree.
additional information-sources