Hundreds of parrots are up for adoption in British Columbia following their removal from a sanctuary where they had lived for years and a rescue operation believed to to be largest of of its kind ever in Canada. 
The birds are now safe and sound following a series of events that began in February when the founder of Vancouver Island's World Parrot Refuge, Wendy Huntbatch, died after 25 years of taking of parrots and cockatoos abandoned by owners and breeders.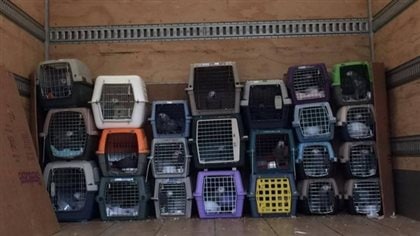 She left no succession plan for the refuge, located about 150 kilometres north of Victoria, nor enough money to keep it going and the refuge faced an Aug. 1 deadline to remove all the parrots, which once numbered more than 900.
Rescue operations were proceeding smoothly until Mrs. Huntbatch's widowed husband got nervous about rescuers damaging the site's infrastructure and temporarily locked the doors.
He relented, and earlier this week the last birds were removed.
They are now being housed at shelters in B.C. with a great number of birds at the Greyhaven Exotic Bird Sanctuary in Surrey, a suburb of Vancouver.
The task now: to find them homes.
Jan Robson is media and education director at Greyhaven.
When she joined me by phone on Friday, I asked her to describe how all this began.
Listen