"in the event the battalion is attacked, there will be NO withdrawal, NO platoons overrun, and NO panics". LCol Jacques Dextraze R22eR
November in Korea 1951 was alternately rainy and snowy. It was bitterly cold, muddy and it was war.
Canadians of the Royal Canadian Regiment (RCR), Princess Patricias Canadian Light Infantry (PPCLI) and the Royal 22nd Regiment (VanDoos) had just been moved into the line about 40 kilometres north of Seoul.
The line, about seven kilometres long, was in the shadow of the American-held Hill 355, also known as Little Gibraltar, due to its height and commanding position, and hill 227.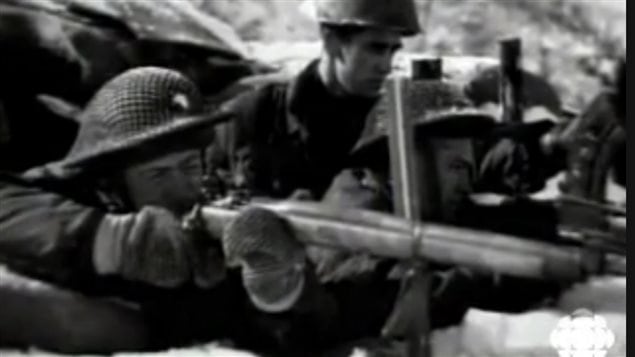 The VanDoos were placed on the flank of 355 between that position and another unoccupied height known as Hill 227
On the night of the 22nd the Chinese began a massive artillery attack against UN positions, notably the Americans on Hill 355, and the VanDoo positions in the saddle between the hills.
On the 23rd, waves of Chinese began their attack. The Canadians soon found themselves surrounded, as the Chinese pushed the Americans off the summit.  D-Company in the forward position fought off four determined attacks in the morning of the 23rd alone.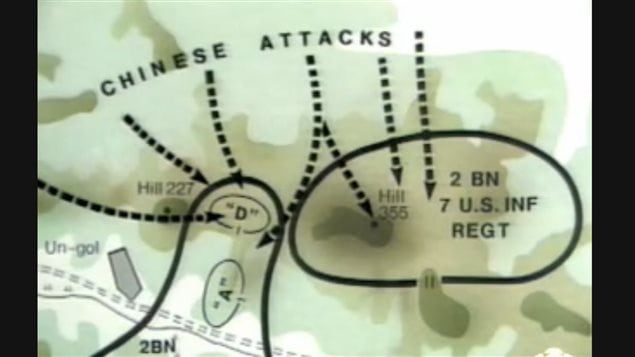 For the next three days the VanDoos held off repeated attacks on their positions as the Americans and Chinese fought for control of 355 amid a never ending hail of Chinese artillery, and defending mortar, tank and artillery fire almost on their own positions.
CBC Archives

During the action, Leo Major, commanding a scout and sniper troop of 18, snuck up on Chinese forces on 227 and chased them off. He and his tiny group armed with their own small 9mm Sten machine guns, then held on through defensive artillery and mortar attacks as two Chinese divisions tried to take back the position. For his actions Major was awarded a bar to his DCM, which had originally been awarded in the Second World War. He became the only Canadian and one of only three soldiers in the British Commonwealth to ever receive the Distinguished Conduct Medal twice in separate wars. Major's action however was only one of several heroic actions by VanDoos as the fought off attack after attack.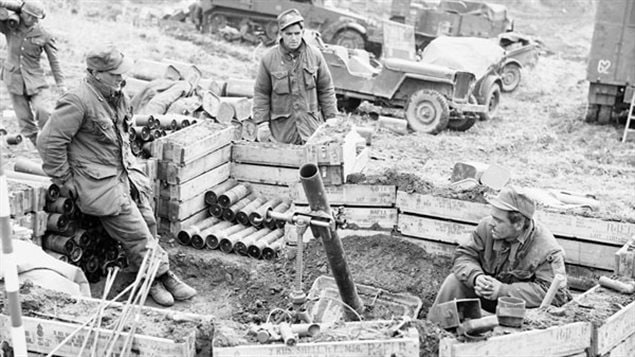 Eventually the Chinese, faced with the unbeatable resistance withdrew on the 26th.
After 96 hours of constant fighting in the cold without sleep and under constant fire, the VanDoos were near exhaustion, but had successfully held against far superior Chinese numbers.
In the end the VanDoos suffered 54 casualties, including 16 killed.
The Canadians held their line at Hill 355 in 1951, but the area would be the scene of further bitter attacks involving Canada's Royal Canadian Regiment (RCR) in October 1952, at which Canadians would again refuse to retreat and thus, held the line.
Additional information-sources