Montreal has always celebrated St. Patrick's Day in a big way with one of the oldest parades in the world.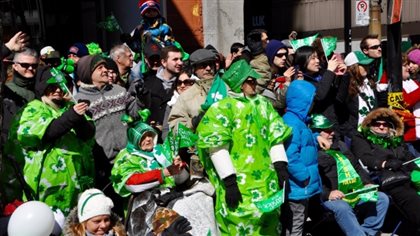 This Sunday will be the 194th edition of the event that brings thousands of Montrealers of all nationalities and backgounds out to celebrate.
The United Irish Societies of Montreal, is the organizer and is coordinating more than 20 floats and several marching bands.
Montreal's Mayor Denis Coderre is the parade's Grand Marshal, allowing him to bask in his Irish heritage in fine style.
Coderre has Irish roots on his maternal grandmother's side, her father, a McCabe came to Canada from County Cavan.
This year's parade may be particularly appreciated as Montreal is still digging out from a massive snow storm that left almost 50 centimetres in its wake, and stranded drivers in cars on an expressway when local authorities did not rise to the occasion.
The weather forecast is calling for a mix of sun and cloud, and a balmy 1 degree celsius. Perfect parade weather!