Canada's foreign affairs minister, Chrystia Freeland, has announced sanctions against 27 high-ranking officials in the Assad regime.
Freeland says the move is part of an effort to put international pressure on Syrian President Bashar Assad to end indiscriminate violence against innocent children, women and men in the war-ravaged country.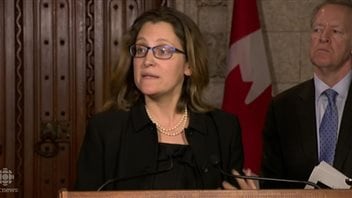 In a statement issued Friday, Freeland says the 27 officials are now subject to an asset freeze and dealings prohibition.
The statement also says Canada is contributing to investigations on the use of chemical weapons and the collection of evidence to support the prosecution of war crimes and crimes against humanity in Syria.
"Last week's chemical weapons attack in southern Idlib is a war crime and is unacceptable," the statement said. "Canada is working with its allies to end the war in Syria and hold those responsible to account."
Canada has committed $1.6 billion to efforts in the region to provide humanitarian, security, stabilization and development
assistance and has welcomed more than 40,000 Syrian refugees to Canada over the past 16 months.
With files from CP, BN and CBC News