Ottawa added its voice to the growing chorus of international condemnation of the latest terrorist attack that killed a police officer and seriously wounded two others as well as a German tourist in the heart of the French capital Thursday evening.
"The Government of Canada condemns the apparent terrorist attack this evening on the Champs-Élysées, and we offer our deepest condolences to the loved ones of the police officer killed and a swift recovery to the two police officers injured," Foreign Affairs Minister Chrystia Freeland said in a statement Thursday. "Canadians stand in solidarity with the people of France."
Canadian officials are in contact with local authorities and stand ready to provide consular assistance to Canadian citizens in Paris if needed, Freeland added.
The so-called Islamic State claimed responsibility for the attack outside a Marks & Spencer's department store at the centre of Paris' most famous boulevard.
Nevertheless, investigators believe at this stage that the gunman, 39-year-old Frenchman Karim Cheurfi, who was shot dead by police after he opened fire on a police van, was acting alone.
Uncertain electoral outcomes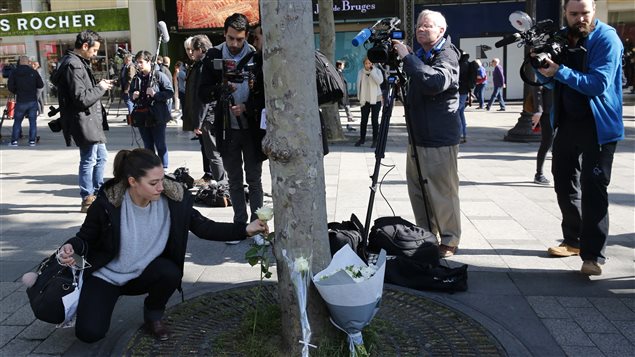 However, the deadly shooting less than 72 hours before the polls open, has introduced another element of uncertainty in an already unpredictable presidential campaign, with leading candidates clashing over how to keep citizens safe.
With the first round of voting in the two-stage election to take place on Sunday, far-right leader Marine Le Pen, an anti-EU politician who wants to reintroduce border controls and take France out of the euro zone, seized on the Paris shooting to push her policies on national security.
Le Pen – narrowly trailing frontrunner Emmanuel Macron in opinion polls – said she would take steps to beat "Islamist terrorism" if elected, including introducing tougher immigration and border controls.
Macron, a former economy minister in the government of the outgoing Socialist President François Hollande, said the solutions were not as simple as Le Pen suggested. Macron, 39, a political novice compared with his opponents, said there "no such thing as zero risk" and anyone who said otherwise was irresponsible.
There are four leading candidates in a race that is still too close to call. Sunday's round of voting will be followed by a second-round runoff on May 7 between the top two candidates.
Macron is in the lead with 24 percent of the first-round vote, ahead of Le Pen who had fallen back slightly to 21.5 percent, according to an Elabe survey of voter intentions taken before the shooting.
Conservative Francois Fillon, a former prime minister, and the far left's Jean-Luc Melenchon were snapping at their heels with 20 and 19.5 percent respectively.
Heightened security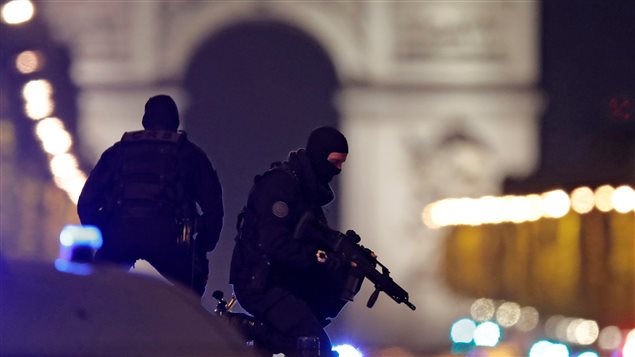 The French government has pulled out all the stops to protect Sunday's vote as the attack deepened France's political divide.
"Nothing must hamper this democratic moment, essential for our country," Prime Minister Bernard Cazeneuve said after a high-level meeting Friday that reviewed the government's already heightened security plans.
Cazeneuve said security forces, including elite units, were on alert to back up the 50,000 police earmarked to ensure citizens' safety during the election.
The attack in Paris comes after French police announced Tuesday that they had foiled an imminent attack leading up to the presidential election, with the arrest of two men in Marseille. Investigators who raided the suspects' apartment in the southern port city found explosives and several weapons, as well as an Islamic State flag.
Paris Prosecutor Francois Molins said at a press conference that the two suspects had met while sharing a prison cell and were known to police as having converted to radical Islam.
With files from The Associated Press and Reuters