It's getting much warmer in the northern hemisphere as hot summer-like weather begins.
People are shedding sweaters and long-sleeve shirts for lighter attire and are exposing more skin to the sun's ultraviolet radiation rays. (UVR).
The title of the map is "Mean ultraviolet radiation for June through August, Canada, 1980 through 1990.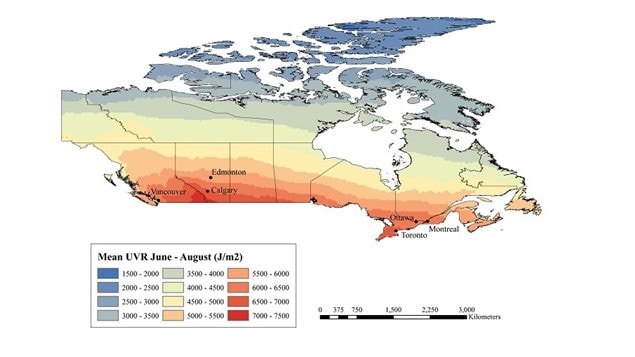 IMAGE ABOVE:  Mean ultraviolet radiation (UVR) across Canada diminishes at progressively higher latitudes. During the 1980-to-1990 period, mean UVR in the summer months (June through August) was in the 7,000 to 7,500 J/m2 range in Canada's most southerly latitudes. By contrast, in the most northerly regions, mean summer-time UVR was in the 1,500 to 2,000 J/m2 range. Significant differences in melanoma hazard ratios were evident between Calgary (6,500 to 7,000 J/m2 range) and Edmonton (5,500 to 6,000 J/m2 range) and between Toronto (6,500 to 7,000 J/m2 range) and Montréal (6,000 to 6,500 J/m2 range)
Two studies have now shown that the rate of skin cancer, melanoma, continues to rise among Canadians.
More men than women, more southerly than northerly
In the first study, 2.6 million Canadian adults aged 25 to 89 who responded to the 1991 Census were followed over an 18-year period for a diagnosis of melanoma skin cancer. Over this time, more cases were identified among men (4,900) than women (3,900).
The risk of skin cancer increased for those living in regions of higher summer UVR exposure. For example, residents of Toronto had a 16% higher risk than residents of Montréal, and residents of Calgary had a 38% higher risk than residents of Edmonton.
Perhaps not surprisingly, those with outdoor professions had a higher incidence of melanoma.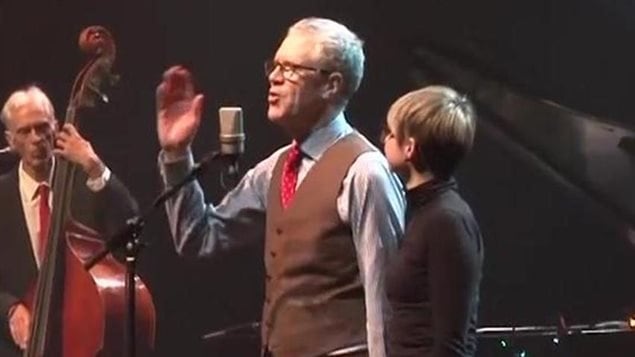 A second study looked at how much time people spent exposed to the sun's peak periods. This involved people 18 years old and up in response to the Coumminuty Health Survey between 2005-2014.
That study showed 41 per cent of Canadians spent less than two hours in the sun between 11 a.m. and 4 p.m., but 17 per cent spent  four hours or more in the sun, with more men than women doing so.
The latest statistic estimated that in 2016:
6,800 Canadians will be diagnosed with melanoma.
1,200 Canadians will die from melanoma.
3,700 men will be diagnosed with melanoma and 770 will die from it.
3,100 women will be diagnosed with melanoma and 440 will die from it.
The Melanoma Network of Canada describes the ABCDE signs to look for and when to head to a doctor:
-Asymmetry —  the shape of one half of a mole on the skin doesn't match the other, so if you imagine folding it in half, the two sides don't line up.
-Border — edges are normally smooth oval or circles. Moles to be concerned about have irregular borders that are notched or blur into the surrounding skin with a ragged, notched or uneven edge.
-Colour — instead of a uniform brown, black or tan, a mix of brown, salmon colour, white and black is something to be concerned about.
-Diameter — watch for a mole over 6 mm or ¼ inch in diameter or changes in size.
-Evolution — changes in size, shape, colour, surface or appearance are especially important to watch. Also check for new growths.
If melanoma is found and treated early, such as with surgery, doctors say chances of survival are excellent.
CBC report 2015- melanoma and moles
Additional information- sources