The government of Canada is proposing changes to its Criminal Code to better protect the victims of sexual assault, to make sure new laws conform to the Charter of Rights and Freedoms and to get rid of some archaic provisions.
The law currently forbids things like challenging someone to a duel, fraudulently pretending to practise witchcraft, creating or dealing in crime comics and issuing trading stamps. These and other obsolete charges would be deleted.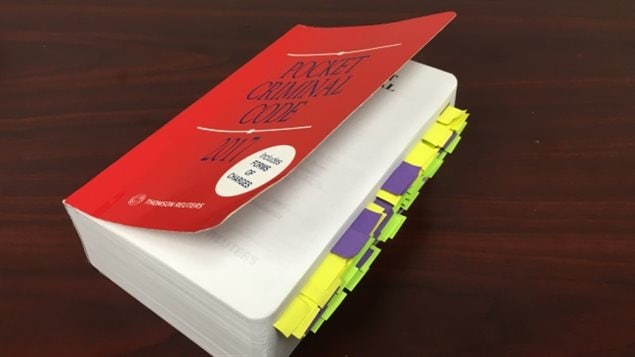 Supreme Court decisions reflected in changes
The revision would write into law decisions made by the Supreme Court that would clarify and strengthen the rights sexual assault complainants. They are already shielded from demands defense lawyers used to make about their sexual history. This protection would be expanded so that lawyers could not delve into their texts, emails or visits with counsellors, psychologists or other professionals.
The revision would confirm that an unconscious person cannot consent to sexual activity. "The issue which had come before the Supreme Court of Canada was that…if a person says 'after I'm unconscious it's okay for you to engage in this kind of sexual activity with me,' actually the law says that doesn't count. You can't give prior consent to sexual activity that will occur after unconsciousness," explains Steve Coughlan, a law professor at Dalhousie University.
Listen
Enhancing respect for charter rights
The changes would also better ensure new laws respect the Charter of Rights and Freedoms. The charter provides constitutional guarantees which are supreme. Currently, the government examines proposed laws internally to make sure they conform with the charter. In future, it would have to table a statement in Parliament showing that proposed legislation conforms.
"It's probably not a bad idea," says Coughlan. "I think if you have to explain publicly the way in which you think you are complying with charter rights you're likely to hold yourself to a higher standard than if you're just doing it privately and in house."
There will likely be vigorous debate over this legislation and amendments made before it becomes law.