Leonard Cohen is looming over Montrealers in a large mural that was recently completed above the city's Boulevard St. Laurent.
Artist Kevin Ledo told CBC News, his nine-storey image "represents the darkness and the energy surrounding Leonard Cohen's later work".
"I've been wanting to paint Leonard Cohen for a few years, and I've been wanting to paint this wall for a few years — I live around the corner — so the two together, I couldn't say no," he said.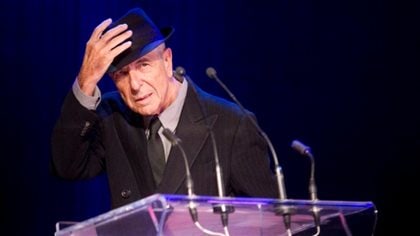 In an interview with CBC Radio's Ainslie MacLellan, Ledo said the experience was a challenge but one of the highlights he described, was when the cherry-picker he was working from descended, and the people gathered below would clap. 
Ledo's "Leonard Cohen mural" is the first of two in Montreal.
The second image will go up on the side wall of a high-rise building on Crescent Street, another well-known commercial street in downtown Montreal.
Meanwhile, an exhibit at the Museum of Contemporary Art, entitled Leonard Cohen — A Crack in Everything opens this fall, on November 9th, a year after Cohen's death was made public.
The show will feature commissioned work by filmmakers, visual artists and musicians including Quebec stars Ariane Moffatt, Jean Leloup and French singer Lou Doillon.
CBC/Radio-Canada is co-creating several original productions for the exhibition as well, and will broadcast some special events and concerts.
Leonard Cohen — A Crack in Everything will run for 123 days, closing on April 9, 2018.
With files from CBC