Bridge, the card game, brought more than 5,000 people to Toronto last week for the North American Bridge Championships.
Montreal-based Steve Merovitz, who teaches the game, was there.
He and his wife, Ellen Moss, took part in the events, at different levels, as Ellen is relatively new to the game.
Listen
He says players came from around the world and the competiton is intense.
"Our Canadians are pretty good; we're not considered number one, but we are considered always a threat to do well"
Steve Merovitz is a "Ruby Life Master" bridge player, a designation that was a recent development, and one that Merovitz self-deprecatingly says, is a long way from the top.
"It would take me five lifetimes to climb that high", he says, adding that he plays for the sheer joy of the game. "What's more important is going out, playing well and enjoying the game."
 "It has, at least for me, an endless fascination"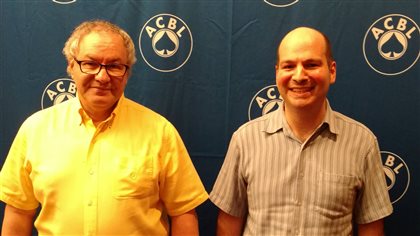 It's an interesting evolution since, as a boy, he couldn't stand the game.
His mother and her sisters and the in-laws would get together and play bridge every Saturday night as he was growing up.
"My mother and her sisters, being of good Polish stock, were extremely feisty girls, and they would yell and scream and argue and it was such chaos there that I just couldn't stand being in the same room as them when they were playing bridge."
The sisters played together for sixty years.
Eventually his brother-in-law took some cards out, and when Steve Merovitz began to play, the game held a different allure.
Merovitz describes Bridge as an intellectually challenging pursuit, similar to chess, but with a social dimension that is an added bonus.
"You have a partner, and you have to learn how to communicate in this limited Bridge language, and every partnership is different, every partnership develops their own peculiar languages and concepts…  it has, at least for me, an endless fascination."
Kamel Fergani and Frederic Pollack are one of Canada's best men's partnerships. And Eric Kokish, one of the great players, is now one of the best coaches in the world.
"Even the best players in the world, have coaches
Like other professional sports Merovitz says, "even the best players in the world have coaches".
Now in his retirement, Steve Merovitz is enjoying sharing the game with others. Teaching puts his strong conviction about bringing new people into the game, into action.
After all, as he tells me, the average age of bridge players now, is 72.
But at cottages and camps and wherever famiies are gathered across Canada this summer, there are senior generations teaching the younger generation what the game of Bridge is all about.
Maybe that's why they call it Bridge!
(With files from CBC)