Your hosts, Carmel, and Marc (video of show at bottom)
Listen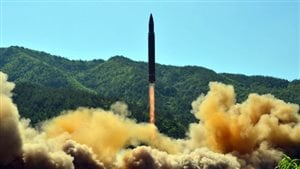 The tense international situation resulting from N Korean missile and nuclear tests continues with no immediate signs of an lessening.
The N Korean regime, and that of U.S President Trump continue to produce very thinly veiled threats of military action against each other.
Many international leaders are calling for a calming of the situation, to little effect. China, which has the most influence over N Korean leader Kim Jong-un, also appears unable to rein him in.
Charles Burton is a political science professor at Brock University in St Catharines Ontario. He was formerly a Canadian diplomat responsible for relations with N. Korea.
In this excerpt of a longer conversation he talks about dealings with the N. Korean regime.
*
When the crisis in Syria caused millions to flee from their homes, the Canadian government said it would bring in 25,000 refugees
Later that number was increased and by January of 2017 some 40,000 had been brought in.
In response, many Canadians volunteered to help, but it turned out that there were so many volunteers that resettlement agencies were overwhelmed.
A Toronto organisation matched newcomers with small groups of volunteers. "The Together Project" wanted to find out what happened regarding the crush of volunteers.
Lynn spoke with Craig Damian Smith who prepared a report about the situation.
*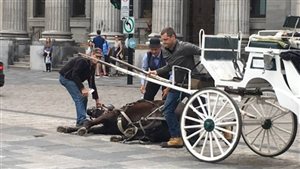 It was a very disturbing sight for the many tourists gathered in Old Montreal.  One of the horses that pull tourists around in caleches (carriages), collapsed to the ground.
While the driver and others tried to revive the horse, several filmed the situation with their cameras, videos which have now been widely shared.
Later came word the horse had simple "fallen asleep" while standing there and fell down, but few seem to believe that version. Many people who are against using the horses say the animals are overworked.
The horse-drawn caleches in Montreal have long been a source of controversy with animal rights people claiming the animals are abused, and this latest incident has re-ignited the debate.
Carmel spoke with Mirella Colalillo iof the Anti-Calèche Defence Coalition.
Images of the week