The Canadian Country Music Awards 2017 edition, took place last night in Saskatoon, Saskatchewan.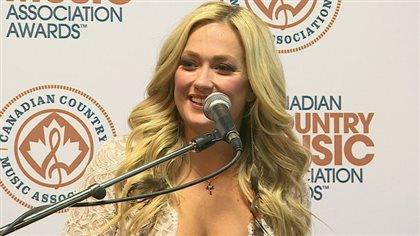 Following a week-long series of events and concerts leading up to the televised show, Meghan Patrick won the award for female artist of the year 
Backstage, she told reporters that she'd grown up in a musical home.
She said she was around 11 years-old when she started singing.
"I can't really remember ever wanting to do anything else," she said.
Brett Kissel won Male Artist of the Year. 
"I think Canadian country music is the best it's ever been, and again, I say this because I'm fan first and foremost," Kissel told reporters on his way into the show.
Dallas Smith took Album of the Year for 'Side Effects' and Single of the Year, for 'Autograph'.
And Paul Brandt, attending his 23rd Country Music Award gala, was inducted into the Canadian Country Music Hall of Fame.
With files from CP, Bonnie Allen and Alicia Bridges