Most of the Canadians who were in Caribbean countries devastated by Hurricane Irma have now returned home, Foreign Affairs Minister Chrystia Freeland said Tuesday.
Three hundred ninety Canadians were able to come home over the weekend from the region hit by the hurricane, Freeland said.
Another 301 Canadians landed in Toronto on flights operated by Air Canada and WestJet on Monday, said Freeland, who personally greeted the passengers arriving on one of the flights from Turks and Caicos.
The Canadian flights had enough space to bring 53 nationals of other countries, including 40 Americans, she said.
"A lot of work remains to be done but the majority of Canadians most affected have now come home and that is a huge relief for me," Freeland said.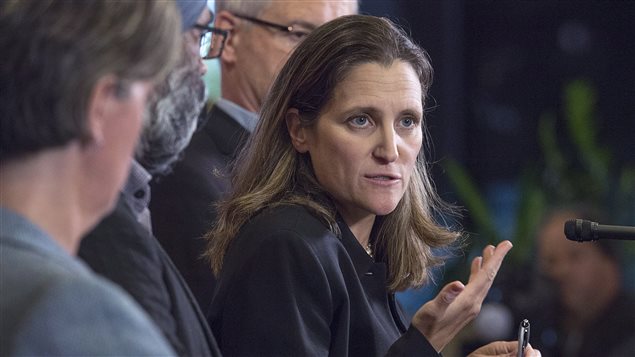 A Canadian Armed Forced C-17 Globemaster heavy transport plane is on its way to the region with much needed humanitarian supplies and we'll be able to pick up some remaining Canadians on its way back to Canada, Freeland said, urging the remaining Canadians in the region to register with Global Affairs Canada.
Both Freeland and Transport Minister Marc Garneau thanked the staff of commercial Canadian airlines for the difficult job of bringing Canadian citizens back home, amid mounting criticism that the Liberal government should have used its military assets instead of relying on civilian airlines to ferry its citizens back.
"I would like to offer my sincere thanks to Canadian airlines who have provided relief efforts, including working with the Red Cross, transporting food, water and other supplies and offering sits to Canadian passengers," Garneau said.
Since Sept. 5, Canadian airlines have carried out over 80 flights to the affected region, he said.
Defence Minister Harjit Sajjan said Canadian frigate HMCS St. John's was recalled from a naval exercise to assist Caribbean nations in dealing with the aftermath of the hurricane. The frigate has emergency supplies on board, as well as a Sea King helicopter that can be used in the relief operation, Sajjan said.
The ship is preparing to leave Norfolk, Virginia, where it was prepositioned to sail towards the affected region, Sajjan said.
In addition the Canadian Disaster Assessment Team (CDAT) deployed to the region on Monday to provide an assessment on how Canada can best support the hurricane-ravaged region, he said.