Despite a 'very good meeting' meeting with U.S. President Trump to discuss crucial trade and security issues, Prime Minister Justin Trudeau warned Canadians that the difficult negotiations over the North American Free Trade Agreement might end in failure.
"I think it's been clear that circumstances are often challenging and we have to be ready for anything, and we are," Trudeau told reporters at the Canadian embassy in Washington D.C. following his meeting with Trump.
"We're taking this very seriously, we're taking the importance of standing for Canadian jobs, Canadian economic growth extremely seriously and that goes through every engagement we have with the Americans."
(click to listen to Prime Minister Justin Trudeau's press conference)
Listen
During an earlier photo opportunity with Trump at the White House, Trudeau listened intently as the U.S. president hinted at the possibility of a free trade deal directly with Canada, should the ongoing talks collapse.
But Trump also said it's too early to give up on the negotiations, as diplomats from Canada, the U.S. and Mexico resumed the fourth round of talks Wednesday in Alexandria, Va.
"It's possible we won't be able to reach a deal with one or the other," Trump said, a poker-faced Trudeau seated at his side. "In the meantime, we'll make a deal with one, but I think we have a chance to do something very creative that's good for Canada, Mexico and the United States."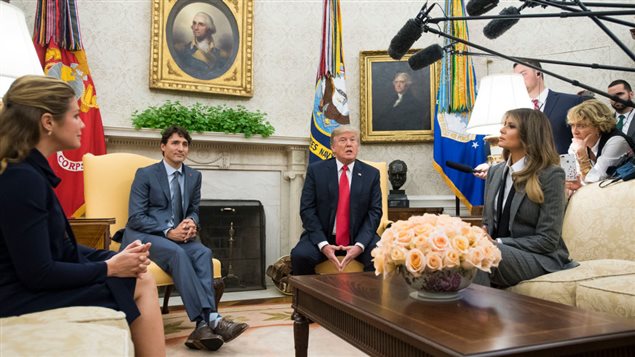 Trudeau said he believes the U.S. establishment understands that the relationship with Canada has been beneficial for both countries.
"What we have seen throughout is a recognition by this president and indeed by the American administration that the relationship with Canada is a very strong and positive one," Trudeau said. "They have a $35-billion US manufacturing surplus with Canada, we have a very even trade relationship, we have very similar values and standards, and approach to trade."
Trudeau skirted the question whether he sees a possibility for a bilateral trade agreement with the U.S. if NAFTA talks fail.
"I continue to believe in NAFTA, I continue to believe that as a continent working together in complementary ways is better for our citizens, is better for economic growth and allows us to compete on stronger footing with global economy," Trudeau said.
"So saying, we are ready for anything and we will continue to work diligently to protect Canadian interests, stand up for jobs and look for opportunities for Canadian businesses and citizens of all our friends and neighbour countries to do well."
Meeting with key U.S. lawmakers
Earlier Wednesday, Trudeau held discussions with the House of Representatives' influential Ways and Means committee, one of two bodies of U.S. lawmakers that are helping negotiators put forward the U.S. positions on trade.
"The U.S. sells more to Canada than it does to China, Japan and the U.K. combined," Trudeau told the committee members.
"We are already your biggest customer."
With files from The Canadian Press and CBC News