[Based on reporting by Valérie Ouellet, Dave Seglins, Rachel Houlihan, CBC News] 
More than 3,000 Canadian entities and individuals, including three former prime ministers and key Liberal Party fundraisers, are named in the Paradise Papers, a leak of millions of records from offshore law firm Appleby and the corporate registries of 19 tax havens, according to reports by CBC/Radio Canada and the Toronto Star.
The leak of nearly 7 million financial documents and emails from of one of the world's most prestigious law firms, revealed Sunday by CBC/Radio Canada and the Toronto Star, in partnership with the International Consortium of Investigative Journalists (ICIJ), is the largest ever involving Canadians who keep money in offshore tax havens.
Former Canadian prime ministers Jean Chretien, Paul Martin and Brian Mulroney are among the most high-profile individuals named in the document release, revealing the offshore interests and activities of "more than 120 politicians and world leaders, including Queen Elizabeth II," according to the ICIJ.
The leaked documents also include the names of two key Liberal Party fundraisers, former Senator Leo Kolber and Stephen Bronfman, the billionaire heir to the Seagram family fortune and a close friend of Prime Minister Justin Trudeau.
Former Progressive Conservative prime minister Brian Mulroney is named in the leak in relation to his involvement as a board member of Said Holdings, a Bermuda company controlled by Syrian-Saudi businessman Wafic Said. Said was a key intermediary in a controversial British-Saudi al-Yamamah oil-for-arms deal, worth tens of billions of dollars, that led to a $400-million (U.S.) criminal fine for bribery in 2010 against British defence manufacturer BAE Systems.
Said told ISIJ that Mulroney had "made a very valuable contribution" while sitting as a director at Said Holdings.
Former Liberal prime minister Jean Chrétien is listed as having received options in a Madagascar oil venture registered in Bermuda. Chrétien confirmed he consulted for the company in 2007 but denied ever receiving any options.
In an interview with CBC, Chrétien said that he has worked for Madagascar Oil "only for a few days, a few weeks."
"I have never had any [stock] option," he said. "I was never sent any document, I have never received an annual report of anything."
Chrétien added that Madagascar Oil "probably used … my name, to show there was a link with me. But [the company] never sent me any document on this." Chrétien told CBC that he was not aware that he had options.
Chrétien's rival and successor former Liberal prime minister Paul Martin is also named in the documents due to his former company, Canada Steamship Lines (CSL).
CSL told ICIJ that the company and all its affiliates "rigorously uphold the highest ethical and business standards, and comply with the laws, rules and regulations of each jurisdiction in which they operate." A spokesperson for Martin said the former prime minister "has not been involved in CSL in over a quarter century and is not in a position to comment on its operations."
Both Kolber and Bronfman said through a lawyer they always acted "properly and ethically, including fully complying with all applicable laws."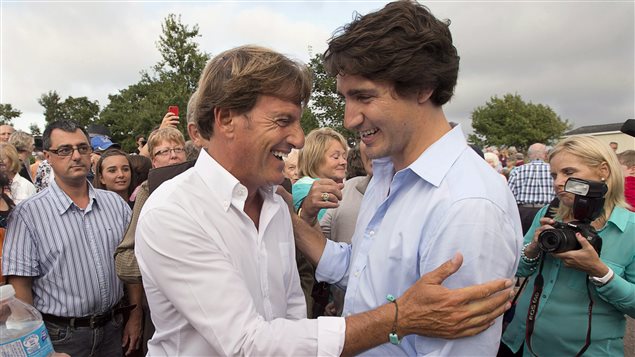 Bronfman issued a statement Monday saying he's never funded nor used offshore trusts, and his "Canadian trusts have paid all taxes on all their income to the Canadian government."
The Canadian Revenue Agency is reviewing links to Canadian entities and will take appropriate action in regards to the Paradise Papers, said spokesperson John Power.
Opposition parties have slammed the Liberal government, which is still smarting from allegations of potential conflict of interest involving Finance Minister Bill Morneau.
"If Justin Trudeau's priority was really tax fairness, it's very curious that he's done nothing to go after the mega-millionaires who stuff their money in foreign tax havens in order to avoid Canadian tax, but yet he's tried to bring higher taxes on farmers, pizza shop owners and other small business owners," said Conservative MP and the part's finance critic, Pierre Poilievre.
The New Democratic Party's Parliamentary Leader Guy Caron said part of the problem is the legality of offshore tax evasions.
"I think at least we have to think hard about the state of our tax system right now, because it's broken," Caron said. "It's obvious to Canadians that lots of people and the well-off are not paying their fair share."
Other notable Canadian names with ties to offshore tax havens included packaged meat supplier Maple Leaf Foods Inc., which owns an offshore company registered in the Bahamas, supermarket giant Loblaw, which registered offshore holding companies in Barbados and Bermuda, the mining giant Glencore, and even the Montreal Canadiens hockey club.
The leaked documents also show that U.S. President Donald Trump's commerce secretary, Wilbur Ross, is doing business with Vladimir Putin's son-in-law through a shipping venture in Russia.
According to the leaked documents and public filings, Ross holds a stake in a shipping company, Navigator, through a chain of offshore investments, The Guardian newspaper reported.
Navigator operates a lucrative partnership with Sibur, a Russian gas company part-owned by Kirill Shamalov, the husband of Putin's daughter Katerina Tikhonova, according to The Guardian.
Based on reporting by Valérie Ouellet, Dave Seglins, Rachel Houlihan, CBC News