Johnny Bower died Tuesday night at a Toronto-area hospital at age 93 after a short battle with pneumonia.
For people outside Canada, the name may mean little.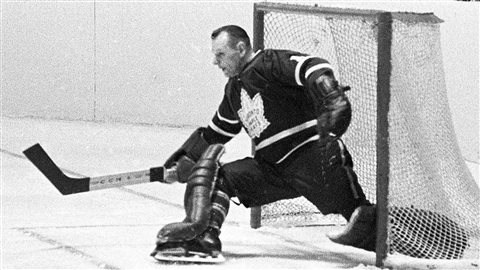 For Canadians, Bower, who was a late-blooming star goaltender for the Toronto Maple Leafs over 50 years ago, was the personification of everything they like to think is exceptional about this country–mainly because (like so many Canadians) he never felt the need to call attention to himself.
"There may not be a more loved Toronto Maple Leaf nor a former player who loved them as much back," Maple Leafs president Brendan Shanahan said in a statement.
"Johnny was beloved by so many for much more than his Hall of Fame credentials as a player. It was his generosity of spirit, kindness and passion for people that made him a legend at life."
Bower played in an era when professional athletes made little money, needed off-season jobs to survive and lacked the self-aggrandizement that so many athletes feel it necessary to display these days.
Most were working-class men who were happy to have a job away from the farm, or down in the mines or inside the pulp-and-paper and steel mills.
"He and all of us, we didn't make a lot of money," former teammate Dick Duff told the Toronto Sun on Tuesday.
"But we were respected. I like to think Johnny and our group represented the people of Canada, hard workers from the north or his home in Saskatchewan, playing for people's entertainment at a time when they didn't have much money or many things to do, either."
In Bower's era, NHL teams carried only one goalie and he spent years in the minor leagues before finally getting his shot with the New York Rangers in 1953 at the age of 29.
"There were only six goalies in the NHL at the time," Bower once recalled. "I couldn't beat them; at least I thought I couldn't. I still didn't give up. I just kept working."
A year after his stint with the Rangers, he was back in the minors, playing just a handful of NHL games as a call-up over the next two seasons.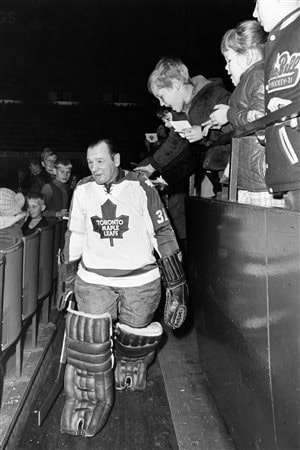 It wasn't until 1959–at the age of 34–that he finally got a chance to play regularly again–this time with the Maple Leafs, who had claimed him the summer before in the intra-league draft.
He went on to win the Stanley Cup four times (in 1962, '63, '64 and '67), was a first-team all-star in 1961 and won the Vezina Trophy as the league's best goalie in 1961 and '65.
When he retired in 1970 at the age of 45, he was listed as the oldest goalie to ever play in the NHL.
And play he did, and for much of his career without a mask.
"Johnny and the goalies in that era without masks, they were 30 years old, but looked 100," Duff told the Sun. "Johnny would laugh about having yellow, black, blue and red bruises from September to July."
He was one tough man, a man who as a kid enlisted in the Canadian Army when he was 15 and spent four years in England before being discharged in 1944 because of rheumatic arthritis.
He then returned to his hometown of Prince Albert, Saskatchewan, where he was born into poverty, to take up his career as a goalie–a career that led to all those minor league seasons before finally making the big time for good with the Leafs.
After retiring, Bower worked for the Leafs until he was 65, stepping away in 1990.
Long after retirement, he remained a presence in the community, working for charities and making public appearances.
"I love going out and helping out people," Bower said. "I always make time to help everyone else out. That's the way I was taught. I didn't have, so I figured I don't want to see anyone else that way.
Bower leaves his wife of 69 years, Nancy, three children, eight grandchildren and six great-grandchildren.
With files from CP, CBC, Toronto Sun, Toronto Star