Officials in the city of Montreal have issued the latest of several smog alerts today and they hope to improve air quality by restricting the use of wood-burning appliances made popular after the devastating ice storm of 1998.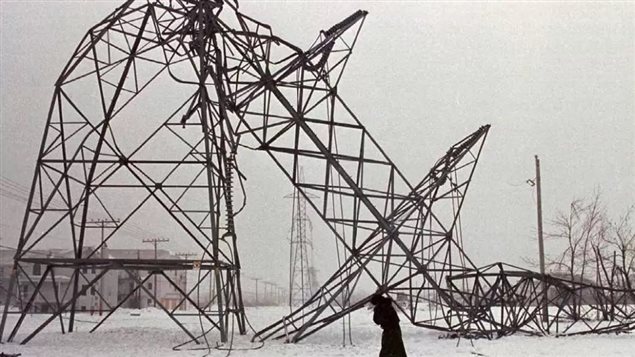 Central heating is essential in Canada
Because it gets so cold in Canada in winter, most homes have central heating systems powered by oil, natural gas or electricity. Even the systems that use oil or natural gas depend on electricity to work so that the massive power failure twenty years ago left millions of people in the cold and the dark.
The storm affected mostly the province of Quebec, but also parts of neighbouring Ontario and the Maritime provinces. In this area, winter temperatures are usually well below freezing, but they rose in 1998 and between January 5 and 10, there were three successive waves of freezing rain. They piled ice onto trees, electrical wires and poles, and some of the huge electrical transmission pylons collapsed under the weight.
Burning wood for heat became popular
In some areas, power was not restored for weeks. Some people evacuated their homes. Others had fireplaces or wood-burning stoves and were able to keep warm enough to stay. But it was a bitter experience and after it was over, many people bought wood-burning heating systems as a back-up in case of future electrical failures.
Anti-pollution activist Andre Belisle told the Canadian Press that this increased use of wood-burning appliances is partly to blame for the growing number of wintertime smog days in Montreal.
Montreal outlaws wood-burning appliances
The city it tackling the problem by outlawing the use of solid-fuel-burning heating systems unless they are certified as emitting less than 2.5 grams per hour of fine particles into the atmosphere. By October, the rule will apply to wood-burning stoves and fireplaces.
There will be exceptions if there is a power failure lasting longer than three hours and the rule does not apply to appliances used to cook food for commercial purposes. This is a relief to many Montrealers who love their pizzas and bagels cooked in wood-burning ovens.