The federal government is bracing for a new surge of asylum seekers at the border this winter as the Trump administration is expected to rule Monday that hundreds of thousands of Salvadorans living in the United States as "temporary" immigrants since 2001 must return to their country.
Last year the Trump administration decided to stop renewing Temporary Protection Status (TPS) for 59,000 Haitians and 5,300 Nicaraguans residing in the U.S. for decades, sending thousands of people scrambling to cross the northern border illegally to claim asylum in Canada.
Now, the U.S. Department of Homeland Security is expected to make the same decision for an estimated 200,000 Salvadorans covered under the same program.
While they could be given more than one year to return, the decision would uproot tens of thousands of families with deep roots in the United States, including tens of thousands of children born in the U.S. who are therefore American citizens.
The Salvadorans were granted temporary resident status in early 2001 after two huge earthquakes rocked El Salvador.
They represent the largest population covered by the temporary protected status program and the potential for them and other Central Americans to come to Canada was flagged in briefing notes by Canadian diplomats in the U.S. earlier this year, following a surge of Haitian asylum seekers showing up at the border.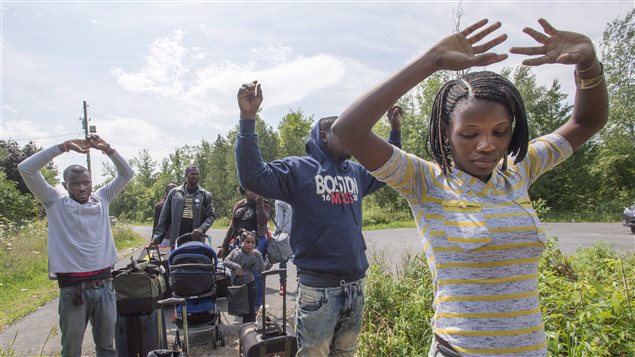 The Haitians began arriving even before a final decision had been made on their temporary status and the surge — upwards of 200 people a day in the summer months — saw the Liberal government scramble to mount a response.
Temporary shelters were set up at the Quebec-New York border and dozens of RCMP, border and immigration officials were dispatched to the area to manage the situation.
At the same time, plans were drawn up for a longer-term response to the situation should another major surge materialize.
Winterized trailers were purchased and are now in use at the Lacolle, Quebec, crossing. A contingency plan — the details of which have not been made public — remains at the ready.
A spokesman for Public Safety Minister Ralph Goodale suggested it's not being rolled out quite yet.
"The volume of irregular border crossers at Lacolle recently has been comparable to the levels we've seen this fall," Scott Bardsley said in an email to the Canadian Press.
Just over 1,500 people in total crossed illegally into Canada in November, down from 5,530 in August. But the November numbers are still comparatively high — in January 2017, only 315 people crossed.
Asylum seekers will have to prove that they have a valid refugee claim in Canada in front of the Immigration and Refugee Board, officials said. And if the board determines that the asylum claim is unfounded, the failed refugee claimants will be deported, officials said.
With files from The Canadian Press and AFP