Super Bowl LII was the most-watched sport spectacle in the United States on Sunday Feb. 4th.
And many Canadians tuned is as well.
Some follow the National Football League with equal enthusiasm whereas others tune in to watch the commercial advertisements, or for the half-time show, put on this year, by Justin Timberlake.
In the border city of Windsor, Ontario, across the river from Detroit, Michigan, some of the fans put their passions to work.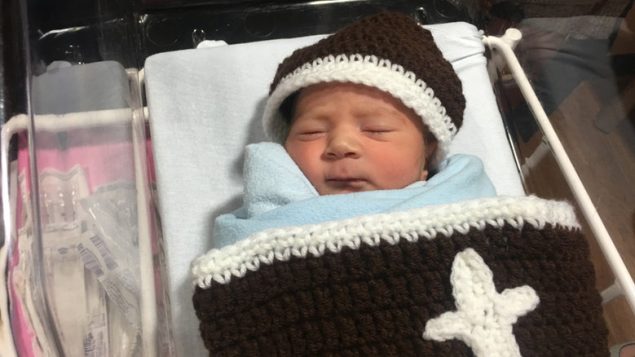 One made 'football cocoons' for all the babies to be born at the Windsor Regional Hospital
"It's a little knitted cocoon with a cap, that they look like a football," Gisèle Séguin explained to CBC News.
Séguin is the director of public affairs, communications and philanthropy at the hospital.
"I know it sound kind of funny, but we're going to be offering those to families when their baby's born on Super Bowl Sunday."
Fae Gillespie is the creator of the little cocoons. She's the president of the Metropolitan General Hospital Auxiliary, and she has been knitting baby blankets and caps for the past 30 years.
Séguin, said Gillespie had knitted eight football outfits — the average number of babies expected to be born that day.
But a group photograph revealed four babies in their football outfits, accompanied by their families.
"Happy Super Bowl! Congratulations are extended to the families of Leah, Meredith, Charles and Adam" the hospital web site said.
Two girls and two boys, started life on a great day for the victorious Philadelphia Eagles who beat the New England Patriots 41 – 33.