Read Radio Canada International recent reports on issues related to Indigenous communities, culture and rights.
By Levon Sevunts, Wednesday 11 April, 2018
Ottawa should to stop procrastinating and get on board with the proposed ban on the use of highly polluting heavy fuel oil by ships operating in the Arctic, says Sheila Watt-Cloutier, a Nobel Peace Prize-nominated Inuit activist and author… more
By Levon Sevunts, Friday 6 April, 2018
Two days after paramedics responding to a distress call at a First Nation community in Alberta discovered a four-month-old girl dead in her crib and rushed 14 members of her immediate family to hospital with flu-like symptoms, provincial authorities remain tight-lipped about what might have caused the tragedy… more
By Terry Haig, Tuesday 27 March, 2018
As Prime Minister Justin Trudeau continues his drive to make amends for horrific past abuses inflicted on Canada's First Nations, it appears progress is being made by Indigenous communities to resurrect and reclaim their native languages… more
By Lynn Desjardins, Friday 23 March, 2018
Just as a teenage boy is thought to have died from tuberculosis last weekend, the Canadian government has unveiled plans to eradicate active TB in the North by 2030. Tuberculosis is a preventable and curable bacterial infection that mainly affects the lungs and can cause death if untreated… more
By Levon Sevunts, Saturday 17 March, 2018
Their exact location is a jealously guarded secret but a set of mysterious petroglyphs in the Eastern Canadian Arctic feature among Ottawa's latest submission to the United Nations Educational, Scientific and Cultural Organization (UNESCO) for consideration as a new World Heritage Site…more
By Levon Sevunts, Saturday 10 March, 2018
Charlotte Wolfrey's daughter, Deidre Michelin, was just 15 days shy of her 21st birthday when she was shot and killed by her partner who then turned the gun on himself. All four of her grandchildren were in the house when their mother's life was snuffed out in act of senseless rage, but there wasn't a single police officer within at least 160 kilometres…more
By Carmel Kilkenny, Wednesday 7 March, 2018
MMIWG, the acronym for the inquiry into the estimated 1,181 missing and murdered indigenous women and girls in Canada is underway. The inquiry is stopping into community after community in an effort to understand why Indigenous women are statistically five times more likely to die by violence than other women in this country…more
By Marc Montgomery, Thursday 18 January, 2018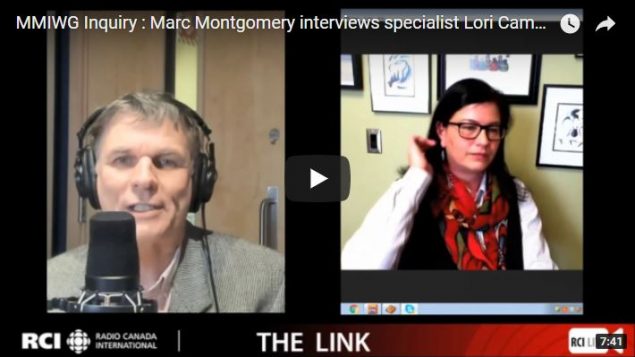 Indigenous expert looks at the Missing and Murdered Indigenous Women and Girls Inquiry. The federally funded inquiry looking into the national tragedy of a high proportion of missing and murdered First Nations females has been plaqued by controversy from the outset about its direction, its slow pace, and treatment of family members testifying… more
By Levon Sevunts, Friday 1 December, 2017
The Supreme Court of Canada has ruled in favour of Yukon First Nations in their fight to protect a large area of almost pristine sub-Arctic wilderness from resource development. The unanimous ruling released Friday ends a five-year legal battle between the Yukon government and a group of First Nations and environmental groups over… more
By Marc Montgomery, Wednesday 13 September, 2017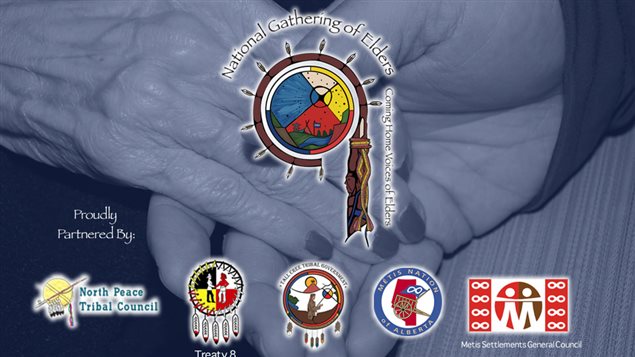 It is a huge gathering, and the first event of its kind in Canada. Thousands of indigenous elders from communities across the country are meeting to discuss issues of concern and share ideas… more
By Levon Sevunts, Wednesday 13 September, 2017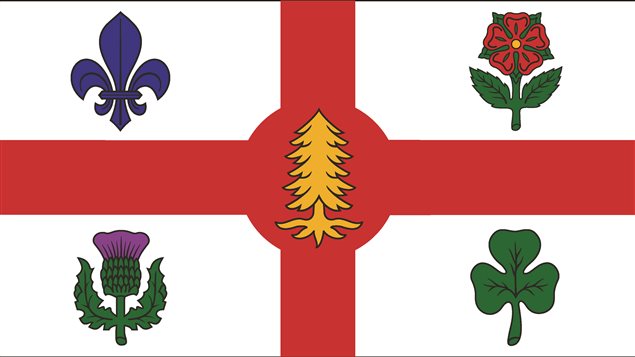 As Montreal celebrates the 375th anniversary of its founding, municipal authorities have presented changes to the city's flag and its coat of arms to finally acknowledge and honour the contribution of Indigenous peoples whose presence on the island predates by millennia the arrival of French settlers in 1642… more
By Marc Montgomery, Wednesday 26 July, 2017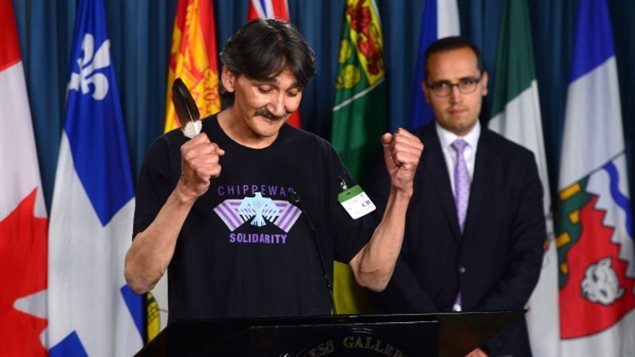 It's been a three-year battle for the mostly Inuit communities of Baffin Island, but today they've won their battle at the highest court in the land. The Supreme Court of Canada has cancelled plans for seismic oil and gas exploration off the coast of Baffin Island, which residents say could potentially harm marine life and their reliance on the fish and animals for sustenance and traditional way of life… more
By Levon Sevunts, Tuesday 25 July, 2017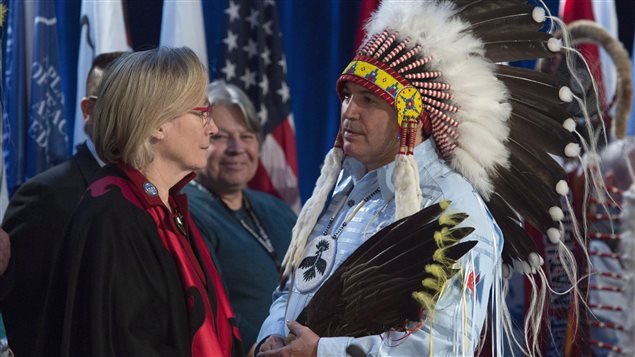 Hundreds of Indigenous leaders from across Canada are meeting in Saskatchewan today to  discuss the ongoing suicide crisis, the beleaguered inquiry into missing and murdered Indigenous women and troubled relations with various police forces. The three-day annual meeting of the Assembly of First Nations (AFN) in Regina will also be attended by several federal cabinet ministers, including Justice Minister Jody Wilson-Raybould, Indigenous Affairs Minister Carolyn Bennett, Public Safety Minister Ralph Goodale and Environment Minister Catherine McKenna... more
By Marc Montgomery, Friday 21 July, 2017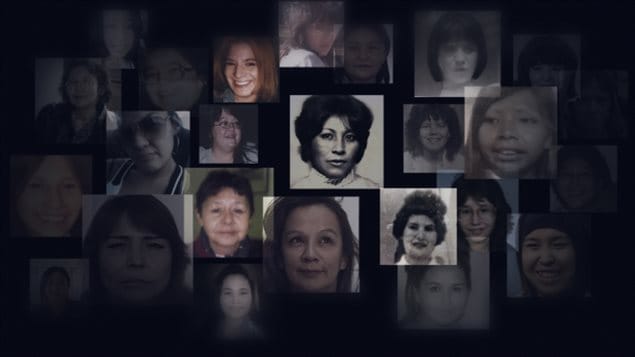 After facing sometimes severe criticism for delays and lack of information the inquiry into missing and murdered aboriginal women and girls, has announced yet more delays this week… more
By Lynn Desjardins, Monday 17 July, 2017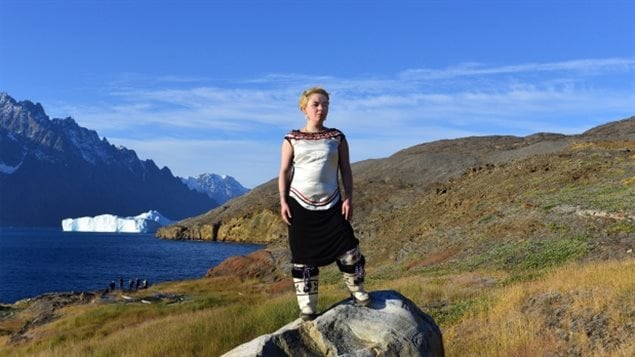 Throat-singing is one of the jewels of Inuit culture and will be featured at musical events at the Canadian Museum of Nature. The museum is running special exhibits and programming this summer called Focus on the Arctic. Kathleen Merrit, known as Iva, will be joined by Riit (Rita Claire Mike-Murphy) for a musical show that celebrates Inuit and Celtic roots… more
By Levon Sevunts, Monday 17 July, 2017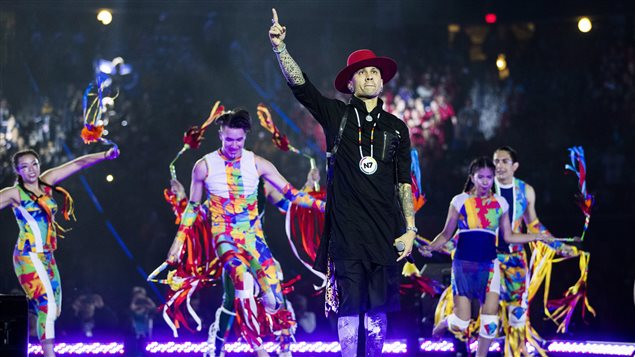 More than 5,000 athletes from across North America are in Toronto this week to take part in the North American Indigenous Games (NAIG), which are being held in Eastern Canada for the first time in 25 years. The opening ceremony was held on Sunday in a packed stadium at the Aviva Centre in Toronto's North York suburb… more
By Marc Montgomery, Thursday 13 July, 2017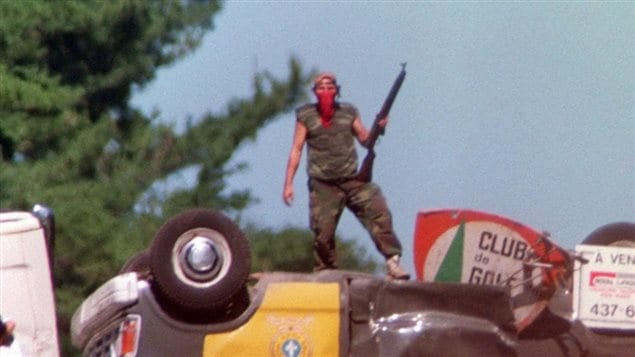 .
The crisis began in early 1990 when the small town of Oka Quebec, just off the north east tip of Montreal Island where the Ottawa River empties into the Lake of Two Mountains. The town wanted to expand a golf course and housing development onto land which had been long claimed by the local Mohawk reserve as theirs… more
By Levon Sevunts, Tuesday 4 July, 2017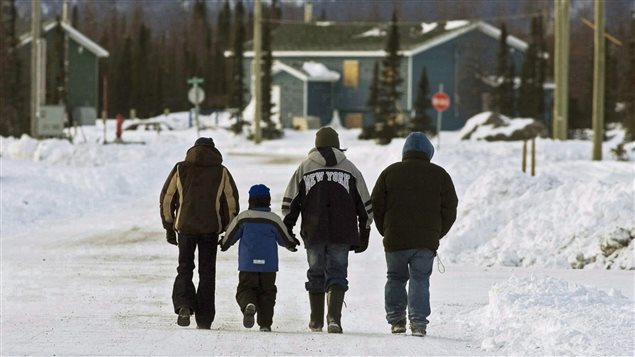 The federal government's indecision in funding a critical community-developed foster care program for Innu children in Labrador is leading to devastating loss of identity, culture and language in dozens of children who are placed in care far from their communities and families, say Labrador Innu leaders… more
By Lynn Desjardins, Friday 30 June, 2017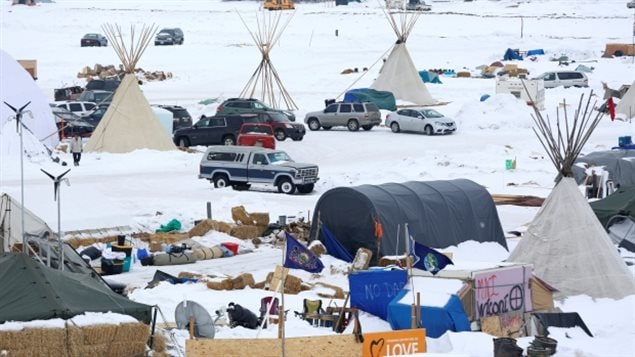 A large delegation of chiefs from indigenous communities across Canada will travel to the U.S. to protest oil pipelines on American Independence Day, July 4th. There are over 120 First Nations from Canada and Tribes in the U.S. which have signed the Treaty Alliance Against Tar Sands Expansion opposing the extraction of bitumen from oilsands in western Canada and its shipment to the U.S… more
By Lynn Desjardins, Monday 29 May, 2017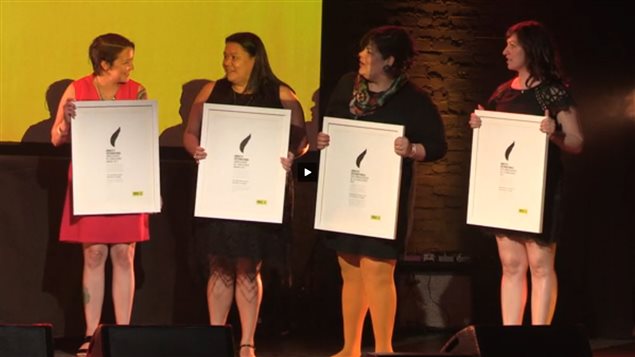 Canada's Indigenous rights movement has won Amnesty International's top award for human rights work. It is the first time a Canadian entity or person has won the Ambassador of Conscience Award. The honour was shared with U.S. music artist and activist Alicia Keys… more
By Levon Sevunts, Friday 12 May, 2017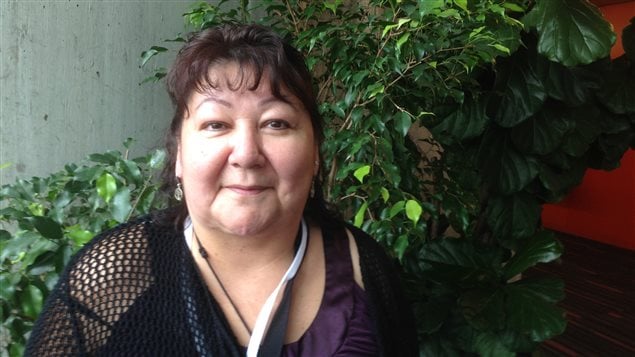 Karen Hill knows that to help her community she needs more than what the Western medicine she practices can offer. For years now, Hill, a family doctor in her home community at the Six Nations of the Grand River Territory, in southern Ontario, has been working with traditional Indigenous medicine practitioners to care for the sick in her Haudenosaunee or Iroquois community… more
By Levon Sevunts, Monday 10 April, 2017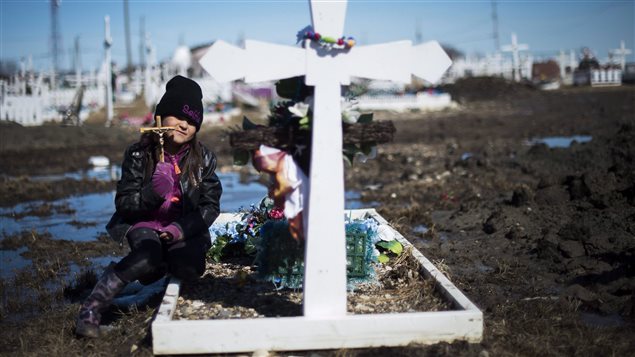 Canadian reporters working on stories involving Indigenous mental health issues are getting some much-needed guidance and advice from seasoned journalists. The Canadian Journalism Forum on Violence and Trauma, an educational charity promoting physical and mental wellbeing of journalists, has added a new chapter to the second edition of its bilingual guide Mindset: Reporting on Mental Health / En-Tête : Reportage et Santé Mentale… more
By Carmel Kilkenny, Thursday 2 March, 2017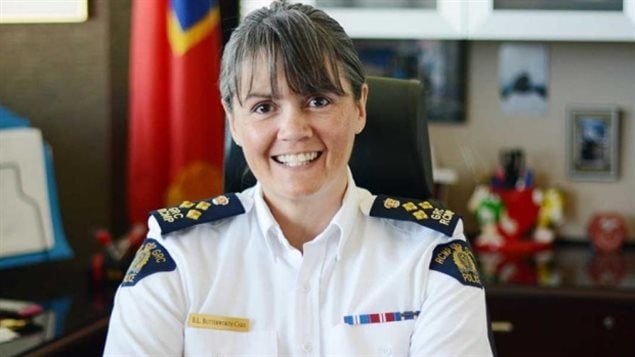 Brenda Butterworth-Carr is from the Tr'ondek Hwech'in Han Nation in Yukon. Now she will be the first Indigenous woman to hold the top RCMP job in British Columbia.
Currently the Assistant Commissioner, Butterworth-Carr is Division E's new commanding officer, the largest of the RCMP's 15 divisions in Canada… more
By Levon Sevunts, Thursday 29 December, 2016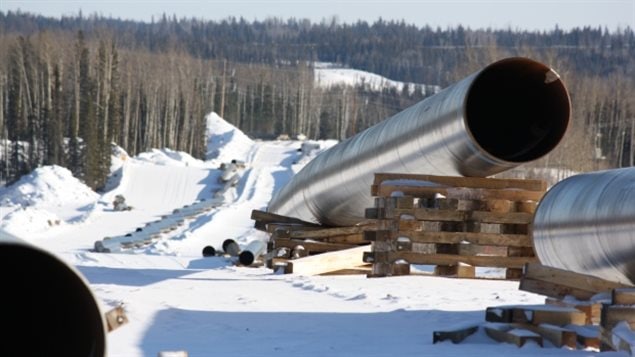 Kinder Morgan's Trans Mountain pipeline has been vehemently opposed by many Indigenous groups in Canada, but there are also Aboriginal voices that strongly support the oilpatch. Chief Jim Boucher, from Fort McKay in northeastern Alberta, is one of them… more
By Lynn Desjardins, Monday 5 September, 2016
Like many parents, Nancy Mike and Andrew Morrison have to work hard if they want to preserve their aboriginal language. Because so much English is spoken in Iqaluit in the northern territory of Nunavut, they have decided to ban English… more
By Lynn Desjardins, Sunday 14 August, 2016
Amnesty International Canada has launched a worldwide campaign to stop construction of a massive hydroelectric dam in western Canada. It says the dam violates Canada's commitments to uphold the human rights of indigenous peoples. "This is a dam that would… more