Mystery sign came and went-but may come again
In Winnipeg everyone knows about the large park-like covered mound in the middle of the city. It's a popular spot for walkers, joggers, cyclists and dog owners.
The hill was in fact an enormous landfill site until 1948, and grass and trees now cover what is essentially massive amounts of garbage, and that's where the mound gets its common name. Although officially it is "Westview Park", everyone knows it as "garbage hill".
This past weekend a prankster went to a great deal of time and effort to erect a "Hollywood" type sign reading "garbage hill".
Almost immediately, word spread and many people came to admire the sign and get their photos taken beside it.
The city of Winnipeg however took a different view and sent workers to take it down Monday afternoon saying it had been "installed without city approval".
Most people upon learning of the city's action expressed dismay, No sooner was it taken down than an online petition was created to get it back.
Apparently now even the mayor is on board who tweeted he would like to see it return, provided it met city conditions.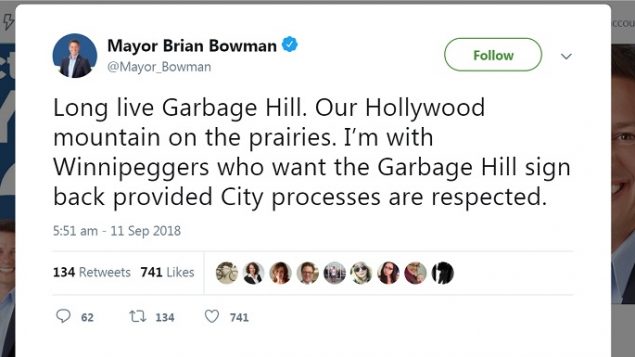 Additional information- sources