Airbus's new A350 in Iqaluit, Nunavut for cold weather testing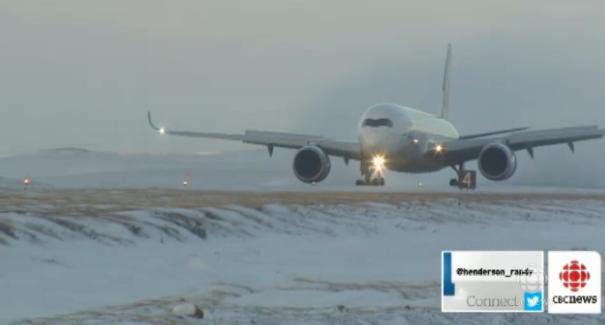 The new Airbus A350 XWB landed in Iqaluit, the capital city of Canada's eastern Arctic territory of Nunavut, on Friday to begin cold weather testing.
For years Iqaluit has marketed itself as a premier cold-weather testing ground for aerospace companies. Last June the City of Iqaluit sent a delegation to the Paris Air Show.
Eric Leuthold, owner of Frobisher Bay Touchdown Services, which offers logistic support to companies that test their aircraft in the capital, was part of the delegation.
"It's absolutely worth the money," said Leuthold of the trip. "It is a big investment to go to a show like that but that's the only place where you will get everybody you'll need to talk to in one giant, giant location."
Iqaluit's airport landing fees are minimal but the economic spin-offs in town are significant.
With a French crew of 48 aboard the jet, cold weather testing results in cold hard cash.
City councillor Mark Morrissey, who is also executive director of Nunavut Economic Developers' Association, also went to Paris.
"This is new money to the territory; this is not recycled government money," he said. "This is new money being put into the community from outside the country so it's really good."
Last year, Airbus brought the A350's engine to Iqaluit for cold weather testing. It also tested its A380 aircraft in Iqaluit in 2006.
Testing is expected to continue until mid-week.
Related Links:
Canada: Ottawa testing $620K stealth snowmobile for Arctic, The Canadian Press
Finland: Testing electric buses in Finland's cold climate, Yle News
Sweden: Test driving industry booming in Arctic Sweden, Radio Sweden