Seabirds still crowding Alaska rescue center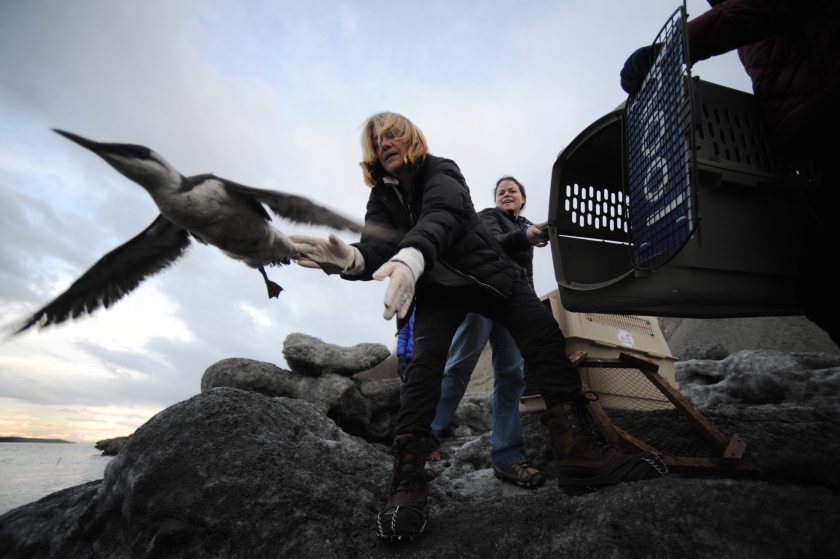 Hundreds of grounded common murres continue to challenge rescuers and baffle scientists as Alaskans grapple with the mystery of the starving, disoriented seabirds.
The sightings of the small, penguin-like murres far from their normal marine feeding grounds now stretch inland to Glennallen, Healy and even as far north as Two Rivers outside Fairbanks.
The marine birds that generally can't take off without water began showing up on the ground far from the North Pacific in October, and were mostly found around Palmer and Wasilla, rescuers say. Then stormy weather last week brought with it a sudden spate of murre sightings from Whittier to Sutton and Talkeetna, with many in the Upper Susitna Valley. More recently, people in the Denali Borough reported numerous murres.
Why are seabirds venturing inland?
Experts say it's extremely unusual for the birds to venture inland, much less as far inland as Interior Alaska.
This most recent wave of murre strandings is part of a broader seabird die-off in coastal Alaska first reported in March and part of a widespread seabird die-off up and down the Pacific coast. Scientists say it's possible warmer water is forcing the little fish and other marine life the birds usually eat deeper than murres can dive.
Bird Treatment and Learning Center in Anchorage — the Southcentral Alaska clearinghouse for rehabilitating and releasing the birds — has received 382 murres since late October and released 291, according to Katie Middlebrook, the center's avian rehabilitation coordinator. More than 220 came in since Jan. 1 alone.
Normally, the center sees maybe a handful of murres in an entire year.
Eighty-three of the apparently starving birds died or were euthanized after being determined too medically unstable to survive rehab or release, Middlebrook said. Eight remained at the center for additional care as of Monday.
Residents pitching in
Cantwell resident Lynn McAloon and her sister Jill Boelsma fostered four of the Interior murres: one found by McAloon's husband on a snowmachining trip; one picked up near the couple's home; one scooped up by a dog musher near the Nenana River; and one rescued by four-time Iditarod Trail Sled Dog Race winner Jeff King on a Denali Highway trip.
King and Kristin Bacon posted a Facebook video of their bird find on New Year's Day.
"Look what we got on the trail today — a penguin!! We caught a penguin!" King is heard saying.
"He's a little lost," Bacon says, as she holds the bird for the camera. King explains the bird was "just waddling down the trail" when his team ran up on it. The bird was taken to Diamond Animal Hospital in Anchorage, where about 10 birds were stabilized and transported to Bird TLC over the weekend.
A musher spotted rafts of the birds in open leads on the Nenana River, McAloon said. Residents also saw several dead murres.
"We surmise there were probably hundreds that blew up this way," she said.
Related stories from around the North:
Canada: Flame retardants found in Arctic gulls, Eye on the Arctic
Finland: Wind farm aims to limit harm to birds, Yle News
Sweden: Swedish Coast Guard seeks answers on injured birds, Radio Sweden
United States: Starving seabirds grounded in Southcentral Alaska, Alaska Dispatch News