Festival du Monde Arabe
0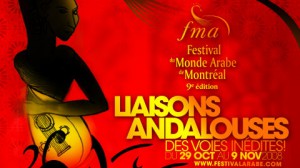 Montreal's Festival du Monde Arabe celebrated its fifteenth edition this past fall with another successful series of events, from cinema to dance to music and conversation. It is the largest Arab festival in Canada, and has led the way for similar events now beginning in other cities.
From the last week of October into the first week of November, when, as Emily Aouad, director of communications for the festival explained, the weather is neither too hot nor too cold, and there are few other cultural events taking place, the Festival Arabe du Monde fills the venues and cafes in Montreal.
The festival began in 2000 as a modest, mostly Lebanese celebration in a suburb just north of Montreal.  It quickly expanded onto a university campus in Montreal, and shortly thereafter into the larger A-list venues such as Place des Arts.
In the wake of the 9/11 attacks in New York City in 2001 there was some pressure to change the name of the festival from 'Arab' to something else, but the organizers prevailed seeing no connection between a radical minority religious movement and a larger nationality and various cultures.
2006 was a very successful year with many shows and venues sold-out.  Emily Aouad describes it as a peak year.  2007, however, was a disappointment. The province of Quebec was embroiled in the 'Reasonable Accommodation' debate which was an airing of the fears of a minority of Quebecers about what the provincial identity may have been losing in an effort to welcome and accommodate newcomers.  The misunderstandings were reflected in smaller audiences.
These days the venues are full again with very diverse audiences from Canada's several Arab communities, as well as Hispanic, Iranian, and Turkish-Canadians and Quebecers, and those who come from neighboring provinces and even the northern United States.
A smaller outdoor summer version has now taken root at Montreal's Old Port.  In 2011, this offshoot, under the banner of the Festivale Orientalisme began as a celebration of music and dance.  Now it is independently growing in popularity and scope, including Indian and Chinese events as well.