It is one of the most iconic aircraft of the Second World War.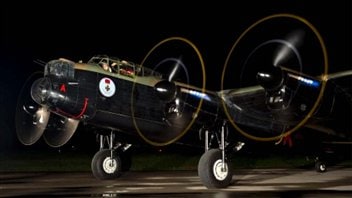 To those who flew them, they were a wonderful machine, to the enemy they were deadly and terrifying.
Now, the few remaining pilots and aircrew alive, along with all those who love planes, regard the Lancaster bomber in awe as a brilliant piece of technology, and almost a work of art.
During the war, Canada built thousands of warplanes, including 433 Lancasters. Of 7,377 originally built in total, there are believed to be 17 still in existence.  Only two are still airworthy, one in Britain, the other in Canada, where there are six survivors only.
Of those six, the only one not in a museum is in dire condition at a small airport in Edmunston New Brunswick where it's been sitting, outdoors, for 50 years.
Avro Lancaster Mk 10P KB882 is a true war veteran, having survived at least11 missions into Germany.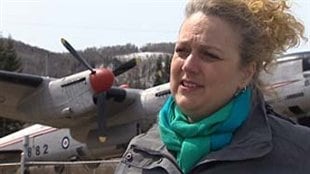 It may not survive the next winter.
It's pitiful," said Mychele Poitras of the Edmundston society for the Preservation of the Lancaster. "It's really, really fragile."
Salt mist from the road nearby has already eaten a hole through the aluminium in one wing. General weather wear and tear, and lack of any maintenance means the historic craft could collapse soon.
Poitras and her group have been searching for federal and provincial funding to try and restore the local landmark. But federal, provincial, and local governments and other fund raising has resulted in little cash.
She says a new hangar to house the plane while its worked on, would cost up to a million dollars, simply moving it to another location or museum, about $500,000.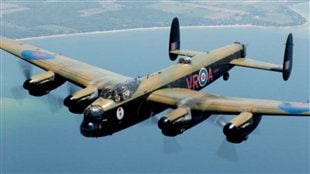 "I know the value of this plane," said Poitras. "I know how important it is in the history of Canada and in the history of World War Two", she says. "It did a lot of work for Canada and it deserves a much better future than what we seem able to get her."
She notes the group will face a heart-wrenching decision about the fate of the plane by the end of the year.
Visit to Kb882- JJ Grinnell- YouTube
Canadian Warplane Heritage Museum- Lancaster
City of Edmunston- Lancaster page
Bomber Command Museum, Alberta- Lancaster