As the Liberal government intensifies its diplomatic and humanitarian response to the crisis affecting Myanmar's persecuted Rohingya minority, Canadians are largely uninformed about ongoing events and less than enthusiastic about Ottawa's further involvement, according to a new study from the Angus Reid Institute.
Fewer than one-in-ten (8 per cent) Canadians say they have been following the story closely, while another one-in-four (26 per cent) have seen some coverage, said Shachi Kurl, executive director at the Angus Reid Institute.
Kurl said the study shows that about one-third of respondents say they are not following the issue at all, while further one-third say they are just scanning the headlines.
"The vast majority of Canadians are relatively checked out on this matter," Kurl said.
However, four-in-ten Canadians (40 per cent) would like to see Myanmar's de facto leader, Aung San Suu Kyi, stripped of her honorary Canadian citizenship due to her handling of the crisis and a perceived unwillingness to protect the persecuted Muslim-minority, the study released on Tuesday showed. Among those Canadians following the crisis more closely, this opinion rises to six-in-ten (58 per cent).
The results of the survey come as the government has announced a matching fund to raise money for the ever-growing population of Rohingya refugees in neighbouring Bangladesh, fleeing what the United nations has called "a textbook example of ethnic cleansing" in Myanmar, also known as Burma.
The Myanmar Crisis Relief Fund builds on Ottawa's previous commitment of more than $25 million to humanitarian agencies working in Bangladesh and Myanmar.
Prime Minister Justin Trudeau has also dispatched veteran Liberal politician and former Ontario premier Bob Rae to the region as his special envoy to Myanmar to try to resolve the crisis.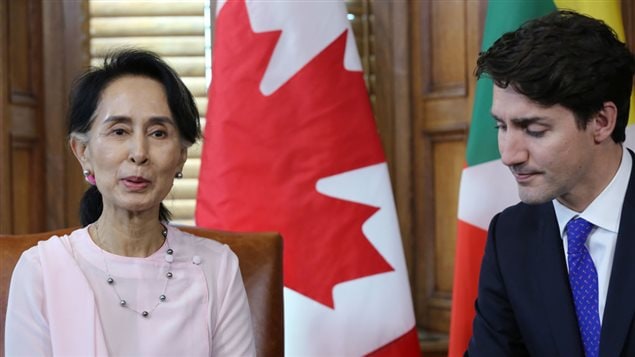 Those Canadians who do follow the crisis in Myanmar and Bangladesh feel very strongly that Canada has a role to play that the federal government should be doing more and that Canadians have a responsibility of to try to improve the situation, Kurl said.
"However, for that majority who is not that closely following this story at all you find that there is a level of indifference or a level of circumspection when it comes to this crisis," Kurl said. "Nearly half of Canadians are of the opinion that what we're doing at this stage – and this was before Canada announced donations matching – was 'just right.'"
Canadians don't seem to be "overly consumed" by the idea that this country should be prioritizing Rohingya refugees over others from other conflict zones, Kurl said.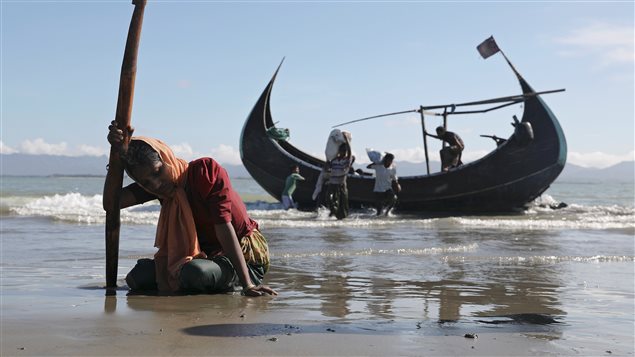 "It's a sad reflection of the state of our society," said Conservative MP Peter Kent, the party's foreign affairs critic and a former journalist, "that tragedies like the Rohingya persecution in Myanmar has not penetrated the consciousness of sadly anything close to the significant proportion of Canadian population."
Three-in-ten Canadians say they would support Rohingyas getting priority as Canada assesses refugee claims, but close to half (48 per cent) say they disagree with this idea, the study showed.
The numbers suggest that there may be a level of crisis fatigue affecting Canadians, Kurl said.
"Even though the Canadian government is taking steps to play a role, while that may not be a controversial or unpopular stance, it's not as though you have Canadians responding in a very visceral way, demanding the country do more in a way that we saw with the Syrian refugee crisis," Kurl said.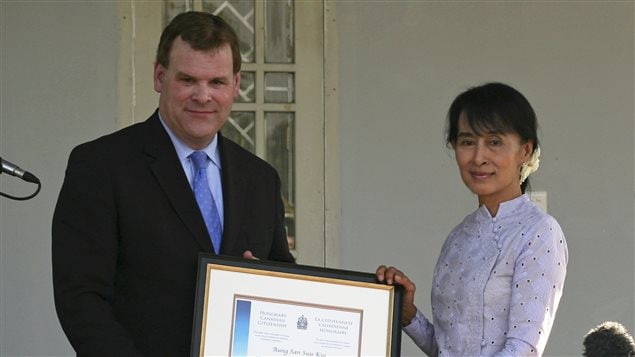 Suu Kyi is one of only six honorary Canadians: an honour she shares with Raoul Wallenberg, Nelson Mandela, the Dalai Lama, the Agha Khan, the spiritual leader of the Ismailia Muslim community, and most recently Malala Yousafzai, a girl's education activist in Pakistan. She was granted her honorary citizenship in 2007 by the Conservative government of Prime Minster Stephen Harper.
Kent said he has always been "of two minds" when it came to granting honorary Canadian citizenship to living individuals.
"While Aung San Suu Kyi has been a heroic figure in Burma, in Myanmar, on the human rights front and was cited for her heroism and for her resistance to oppression when she gained her Canadian citizenship, she is obviously not that person today," Kent said.
"But I think while frustration and anger might drive people to call for revocation of her citizenship, I think the greater focus now should be to encourage her to step back up in defence of human rights… to raise her voice again, and to insist that this genocide in the making stops, that the Rohingya are repatriated, allowed to re-establish their villages and live free of persecution and discrimination."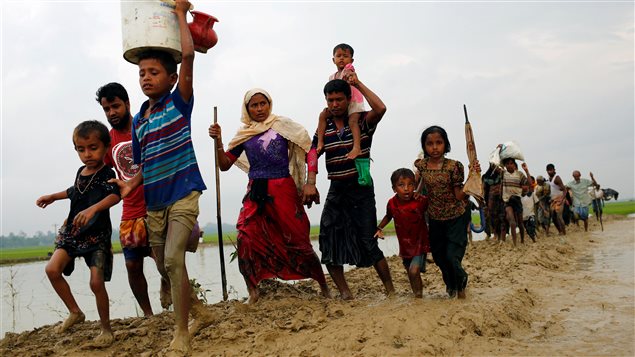 New Democratic Party MP Cheryl Hardcastle, who's sits as vice-chair of the Subcommittee on International Human Rights of the Standing Committee on Foreign Affairs and International Development, said revoking Suu Kyi's citizenship is a very "symbolic and punitive gesture that is not the concrete measures that we need to take and have needed to take for a very long time."
"We're disgusted, we're dismayed that this is happening," Hardcastle said. "The Canadian government needs to take very concrete measures to deal with this issue. If we learned anything from Gen. Romeo Dallaire and the genocide and the 100 days in Rwanda, have we not learned that we need early interventions that are supportive."
The Trudeau government takes the situation in Myanmar very seriously, and has taken a number of steps to address the crisis, said Cameron Ahmad, the prime minister's spokesperson.
"As you know, the prime minister recently named the Hon. Bob Rae as his Special Envoy to Myanmar to engage in diplomatic efforts to address the crisis in the Rakhine State," Ahmad said in an emailed statement. "Mr. Rae is working to reinforce the urgent need to resolve the humanitarian and security crisis in Myanmar and to address the situation affecting vulnerable populations, including the Rohingya Muslim community, other religious and ethnic minorities, and women and girls."
Trudeau has also spoken directly with Aung San Suu Kyi and written to her to convey his deep concerns, Ahmad said.