Gov. Gen. Julie Payette concluded her visit to Ukraine with a meeting on Thursday with Ukrainian President Petro Poroshenko who thanked Canada for its "firm position of support for our country's sovereignty, territorial integrity and independence from the very first minutes of the Russian aggression."
During a joint press conference at the Potocki Palace in the western Ukrainian city of Lviv, Payette underlined the ties that bind the two nations.
"We were proud to be the first Western nation to recognize Ukraine's independence in 1991," Payette said.
"At the heart of our relationship are the 1.3 million individuals who comprise the vibrant Ukrainian-Canadian community in Canada – the second-largest Ukrainian population outside of Ukraine."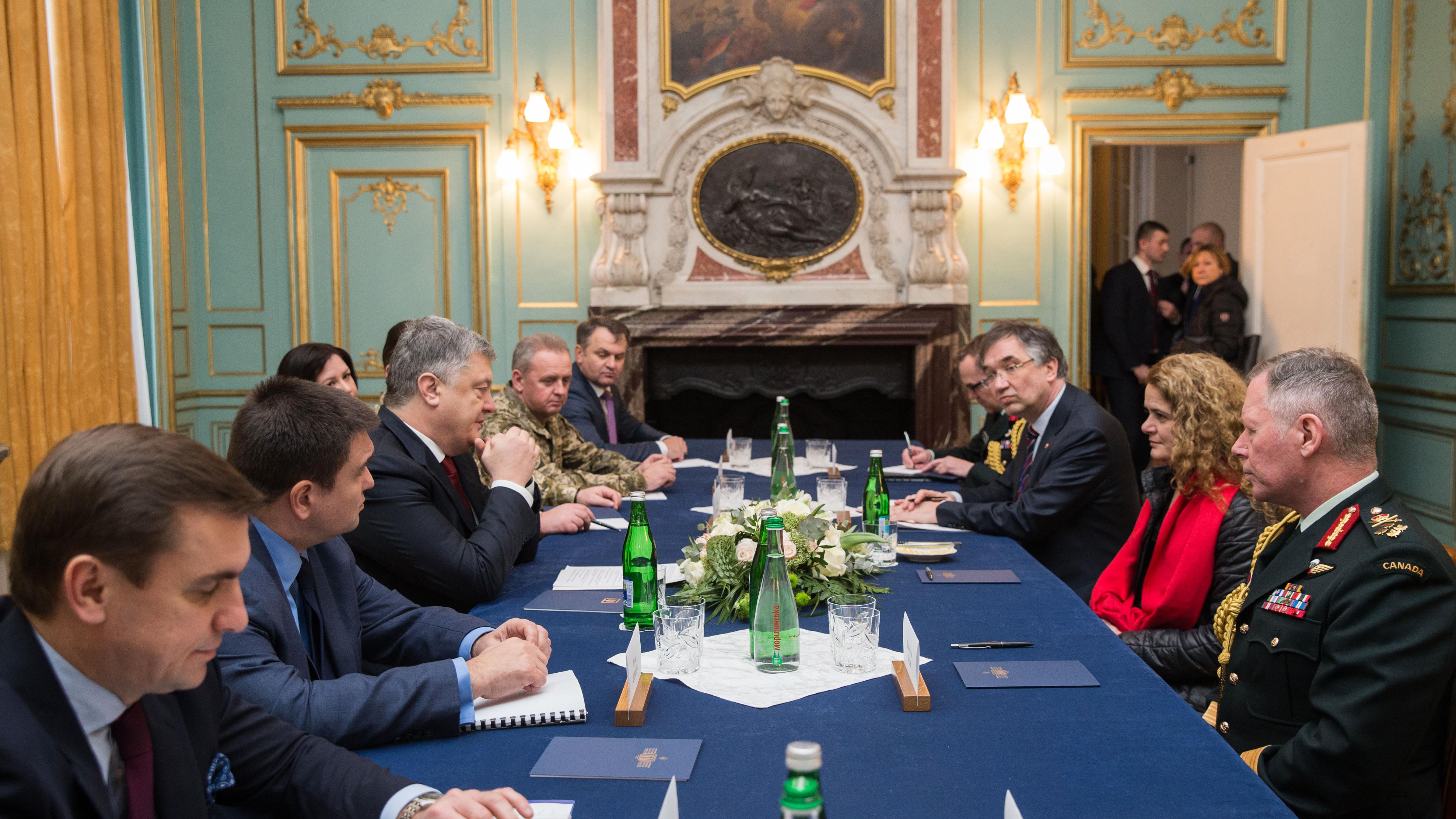 Payette, a former Canadian astronaut, also presented Poroshenko with a signed photograph of Ukraine taken from the International Space Station.
Poroshenko, thanked Payette for the gesture and for Canada's multifaceted assistance to Ukraine.
Growing military ties
The Governor General, who in her capacity as the Queen's representative in Canada is also Commander-in-Chief, then travelled with Poroshenko to the International Peacekeeping and Security Centre in the Yavoriv training area near Lviv, where Canadian and Ukrainian troops train together as part of Canada's Operation UNIFIER.
Canada has about 200 soldiers stationed in Ukraine under Operation UNIFIER, a military training and capacity-building assistance to Ukrainian Forces battling Russian-backed rebels in eastern Ukraine.
Payette said Canada and Ukraine work side by side and thanked Canadian soldiers serving in Ukraine and helping the Ukrainian Armed Forces acquire new skills and learning from the experiences of Ukrainian troops facing off with Russian-backed rebels.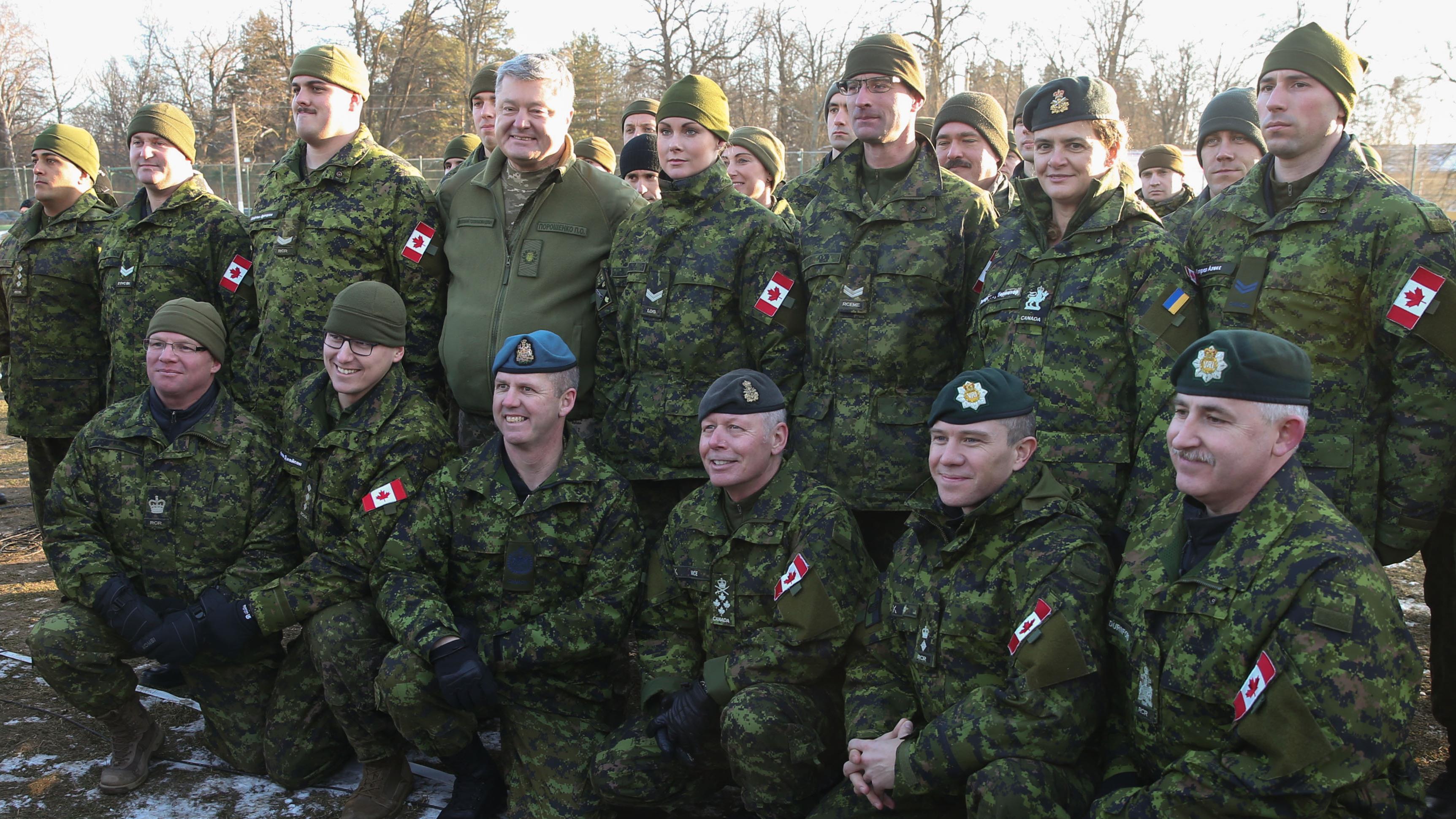 "I would like to express great respect and gratitude to you for serving your country – this is an enormous gift and an extremely important contribution to the security. You should be proud of your present and future achievements," the Governor General told Canadian soldiers.
Speaking at the training centre Poroshenko once again thanked Ottawa for "a powerful signal of support we received due to the decision of Canada to include Ukraine in the list of countries the supply of defensive weapons to which is permitted."
In December, Foreign Affairs Minister Chrystia Freeland announced that Canada will include Ukraine in its Automatic Firearms Country Control List (AFCCL), which would enable Canadian companies and individuals to apply for a permit to export certain prohibited firearms, weapons and devices to Ukraine.
"This step, along with the decision of our American friends, paves the way to providing lethal defensive weapons to Ukraine," Poroshenko said.
Controversial law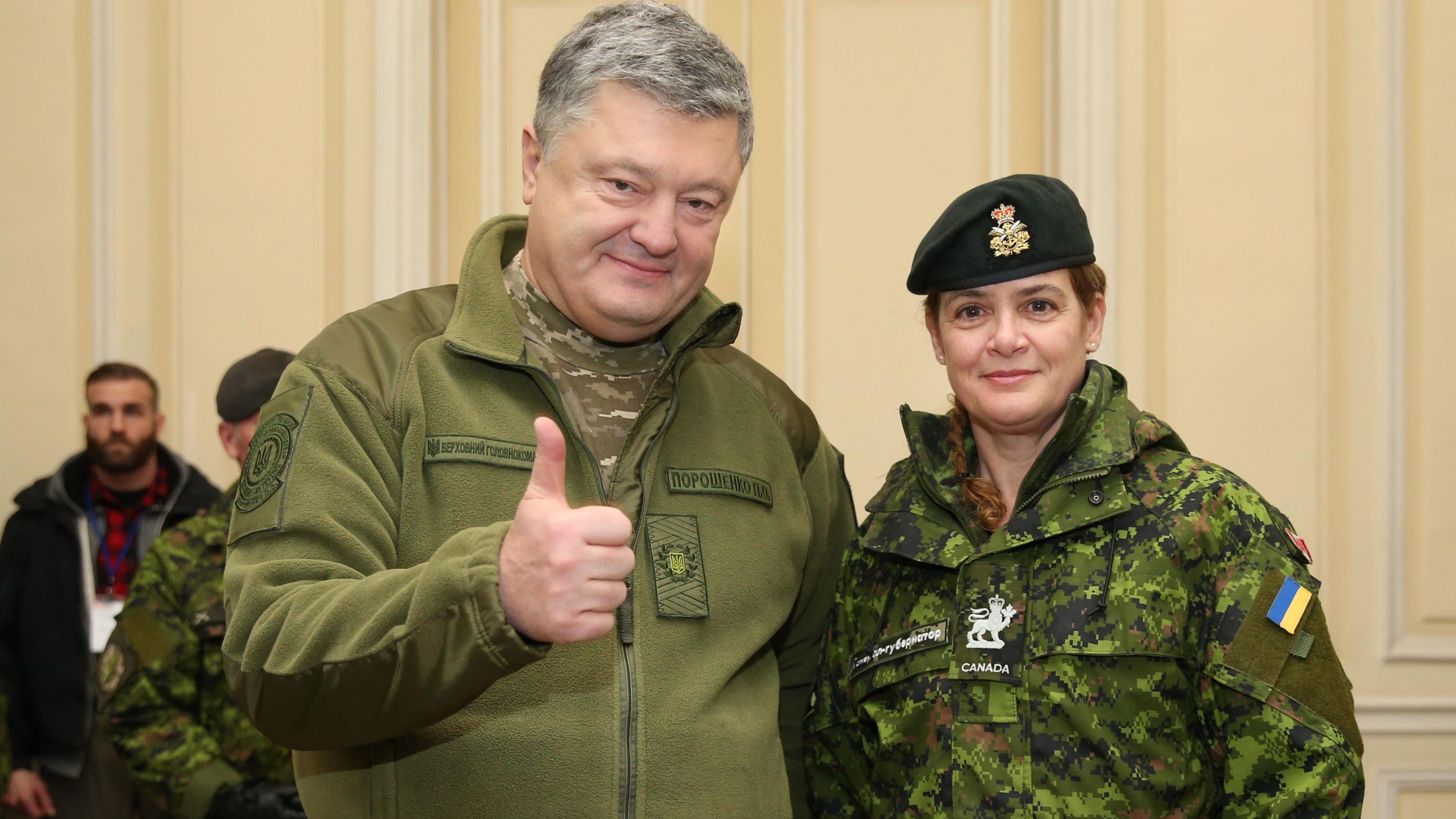 Payette's visit coincided with the adoption by the Ukrainian parliament, of a controversial law that gives Poroshenko sweeping new powers to deploy the Ukrainian military internally without having to proclaim martial law.
The new legislation calls Russia an aggressor state, and declares that parts of the Donbas region in eastern Ukraine are illegally occupied by Russian-controlled regular and irregular troops, and that the occupied areas are administered by self-proclaimed Russian occupation authorities.
Also, it states that Russia is completely responsible for ensuring the occupied civilian population's human rights and ensuring there are appropriate living standards for those living in the territories controlled by the pro-Russian rebels, according to the English-language online publication Kyiv Post.
Russia denounced the new legislation, saying it contravenes the letter and the spirit of the Minsk Accords and shows that Ukraine is not interested in the peaceful resolution of the crisis in Donbas.
First overseas visit
Payette arrived in Lviv on Wednesday evening.
Landed in #Lviv with @CDS_Canada_CEMD. A warm welcome by officials from #Ukraine. pic.twitter.com/BR3KuHZd93

— GGJuliePayette (@GGJuliePayette) January 18, 2018
Accompanied by Canada's top soldier, Chief of Defence Staff Gen. Jonathan Vance, she began the official part of her visit on Thursday morning by visiting the Memorial to Fallen Soldiers of Ukraine's Anti-Terrorist Operation, as authorities in Kyiv call the military operation against pro-Russian rebels in the Donetsk and Luhansk regions.
She also met with Canadian and Ukrainian soldiers at the Military Law and Order Service (MLOS) Academy, which was reopened in September 2017 with Canadian assistance after it had been decommissioned in 2012.
.@CanadianForces were crucial in the reopening of the Military Law and Order Service Academy in #Ukraine. Fascinating to visit the facility accompanied by @CDS_Canada_CEMD. pic.twitter.com/5x2oS2pok7

— GGJuliePayette (@GGJuliePayette) January 18, 2018
Off to Latvia
On Thursday evening, Payette will travel to Latvia, where she will meet with President Raimonds Vējonis and visit Canadian troops stationed in the tiny Baltic country and Canada's NATO ally.
This will be the first visit by a Governor General to Latvia.
Canada also leads NATO's multinational enhanced Forward Presence Battlegroup Latvia, and contributes approximately 450 troops to the deployment as part of Operation REASSURANCE.
The Canadian-led battlegroup, which also includes troops from Albania, Italy, Latvia, Poland, Slovenia, and Spain, is part of a larger 4,000-strong NATO force deployed to Poland, Lithuania and Estonia to reassure them in the face of an increasingly assertive Russia, itself worried about NATO's eastward expansion