Contact Us
Team
History
Mandate
Contact us
You can write to us at the following address: info@rcinet.ca
Our Montreal address
1400 René-Levesque Boulevard East
Montreal, Quebec
Canada
H2L 2M2
Telephone : 514-597-7461
Team
Radio Canada International

Soleïman Mellali, Editor in Chief
English

Lynn Desjardins, presenter-producer

Levon Sevunts, presenter-producer

Marc Montgomery, presenter-producer

Terry Haig, presenter-producer

 Eilis Quinn, specialized reporter
Webmaster - Multimedia

Julie Remy

 Leonardo Gimeno

 Zoubeir Jazi

 Pierre Dutil, Operations coordinator
History
The Voice of Canada in the World
A shortwave radio service that would keep members of the Canadian Armed Forces in touch with news and entertainment from home during the Second World War became a reality with the signing of an order-in-council on September18, 1942.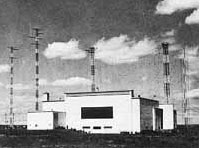 Transmitters at Sackville, NB, in 1945
But it wasn't until February25, 1945, that the service really took off. It was in a time of war between nations, but with the promise of peace in sight, when the voice of Prime Minister W.L. Mackenzie King welcomed the world to the new International Service dedicated to projecting a Canadian view of life and events.
It was decided to house the studios in the Radio-Canada building in downtown Montreal, while the transmitters would be put up in Sackville, New Brunswick. Montreal was an ideal studio location, since the Canadian Broadcasting Corporation had extensive production facilities and plenty of English and French broadcasters to host programs. Sackville was chosen after careful study of radio transmissions between Canada and Europe. Reports at the time indicated that the International Service had the clearest shortwave signals from North America.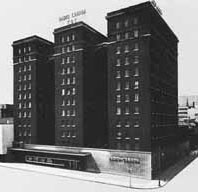 The Radio-Canada building in Montreal
When the service went on the air in 1945, programs were broadcast in English, French and German. All targeted Great Britain and Western Europe, providing a total of six hours of programming daily. The CBC International Service produced dramas, news magazines, commentaries and musical programs.
The International Service expanded quickly. By 1946, it had expanded to include regular transmissions in Czech and Dutch. Special once-a-week programs were broadcast to Scandinavia in Swedish and Danish and later in Norwegian, as well. Daily broadcasts started to the Caribbean in English. In 1947, there were also programs broadcast to Latin America in Spanish and to Brazil in Portuguese, and an English service to Australia and New Zealand began. An Italian service was started in January 1949, while a once-a-week broadcast in Finnish began in December 1950.
Throughout its early years, the International Service had concentrated on broadcasting to Western Europe in the aftermath of the Second World War. By the early 1950s, the Cold War had come to Eastern Europe. Suddenly, millions of people lost their ability to hear an unbiased account of world news. Several international shortwave stations, including the International Service, began to beam programs into the Soviet bloc countries in an effort to let those people know what was really happening around them.
The International Service had already been broadcasting in Czech and Slovak when a Russian service was started in January 1951. This was followed by a Ukrainian service in September 1952 and a Polish service just a year after that. Canadians who spoke those languages, and occasionally defectors from the Eastern bloc, regularly provided uncensored news, comments and reports about Canada and about their homelands.
At around the same time as the expansion into the Caribbean and Latin America, the International Service became involved with the newly formed United Nations. The International Service was asked to provide transmission facilities for daily UN broadcasts to be produced at the United Nations radio facility at Lake Success, New York, and fed by phone lines to Sackville. These broadcasts proved critical to the UN when it needed to get its point of view across to the world during the post-Second World War and Korean War periods. United Nations broadcasts continued through the International Service until November29, 1952, when they were transferred to Voice of America facilities.
Interestingly, in 1952, a reporter who been with the International Service since the end of the Second World War became a Korean War correspondent. His name was René Lévesque, and in 1976, after a successful career as a journalist, radio host and politician, he was to become the premier of Québec.
The International Service in transition
By late 1954, the CBC International Service underwent the first of many budget cuts and reorganizations. With the Cold War in full swing, the International Service decided to direct its remaining resources to Eastern European audiences. This meant that some languages were dropped, while others expanded.
One of the casualties of this reorganization was the Finnish service, which ended on January29, 1955. It was the first time a language service had been discontinued but, sadly, it would not be the last. Both the English and French services were significantly reduced. Prior to the change, there had been three English broadcasts to Europe and one each to the United States and Australasia. Under the new schedule, there was only one broadcast to each target area. On the positive side, the service to Australasia was increased from twice weekly to daily.
The French service was reduced even more than the English. Where there had been three European broadcasts and one Caribbean, there was now only a single European transmission. Also eliminated were the Dutch, Danish, Norwegian, Portuguese, Spanish and Swedish services. However, German programs increased from 45minutes to an hour, the Czech/Slovak service gained a broadcast, and so did the Polish service. Russian broadcasts increased 50percent.
The programming also changed. In the mid-1950s, there was a great need for factual programs dealing with the state of the world and Canada's place in it. There was less emphasis on the music and dramatic programs that had been highlights of the International Service since its inception.
New structure, new name
Although the International Service had been managed by the CBC from the outset, in 1968, it was fully integrated into the CBC's funding structure. Until then, the Service had been defined as a separate entity, controlled by the Parliament of Canada through the Department of External Affairs. In July 1970, the service was renamed Radio Canada International because it was felt that RCI should have its own identity, separate from the CBC domestic network.
Since the beginning, RCI had been primarily concerned with broadcasting south and east of Canada. In 1984, RCI made the decision to look westward to a new audience: Japan. Five years later, when it shortwave transmissions to China became technically feasible, a Mandarin-language service was introduced. Just a few months later, RCI began broadcasting in Arabic to the Middle East.
Shortly before the end of 1990, there was a dramatic moment. RCI's future was up in the air as the CBC, like all federal departments, was forced to make sweeping reductions. The prime minister, the minister for external affairs, and the minister of communications were inundated by thousands of letters. In 1991, the Government announced that Radio Canada International would be allowed to continue operations and that the service would be funded—at significantly lower levels—with a separate annual grant, administered by the CBC, for a period of five years. RCI had to discontinue 6 of its 13languages: Czech, German, Hungarian, Japanese, Polish and Portuguese. And while the English and French services survived, all RCI-produced programming was eliminated and replaced with shows from the CBC domestic network. Yet a few years later, the two services began producing original programs again.
In 1992, Radio Canada International took over production for the Canadian Forces Network after the CFN studios in Lahr, Germany, closed. On the technical front, RCI continued to enter into transmitter exchange agreements with such international broadcasters as Radio Austria International, Deutsche Welle, Radio Beijing, Radio Korea and Radio Monte Carlo. At the same time, RCI began to offer programming through agreements with the World Radio Network to broadcast its shows by satellite to Europe, Africa and Asia. In 1993, a special CFN Report to Peacekeepers in English and French was added to RCI's shortwave schedule to Europe, Africa and the Middle East. By 1994, a second Peacekeepers show was being transmitted to the Caribbean and Latin America.
In 1995, further budget cuts loomed on the horizon. Once again, RCI received a last-minute reprieve, but it was forced to review its offering and consider new avenues for the future.
The late 1990s and the early 2000s were a time of major technological advances in the world of communications. RCI decided to expand its broadcasting media and explore the possibilities of the World Wide Web.
In 2006, it made its first foray into multimedia, producing series like Roots and Digital Diversity that signalled its new direction. During that same period, it decided to develop content especially for immigrants and would-be immigrants to Canada. New programs were produced for the North American market and broadcast on RCI PLUS, a CBC channel on Sirius satellite, until spring 2010. That marked a return to the international market, without abandoning the home market, which had a sizable audience of people of various origins curious to learn more about Canadian life and values.
In 2012, Radio Canada International underwent a radical change. Its budget was drastically cut. It stopped all shortwave broadcasting to concentrate solely on the web. And it decided to focus on just five languages: French, English, Spanish, Arabic and Chinese.
RCInet.ca adapted to include brand-new productions and features for people who know little or nothing about Canada, no matter where they are in the world. There are interviews, feature reports, columns, news, a current affairs blog and a multimedia section.
The civic values of openness and tolerance that characterize Canadian democracy are central to its concerns, as seen in the multimedia productions Democracy and Religion; Me, The Muslim Next Door; Mopaya and Black History Month, and the RCIVision site, which features hundreds of shorts under the heading Cultural Crossroads. And then there's Eye on the Arctic, a site developed with circumpolar partners determined to raise the awareness of people around the world of ecosystem interdependence and the effects of global warming on the Arctic environment and those who live there.
Mandate
RCI - Radio Canada International
RCI is CBC/Radio-Canada's multilingual service, providing audiences with an opportunity to discover and, above all, to understand and gain insight into the reality of Canadian society, along with its cultural and democratic values.
RCI is the web interface of Canada's public broadcaster, forging bonds between Canadians and citizens of the world.
RCI targets audiences who know little to nothing about Canada, whether they live in Canada or abroad.
RCI is an interactive platform that offers citizens of the world a public forum where they can interact and exchange views about the compelling events taking place there every day.
RCI delivers content in English, French, Spanish, Arabic and Chinese.