Refugee Stories in 'Flight and Freedom'

Flight and Freedom: Stories of Escape to Canada is the book containing a riveting collection of refugee experiences, edited by Ratna Omidvar and Dana Wagner.
The duo came up with the idea at the Maytree Foundation, where Omidvar was president until the end of the summer,  Currently the book is undergoing a final edit and a publisher will soon be chosen to allow for an early 2015 release date.
Carmel Kilkenny spoke with Dana  Wagner about the project.
Dana explained that the genesis of the book was in reaction to the recent changes the government made to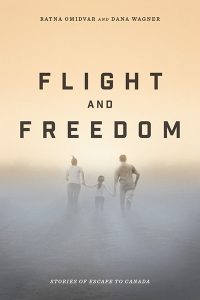 Canada's refugee system.  In an effort to speed up the process, there has developed an almost punitive quality to the new rules and regulations.
"My co-writer and I really want to encourage that long-term thinking on refugees.  When we think about a refugee in Canada I think we tend to get stuck in those first few years.  We think about somebody just getting on their feet, learning English, navigating the education system;  whatever we think about it tends to be about  actually being helped, and probably working a minimum-wage job, and all of that is true, that's not to say that doesn't happen, but what happens after 20 years, what happens after 30 years?"
It is the long-term benefits that Dana Wagner and Ratna Omidvar are highlighting.  The stories range in time and place from the nineteenth century in Halifax, Nova Scotia, and the arrival of two former slaves, to the present and the lives that refugees from 20 countries have now built in Canada.
There are the memories of escaping the Kmer Rouge by a scholar now a department head at Ryerson University. And the musings of the son of two Armenian orphans, rescued by Canada in the 1920′s in a little known move known as 'Canada's Noble Experiment'.
Along with the stories, the book provides a review of the 30 cases and informs the reader where these people would be now.  Would they get into Canada today?