Photos show rich aboriginal life and culture
Mosha and Joshua Akavak hunt walrus in Nunavut in 1998. Newbury recently bequeathed his 3,500-plus photo collection to the Nunavut territorial government. 
Photo Credit: Nick Newbery
---
Most Canadians do not visit the country's northern territories very much, but a new collection of photos of Nunavut has been posted online gives them a glimpse of Inuit life and culture there. They show things like walrus hunts, community feasts, polar bear cubs and visiting prime ministers.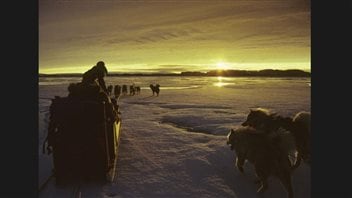 'Just someone who had a camera'
Nick Newbery went to Nunavut to teach from 1976 to 2005. He travelled all over the territory and snapped thousands of pictures as he went.  Newbery, who says he is not a photographer, but just "someone who had a camera," has donated the collection to the Nunavut as a way of saying thank you.
​ »White people don't exactly have a clean record in the world of photography up here, » Newbery says, referring to what he calls the « propaganda » used by missionaries, merchants and politicians over the years.
Rather what he was trying to do was to document "rather than… to interpret or create a message. »