NATO's Arctic dilemma
Two visions of the Arctic collide
as NATO and Russia flex muscles
Above image: Spanish Frigate Cristobal Colon, French Naval Ship Latouche-Tréville and Turkish Naval Ship Oruceis sail ahead of HMCS Ville De Québec while near the coast of Norway during Trident Juncture on Oct. 26, 2018.
(Master Cpl. Andre Maillet/MARPAC Imaging Services)
Rising tensions with Russia are forcing NATO to once again train its military forces to confront a large and well-armed opponent in northern Europe and possibly even in the Arctic.
In late October and early November 2018, the alliance conducted massive war games in and around Norway, NATO's largest exercise since the end of the Cold War.
But as the exercise code-named Trident Juncture showed, NATO and Norway have to perform a fine balancing act between deterring aggressive Russian behaviour and provoking a further build-up of Russian forces on Norway's border and in the Arctic.
In the meantime, a small Norwegian town on the Russian border is betting its future on developing cross-border cooperation and becoming a vital hub on a new trans-Arctic route connecting Russia and China to Western Europe.
Journalist: Levon Sevunts
Editor: Douglas Beazley
Web Editor: Gabriel Séguin

Col. Stéphane Boivin scanned the map and weighed the odds.
The highly decorated Canadian Armed Forces combat veteran, commander of the 5 Canadian Mechanized Brigade Group (5CMBG) based in Valcartier, Que., had a daunting mission in front of him: clearing a corridor along a highway snaking through a narrow Norwegian valley, bordered on two sides by snow-capped mountains, within three days.
The rugged terrain limited the manoeuvrability of his light infantry. So did the heavily armed opposition, backed by tanks and other armour.
"It's a 140-kilometre valley, which basically has only one major access route, with hills on both sides, several rivers, bridges." said Boivin, a veteran of Afghanistan and peacekeeping operations in the Sinai Peninsula, pointing at a section of the map dotted by green and blue pins. "So, a very complex terrain."
'Complex' enough: the mountainous landscape forced the brigade's communications network to constantly change position to stay in touch with the troops as they pushed their opponents further south. And it had rained or snowed almost every day since the Canadians had arrived in Norway two weeks earlier.
It could have been worse. It could have been real.
These were war games – NATO's largest such exercise since the end of the Cold War. The games, codenamed Trident Juncture 2018,  ran over late October and early November and involved nearly 50,000 NATO soldiers (about 2,000 of them Canadians), backed by some 250 aircraft, 65 ships and up to 10,000 vehicles from all 29 NATO countries, as well as Sweden and Finland. It covered all four theatres of war: land, sea, air and cyberwarfare.
Lessons for a foot soldier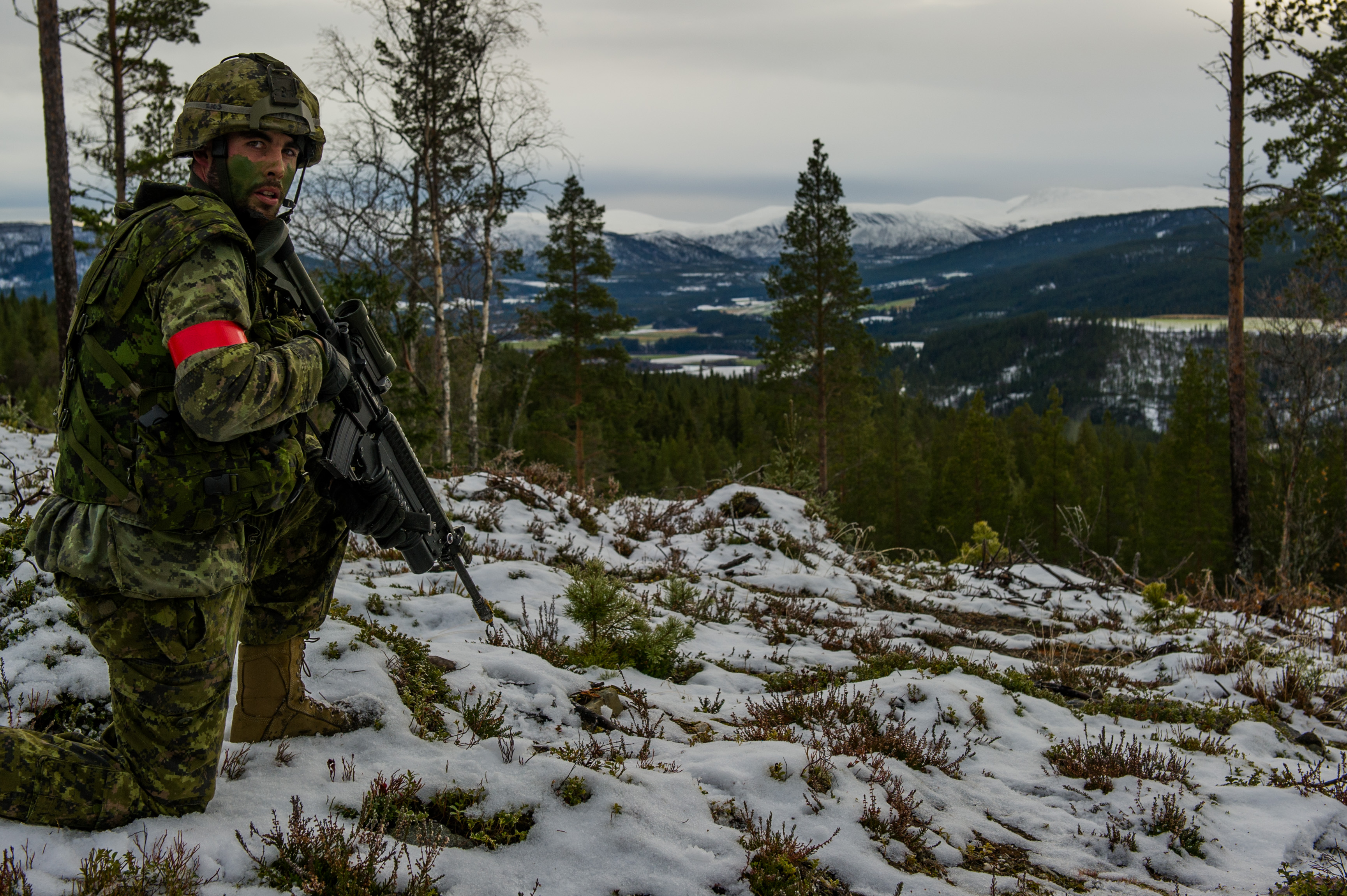 The Canadian forward operating command post hidden in a thick birch and spruce forest was buzzing with activity even as the short, dull autumn daylight gave way to total darkness. Sounds of muffled radio reports crackled over the low humming of diesel generators that kept the sophisticated electronic communications equipment going in a huge dark green tent, which served as the command centre.
Canadian soldiers their faces covered by green and brownish streaks of camouflage paint, walked in and out of the tent letting out a brief sliver of yellow light every time they pulled aside the tent flap to get in or out.
Once inside, they hung their wet gear on folding chairs and left their cellphones on a desk with a duty officer before walking into the inner sanctum of the tent: in this age of cyber hacking and cyberattacks no cellphones were allowed anywhere near all that sensitive equipment.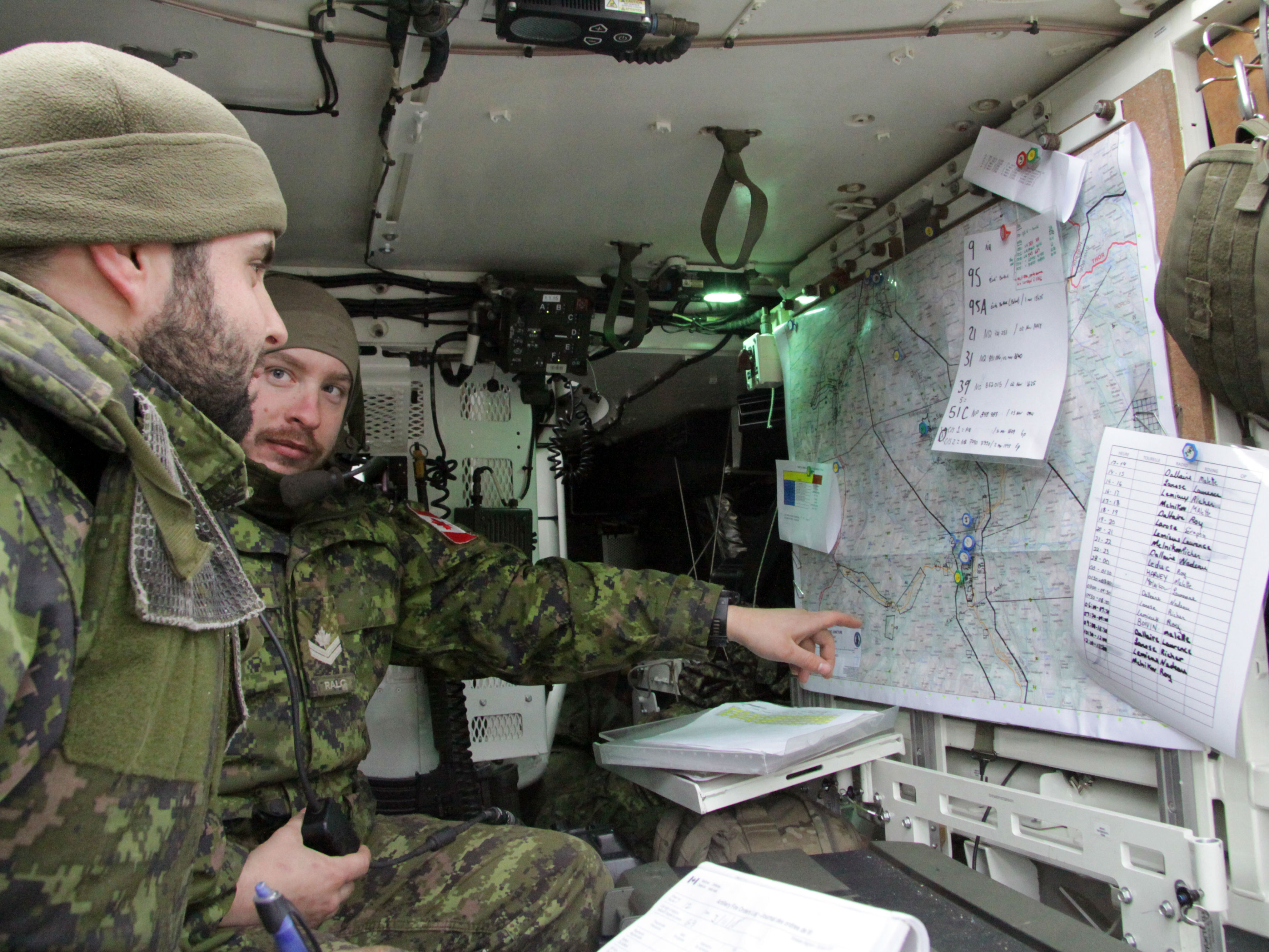 For the last three days, as Canadian troops pushed south, Cpl. Alexandre Bayard, of the 5 Combat Engineer Regiment, was assigned to scout for possible obstacles – antitank mines, landmines and IEDs – left by the "enemy" to slow down the Canadian advance.
"It's our job as reconnaissance engineers to make a full report of the actual minefield, to give as much information to our other engineer units so they can take care of it and create a breach in the minefield." Bayard said, pouring himself a cup of hot coffee in the command centre's antechamber.
But the reconnaissance unit's last sortie didn't go well for Canadian combat engineers as they came face to face with a heavily armed opponent, Bayard admitted.
"We were outgunned and outmanned in every possible way," Bayard said.
"We had a small jeep with no armour and they had one of those big vehicles they call Lynx, so they had a 50-caliber machine gun on top that, they clearly had the advantage."
As adrenaline rushed through his body when they spotted the Lynx's machine gun aiming at them, Sapper Nicolas Simard said he knew he just couldn't mess up this one.
"I'm the C-9 gunner for my section so that means that I have approximately 80 per cent of the firepower." Simard said, referring to the light machine gun used by the Canadian military. "Get the gun down, start shooting rounds! That was the only thing going through my head."
Wiping the camouflage paint off his face, Simard said the exercise provided valuable lessons of surviving in a harsh northern environment even for Canadian soldiers used to training and operating in cold weather.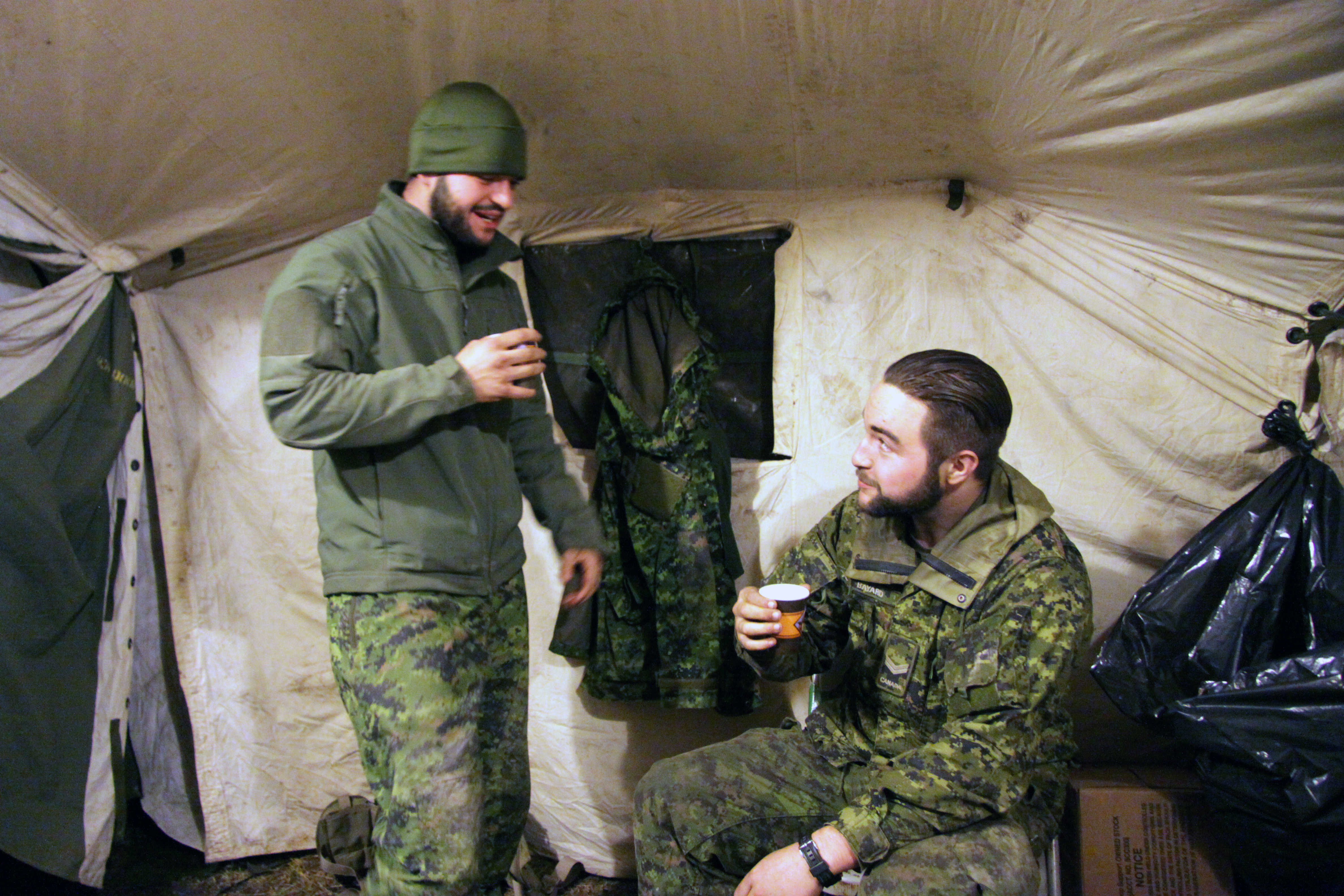 Chief among them is that as a soldier you make your own comfort and you always have to be ready for the unexpected, like the time his section got into their heaviest firefight just as they thought they had a few brief moments of rest and eat their rations, Simard said.
"It also makes you realize your limits." he said, sipping hot coffee in the anteroom of the command centre tent.
"You're always trying to figure out, 'What if I only wear this pair of socks instead of those two? Would I be able to go longer with more comfort or do I need to have two jackets or one jacket?' You're always testing your limits."
He also learned that if this were a real war, he'd be dead by now.
"It makes you realize, 'Oh, I was there eating my rations and now I'm dead.'" said Simard, who has served with the Canadian Army for two years. "It makes you think."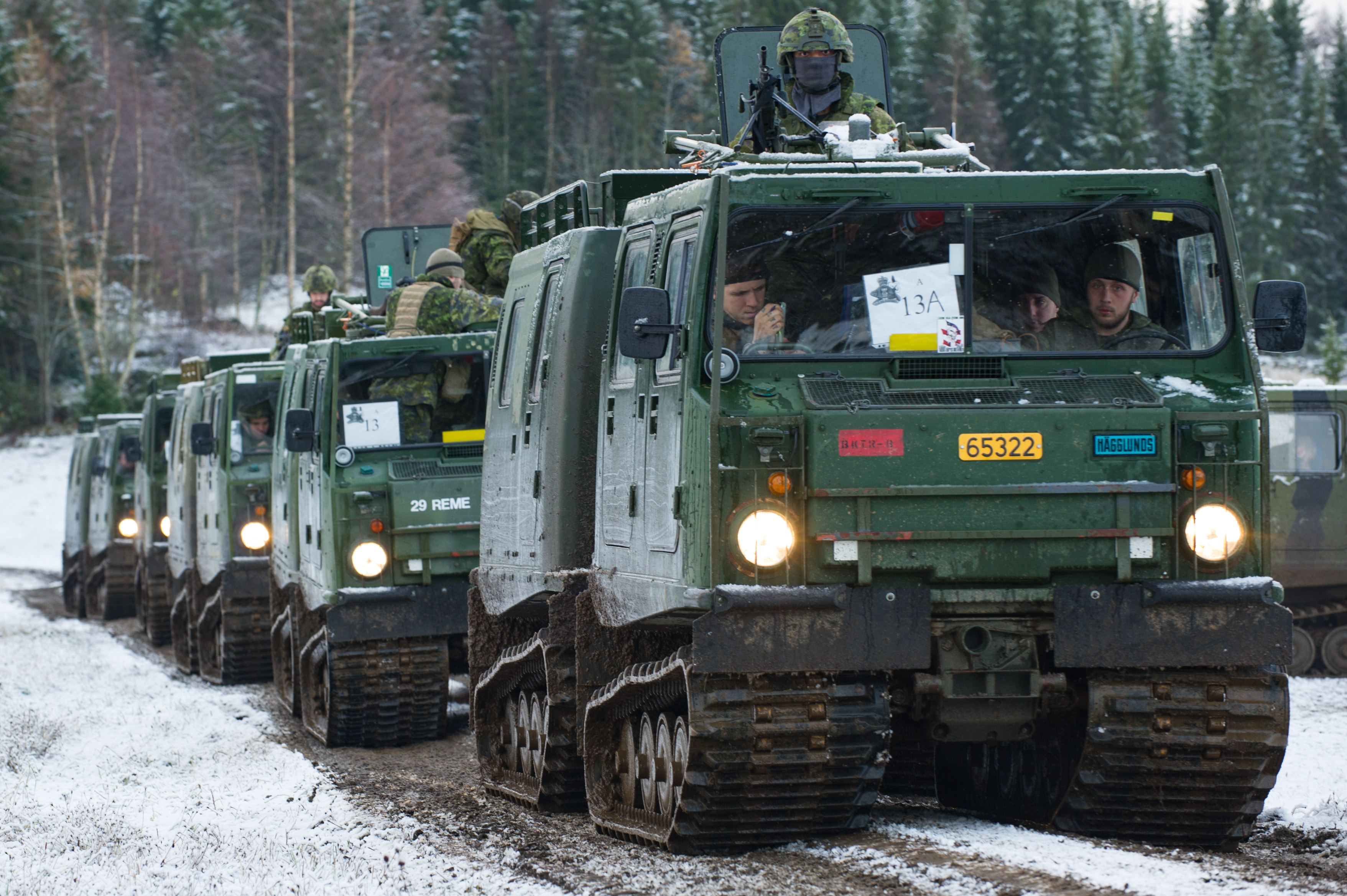 The goal of Trident Juncture was to train for a scenario in which a NATO country requests assistance under Article 5 of NATO's founding Washington Treaty, which enshrines the principle of collective defence: an attack on one ally is considered an attack on all.
The reason, of course, is Russia – and the tensions between NATO nations and the former superpower that have been ramping up since Moscow began military interventions in Ukraine in 2014.
Only a few weeks before Trident Juncture began, Russian armed forces conducted their largest war games since the Cold War. The Vostok 2018 exercise in Siberia included the staging of a massive amphibious landing by Russian marines in the eastern Russian Arctic – an exercise some experts said closely simulated an attack on northern Norway.
"I guess the biggest takeaway from this exercise is to be capable not only to operate as a multinational brigade, but also to operate and communicate with a Norwegian brigade on my flank and to be able to operate with Americans on my other flank." Boivin said.
"(It) makes it an even bigger challenge just in terms of coordination, synchronization of effects, trying to make sure that we're avoiding confusion on the battlefield. It's been a great opportunity to do that."
The exercise also marked a major shift in NATO training.
After years of learning to fight insurgents in Afghanistan and Iraq, the alliance is once again focusing on the threat of a large-scale war on the European continent.
"Canada being an Arctic nation, it's obviously a type of weather, a type of terrain we're capable of working with." Boivin said, watching the sun sinking low in the northern sky. "And that's what we're training for."
"Fighting in Afghanistan was a totally different fight than it is over here. We were fighting a counterinsurgency for several years, while here it's a peer-to-peer war fighting exercise. In Afghanistan, the enemy was less capable than the enemy we're fighting here."
Apart from ground forces commanded by Col. Boivin – which also included Norwegian, French, American and Bulgarian troops – Canada tasked four warships, eight fighter jets, two submarine-hunting planes and an air refuelling tanker to the exercise. It was the Armed Forces' largest overseas deployment since the end of Canada's combat role in Afghanistan in 2011.

Logistics, logistics, logistics
It wasn't easy – and the knotty logistics involved in Trident Juncture gave Canadian commanders a clearer sense of just how difficult it would be for Canadian soldiers to fight a 21st-century war in Europe.
From a temporary office at the Canadian base on the shores of a picturesque fjord in Orkanger, Norway, about 200 kilometres north of Boivin's troops, Lt.-Col. Todd Anstey runs the National Command Element, the logistics and support unit that managed the deployment of Canadian troops and materiel to Norway.
Unlike the U.S. Marines – who had most their heavy equipment, including M1A1 Abrams tanks, stored in giant caves in central Norway – the Canadians had to bring almost everything with them: more than 170 sea containers, nearly 230 ground vehicles. Most of the troops travelled by chartered civilian aircraft.
The planning for the Canadian deployment had taken well over a year, Anstey said. "I think amongst all the NATO countries, Canada has one of the longest lines of communications."
The exercise proved to NATO again Canada's ability to deploy air, sea and land forces to distant battlefields. It also showed that Canada would need at least a month to deploy a significant force to Norway in the event of a real emergency, Anstey said.
The same timeline likely would apply if Canada ever needed to send reinforcements to Latvia, where it's leading a 1,000-strong multinational NATO battle group intended to keep the Russians from doing there what they did in Ukraine.
What happens in Ukraine doesn't stay in Ukraine
NATO's continuing eastward expansion, coupled with the Kremlin's annexation of Crimea and its meddling in eastern Ukraine in support of pro-Russian insurgents, has revived Cold War rhetoric and posturing in both Brussels and Moscow.
Russia says it's increasingly worried about NATO's expansion on its western borders and has responded with a more aggressive pursuit of its national interests and a massive campaign to rearm and modernize its military.
Strained relations with Russia also mean that NATO is again training to fight in northern environments – possibly north of the Arctic Circle, where NATO member Norway shares a land border with Russia.
That explains why Trident Juncture was the first NATO exercise since the Cold War to deploy in the Arctic an American aircraft carrier – the USS Harry S. Truman – along with its strike group. Russia responded by sending its largest battlecruiser, Pyotr Velikiy (Peter The Great), into the area, and threatening to conduct live missile exercises.
NATO is attempting to thread a narrow policy needle in the far North – preparing for the appalling prospect of a shooting war with the Russians while trying to keep the overall threat level in the region as cool as possible. After watching American, British and Dutch marines participating in Trident Juncture stage a spectacular amphibious assault, backed by helicopters, fighter planes and even a strategic B-1 bomber, NATO Secretary General Jens Stoltenberg told Radio Canada International the alliance has always strived to keep the Arctic an area of low tensions.
"That was the case for many, many years." Stoltenberg said. "It's not the case to the same degree today because of we have seen a significant increase of Russian military presence in the North, with naval capabilities, reopening old military bases and more submarines."
Watch a demonstration of NATO soldiers performing an amphibious assault in Byneset, central Norway:
Stoltenberg insisted, however, that NATO has no intention of mirroring what Russia is doing in the North.
"But of course, we need to make sure that we are able to protect all allies, also those allies who have territory in the North, in the Arctic." he said. "And we have to make sure that we are able to keep the sea lines of communications open over the North Atlantic from North America to Europe."
NATO has increased its presence in the Arctic with more modern maritime capabilities and patrol aircraft, and by strengthening the alliance's anti-submarine warfare capabilities, he added.
"We do a lot to make sure that we are able to deliver credible deterrence… in the Arctic." Stoltenberg said.
U.S. Admiral James G. Foggo, commander of Allied Joint Force Command Naples, said Trident Juncture demonstrated that NATO would have no trouble fielding forces further north – even beyond the Arctic Circle and close to the Russian border, if the need ever arose.
However, he said he doubts NATO forces would ever be called upon to do that, and downplayed the argument for moving more NATO resources into the Arctic.
"It's nobody's intent to militarize the Arctic." he said. "The Arctic is an area where there is a lot of transit, there is a lot of tourism, it's something that we have to pay attention to and the intent is to keep a safe and secure environment out there for all nations that border on the Arctic seas."
"Nobody is out to challenge anybody else's particular claims or interests in the Arctic."
For Norway, Trident Juncture offered proof that, if the Cold War returns and starts overheating in the Far North, Norway can cope – and it won't have to cope alone.
"First, we can show that we can receive help from our allies if needed." Norwegian Defence Minister Frank Bakke-Jensen told Radio Canada International.
"The other part is that we can test our total defence concept, which means that our civil authorities – our health authorities, road authorities, police – everyone is able to support the troops if we need to receive such an amount of people."
Still, Bakke-Jensen – who represents Norway's northernmost region, Finnmark, on the border with Russia – said he doesn't believe the alliance is heading for a replay of the bad old days following the end of the Second World War.
"I grew up during the Cold War. Then, the Soviet Union was something dark, cold beyond the border." he said. "Today we know that beyond that border there are people like us. We know that Russian authorities are something but the Russian people are something else."
While Norway can't accept Russia's behaviour in Ukraine, Bakke-Jensen said, it also doesn't see Russia as an imminent military threat and tries to cooperate with Moscow in other fields.
"We cooperate in managing the fish stocks in the Barents Sea, we have a search and rescue agreement, we have some science projects, we have a lot of people-to-people projects crossing the border in the north."
"We try to keep as good a relationship with Russia as possible, but at the same time we need to signal that we can't accept breaches of international law we see in Ukraine."
A challenging relationship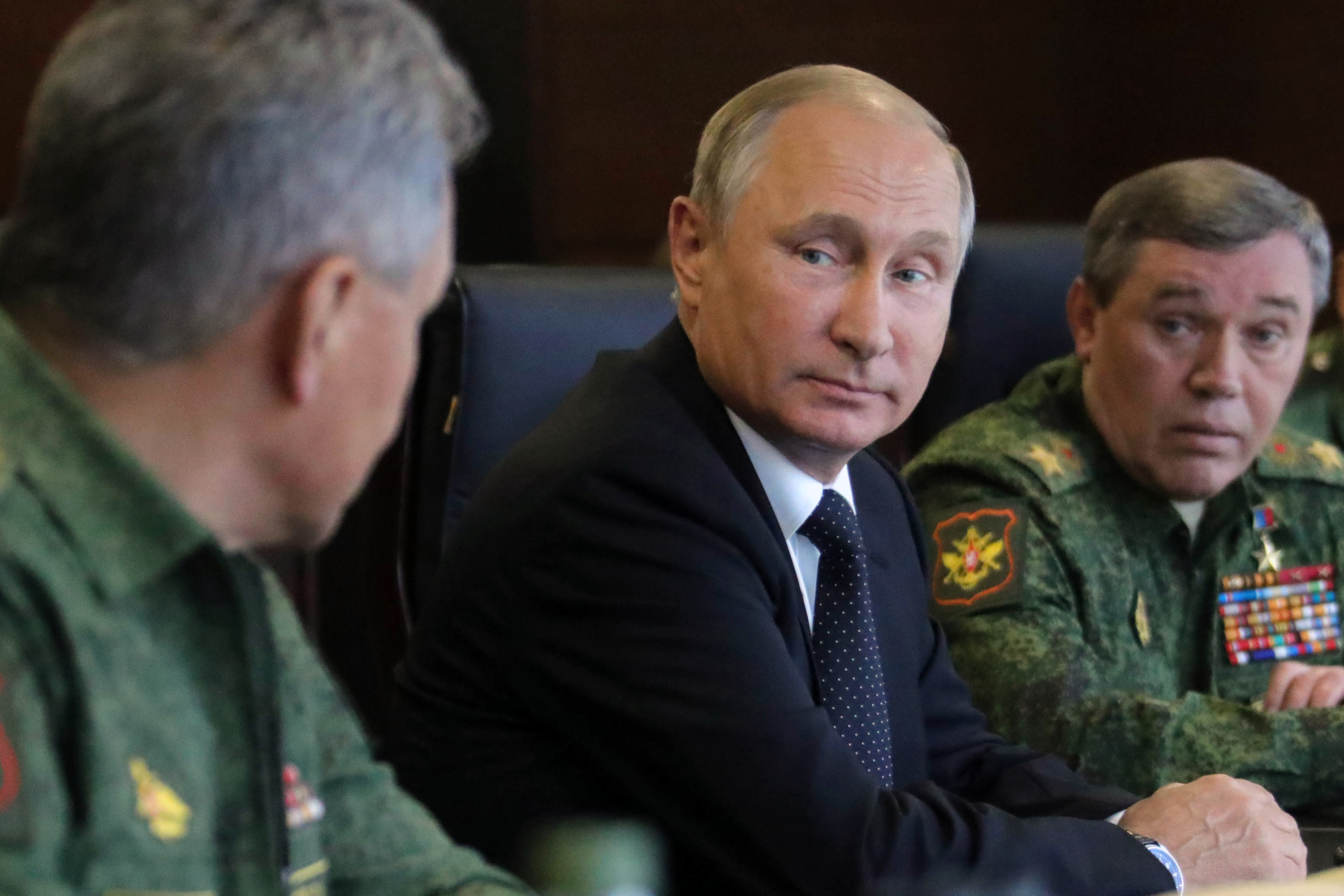 Relations with Russia preoccupy Knut Hauge. As director general of the Security Policy Department at the Norwegian Ministry of Foreign Affairs, it's part of his job to advise the government on its Russia policy. And as a former ambassador and consul general to Russia who spent years in Moscow and at the Norwegian consulate in Murmansk, Hauge has some unique insights into that complex relationship.
Norway and Russia have been neighbours for centuries. In fact, the first border agreement between Norway and Russia's Novgorod Republic was signed back in 1326, Hauge said.
"We, of course, realize that we are in an asymmetric relationship to Russia, Norway being a small Atlantic country and Russia being a huge Eurasian country." Hauge said, speaking in his office overlooking downtown Oslo.
"So there has always been this inherent challenge in our relationship."
Over the years, and even during the Cold War, Norway has based its relations with Moscow on respect for legitimate Russian interests, Hauge said.
That has meant, for example, not deploying large numbers of troops close to the Russian border, since Russia's Kola Peninsula is the main staging base for its strategic nuclear submarine fleet and home to some of its key military installations.
"On the other side," he said, "it is very, very important to show the necessary firmness, or you can call it deterrence, towards the Russians."
"You can say that a prerequisite for being able to engage with Russians as a small country in our neighbourhood is that we have the backing of our allies and that our defence is credible. And (Trident Juncture) shows that we are within a credible alliance with a capacity to reinforce us if and when needed."
The terrestrial part of Trident Juncture took place in central Norway, nearly 900 kilometres from the border with Russia, although its air and maritime aspects came much closer to the Russian border. Holding the exercise any closer to Russia would have been a "completely unnecessary provocation" Hauge said.
Still, Russia has only itself to blame for NATO's show of force, he argued.
"There is absolutely no doubt that there was a major change within NATO after 2014 and the Russian aggression towards Ukraine." Hauge said. "In a way, what we have been engaged in since then is to try to bring NATO back to Europe from its engagement in Afghanistan.
"For us it has been extremely important to underline the need to focus on the Trans-Atlantic links, both in the political sense but also very concretely when it comes to keeping the sea lines of communications open in a crisis or a conflict."
Having lived for many years among Russians, Hauge said he understands that they can feel threatened.
"We feel, of course, objectively that there is absolutely no reason why they should be." Hauge said. "The whole idea that 29 more or less democratic countries should come together to wage a war of aggression against Russia is ridiculous. That would never happen."
Still, Russians feel that they are under constant "hybrid attack" by the West, which has tried for many years to export its system of liberal democratic governance to Russia, Hauge said.
"This is perceived as a threat because they believe, rightly or wrongly, that this would undermine the whole Russian state."
A constantly growing alliance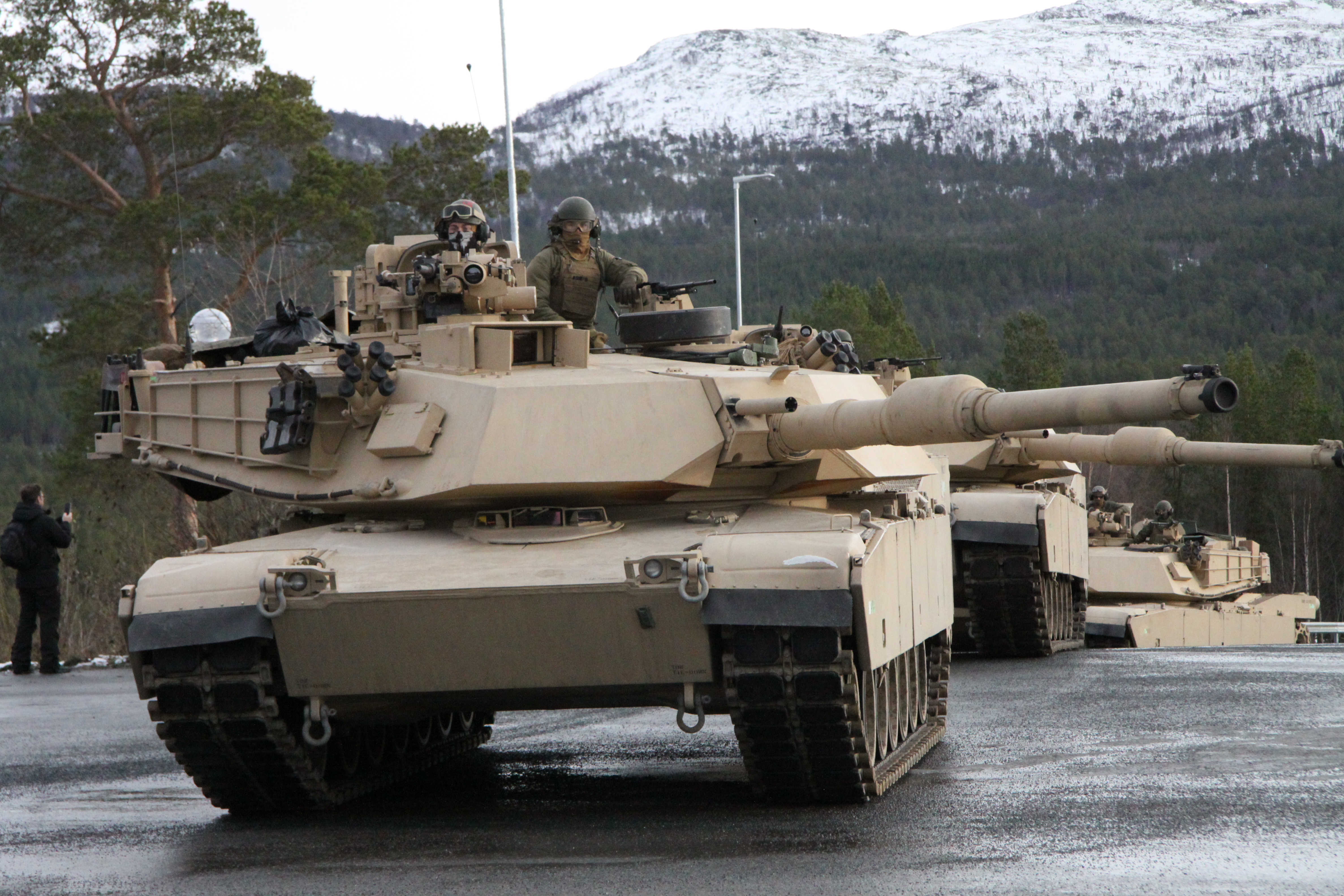 Glenn Diesen, a Norwegian expert on Russian foreign and security policy, said the real source of the friction between NATO and Russia is a fundamental disagreement over the nature of the alliance.
"I would argue that NATO has three functions." Diesen said in a Skype interview from Moscow, where he teaches at the Higher School of Economics, one of the leading Russian universities founded by prominent Russian market economy reformers in 1992.
"The first would be that it's a traditional defensive military alliance, which tends to deter any aggression against any of its members. This was its Cold War function. And then you have a second function, which is that NATO is also a community of values, a club for liberal democracies."
But the alliance also has a third function it doesn't publicize, Diesen said.
"The third function is that it's also an expansionist and offensive military alliance. We can't get around that fact because NATO does continuously expand and refuses to set any limitations. It demonstrated that it is willing to meddle in elections and even topple governments in order to continue to have governments that want to join NATO."
The Kremlin has a very different public interpretation of the events of 2014 in Ukraine. It argues that it was actions by the West – which actively sought to topple the democratically elected president, Viktor Yanukovych – that eventually forced Moscow to take over Crimea and intervene in eastern Ukraine, said Diesen.
Over the last two decades, NATO also has used force in violation of the UN Charter in the former Yugoslavia and effectively dismembered Serbia with its de facto annexation of Kosovo, Diesen said.
When Russia opposes NATO's expansion up to its borders, it's not because it's paranoid or it opposes liberal democracies, he added.
"You can't ignore that NATO has this third component, this very aggressive, expansionist element to it."
But NATO couldn't simply turn away former Soviet satellites who were seeking protection under its security umbrella, Hauge said.
"Should we have said to the Baltic countries that you are doomed to be in this kind of a grey zone between Russia and the West? That you have to check out with Moscow if it's OK to join NATO? Because that is the flip side of the medal for people who are criticizing NATO for expanding too much."
Increasingly, it's not just former Russian or Soviet Union satellites gravitating towards NATO. It's also neutral nations like Sweden and Finland, which sent a combined military force to take part in the exercise.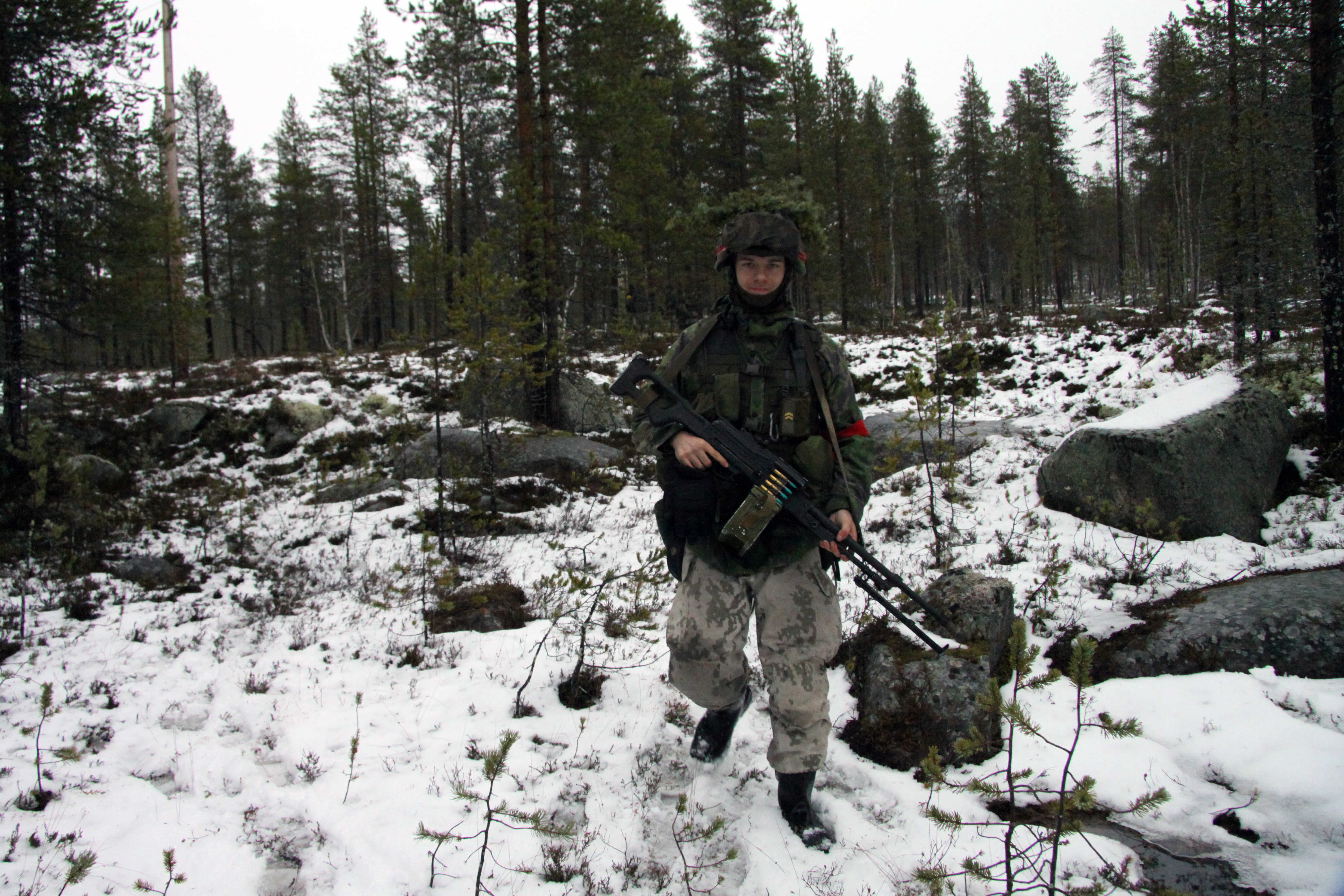 The participation of Sweden and Finland in Trident Juncture underlined how both countries are seeking closer defence cooperation with NATO despite their nominal neutrality, Hauge said.
"This would have been unthinkable during the Cold War. It is something that has developed at least to the level that it is today after 2014."
Cooperation in defence and security policy areas between the five Nordic countries – Denmark, Finland, Iceland, Norway, and Sweden – is much closer today than at any time during Cold War.
In 2009, they came together to create the Nordic Defence Cooperation (NORDEFCO), a cooperative arrangement on defence and military procurement that falls short of a formal military alliance. Sweden and Finland also have stepped up their cooperation with NATO.
"What we are all striving for, being it the Norwegians, Finns, Swedes or the Baltic states, is stability and predictability in a world which is in constant change." Hauge said.
Joining NATO would simply be the logical conclusion of a process that began after the Cold War, with Sweden and Finland gradually drawing closer to the West and joining the European Union, Hauge said.
Others argue that a NATO straddling Russia's northwestern frontier, from the Gulf of Finland to the Norwegian High North, would unnecessarily inflame tensions in the region and create a new strategic problem for the alliance, Hauge said.
Diesen said that while he understands very well why Sweden and Finland might feel nervous about this resurgent Russia, joining NATO would not solve their security dilemmas – and might even have the opposite effect, forcing Russia to deploy even larger forces to protect its border.
"The idea that, if you just put enough troops on Russia's border… they'll somehow take orders and do what they're told is a fantasy." Diesen said.
Embracing China
It also would push Russia further into China's embrace at a time when Beijing is displaying growing global ambitions, including an interest in the Arctic, said Diesen.
"China has its own format now for integrating the Eurasian continent, essentially taking over these geoeconomic levers of power." said Diesen, who touched on the Russia-China dynamic in his book, Russia's Geoeconomic Strategy for a Greater Eurasia. "This is done by taking over a lot of strategic industries, developing new transportation corridors, and constructing new financial instruments."
Russia has always tried to limit China's Arctic ambitions but its conflict with the West has forced the Kremlin to pivot to the East, he said.
"Now, you're actually seeing Russia accommodating China in the Arctic."
China has poured billions of dollars into the development of Russian liquefied natural gas production on the Yamal Peninsula and has been working with Moscow to develop trans-Arctic shipping along the Northern Sea Route off Russia's Arctic coastline.
In January of 2018, China officially released its Arctic White Paper. The policy document refers to China as a "near-Arctic state" and calls for the development of a so-called Polar Silk Road as part of its grandiose project Belt and Road Initiative (BRI) project, a $1 trillion plan to upgrade transport infrastructure between Asia and Europe being promoted by Beijing.
"Russia and China can assert a lot of geoeconomic influence over the Arctic by developing it as a transportation corridor outside U.S. control, which would be the only major waterway outside U.S. control." Diesen said, adding that region is also home to significant hydrocarbon and mineral resources.
For this strategy to work, however, Russia and China need partners in the West.
Mayor Rune Rafaelsen hopes his municipality of Sør-Varanger, in Norway's northernmost Finnmark region, will become a key transportation hub on this new Polar Silk Road connecting Russia and China to the rest of Europe.
Sitting in his second-storey office overlooking the main street in Kirkenes, the administrative centre of Sør-Varanger, Rafaelsen, a teacher turned politician, spoke about the peculiar political history of this region bordering Russia to the east and Finland to the south.
"When you come into Kirkenes, you're coming into a part of Norway that came very late into the kingdom." Rafaelsen said. "Actually, when Norway got our constitution in 1814, there was no one from this area to take part in that and the border between Norway and Russia was negotiated for 200 years and there was no solution."
It wasn't until after one of Napoleon's Grande Armée marshals, Jean-Baptiste Jules Bernadotte, was elected King of Sweden and later of Norway, founding the Bernadotte royal house of Sweden (and of Norway until 1905), that the border with Russia in Finnmark was settled in May 1826.
"This is Russia's oldest border and Norway's youngest border." Rafaelsen said. "But in Christiania, the capital of Norway before it was renamed Oslo, they didn't have a clue about what was going on here."
The Soviet Union lost control of its border region with Norway when it was forced to cede the so-called Petsamo corridor, with its ice-free harbour on the Arctic Ocean, to Finland under the terms of the 1920 Tartu Peace Treaty.
The area of Kirkenes and Petsamo, with its rich nickel mines, saw heavy fighting during the Second World War. Nazi Germany, which occupied Norway in 1940, used Kirkenes as a staging point for its offensive against the strategic Russian port of Murmansk in 1941.
On Oct. 25, 1944, the Red Army recaptured the area, liberated Kirkenes from the retreating Germans and restored the border as it was in 1826, Rafaelsen said. Nearly 2,900 Soviet soldiers died in the operation to liberate northern Norway.
Despite Norway joining NATO in 1948 and the Iron Curtain shuttering the 195.7 kilometre border between the two countries for nearly four decades, the people of Kirkenes never forgot their Soviet liberators. A monument to the "brave Soviet soldiers" still stands on a hill overlooking the harbour.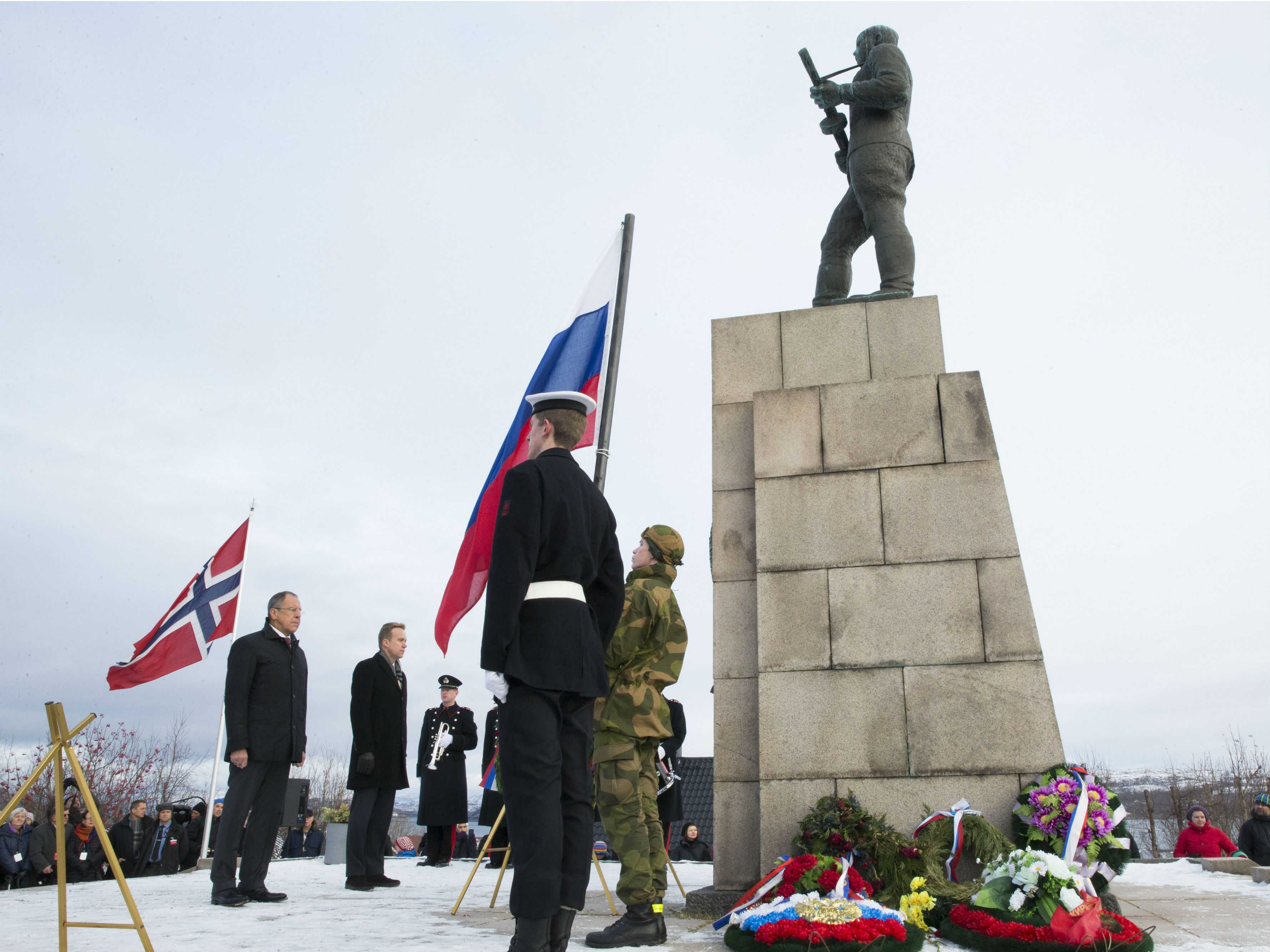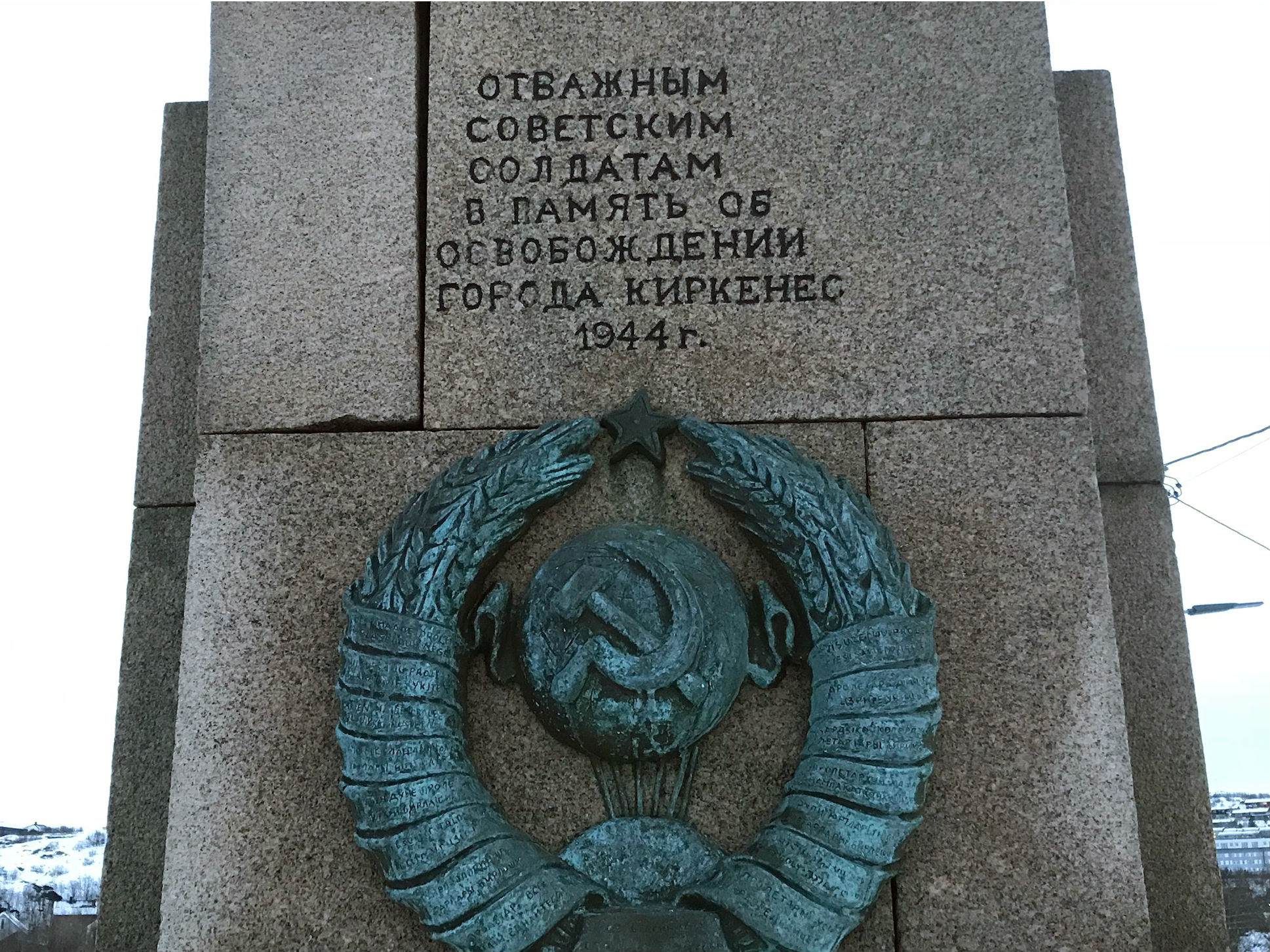 As a young lieutenant posted to the border guards' garrison in Kirkenes in the 1970s, Hauge said he was struck by the differences in attitudes between his troops – most of whom came from southern or central Norway – and the population of the city.
The border in Finnmark was one of two places where NATO came into a direct contact with the Soviet Union proper (the other being Turkey's border in the South Caucasus).
"We were expecting an attack any night. We were ready to go against the Red Army." Hauge said. "But if you walked downtown into Kirkenes itself, even during the Cold War, people were completely relaxed. It was a huge contrast between the guys up at the garrison and the population downtown."
Russians started coming back to Kirkenes in 1988 – to shop, not invade. As Soviet leader Mikhail Gorbachev's policy of perestroika and liberalization took hold in the USSR, Rafaelsen said, Russian consumers started crossing over to pick up Western goods.
Then came the fall of the Berlin Wall and by the end of 1991 the Soviet Union was no more. Norway became one of the first countries to recognize the Russian Federation.
And in 1993, Sweden, Finland, Norway, Denmark, Iceland, the Russian Federation, and the EU Commission signed the Kirkenes Declaration, creating the Barents Euro-Arctic Region (BEAR).
"This was the most important initiative for Norwegian foreign policy, except, of course, the membership in NATO." Rafaelsen said. "If Norway has any real challenges regarding foreign policy, it's connected to the North as we have a very complex neighbour called Russia."
That makes Kirkenes the geopolitical centre of Norway, Rafaelsen said.
"Nothing is happening in Oslo, there is no oil there, there is no fish there, there is no Russian border." Rafaelsen said.
The result of the Barents Cooperation agreement was a tremendous opening of the border regions of Norway, Russia and Finland to each other.
Now nearly 10 per cent of Kirkenes's population is either Russian or speaks Russian. Many of the signs on municipal buildings are in Norwegian and Russian.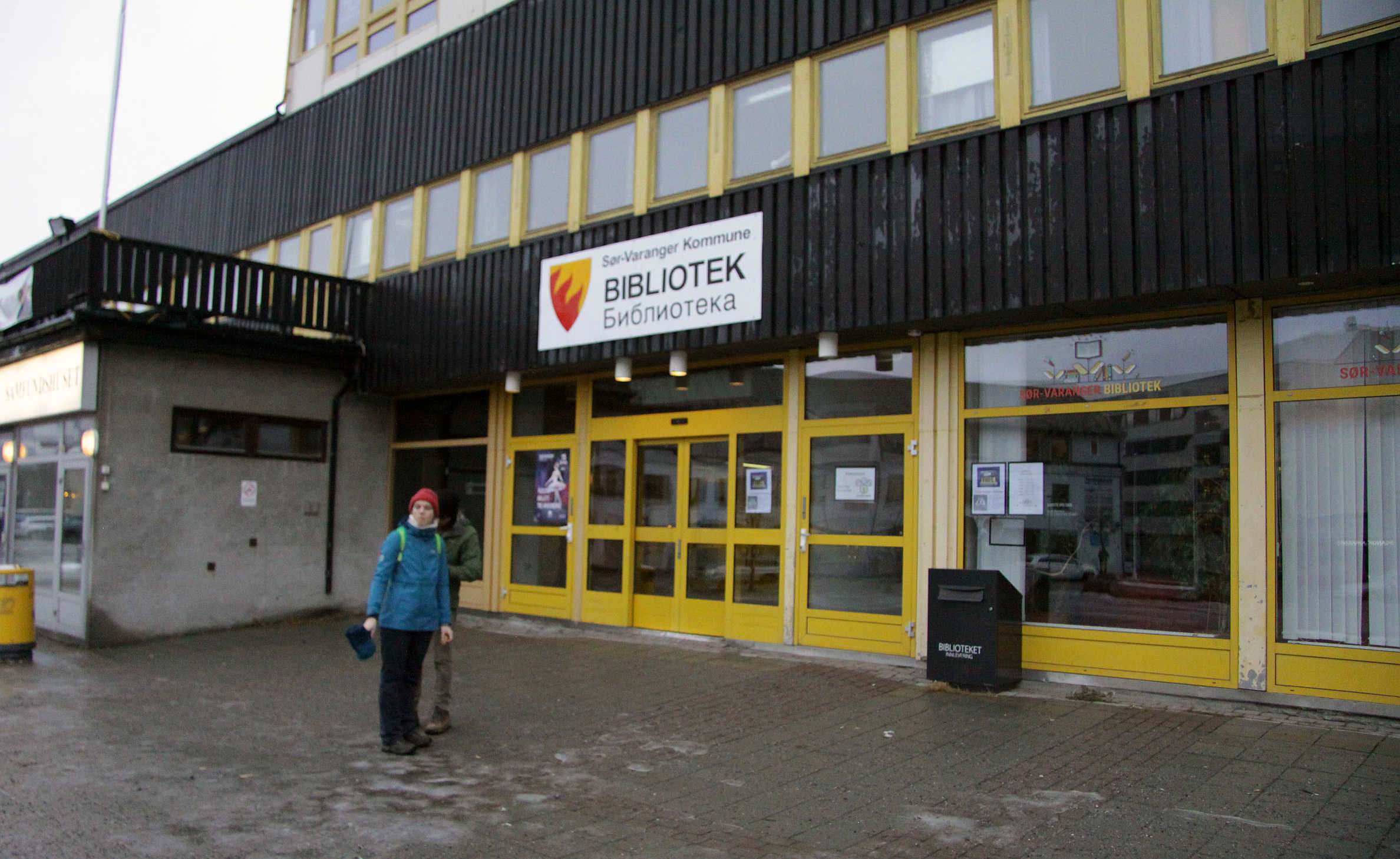 The two countries have a visa-free border regime for residents of the border regions, allowing the Russians to cross into Norway to shop for electronics and diapers, while many Norwegians drive to the nearby Russian town of Nikel to fill up their cars on cheap Russian gas.
"The whole idea of Barents Cooperation was to integrate Russia into the Western economy and of course we had lots of expectations regarding democratic development in Russia, which didn't happen." Rafaelsen said.
The cross-border political climate worsened after Norway joined other Western nations in imposing sanctions on Russia following its annexation of Crimea and its meddling in Eastern Ukraine in support of pro-Russia rebels.
"I can feel that people are more silent, we are not discussing as openly as we did before about what's going on in Russia." Rafaelsen said. "When I talk to my Russian friends, they are more quiet."
Moscow retaliated against Oslo by suspending exports of Norwegian fish and sea products to Russia.
In many other ways, Rafaelsen said, it's been business as usual.
Russian fishing trawlers still come to Kirkenes for repairs and maintenance work at the Kimek drydock, he said. About 70 per cent of Kimek's business comes from Russian clients. And Kirkenes is the main port for the Russian king crab fishing fleet.
"As a border town, Kirkenes has a lot of potential." Rafaelsen said. "As a small country we need to have good ties with Russia. There are lots of possibilities for the border but we have to be firm regarding our alliance with NATO."
The main obstacle to developing better cross-border relations with Russia is Russia  itself, Hauge said.
"The difficulties… non-governmental organizations, the civil society are struggling with in Russia today, (and) certain economic problems and the general attitude of the Russian government towards cooperation with foreigners – that is the main problem facing the growing cross-border cooperation." Hauge said. "Of course, the general East-West situation today does not help. It creates the framework within which we have to operate."
But Norway continues to maintain active contacts with Russia on the local, regional level and state-to-state levels, he said.
"There is hardly a week going by without some kind of meetings taking place in order to address issues of common interest." Hauge said.
Russia is unlikely to turn itself into a "social-democratic liberal paradise" like Norway, Sweden, or Denmark, Rafaelsen said – but that's no reason to give up hope entirely.
"We have to solve this problem regarding Ukraine and Crimea. It's not going to be easy." Rafaelsen said. "I think the best way is to involve Russia in our economic life.
"We have to stand up for our democratic values and I think sooner or later they will have to accept them. But the worst thing that could happen is that we close the border here. It's the wrong way to go."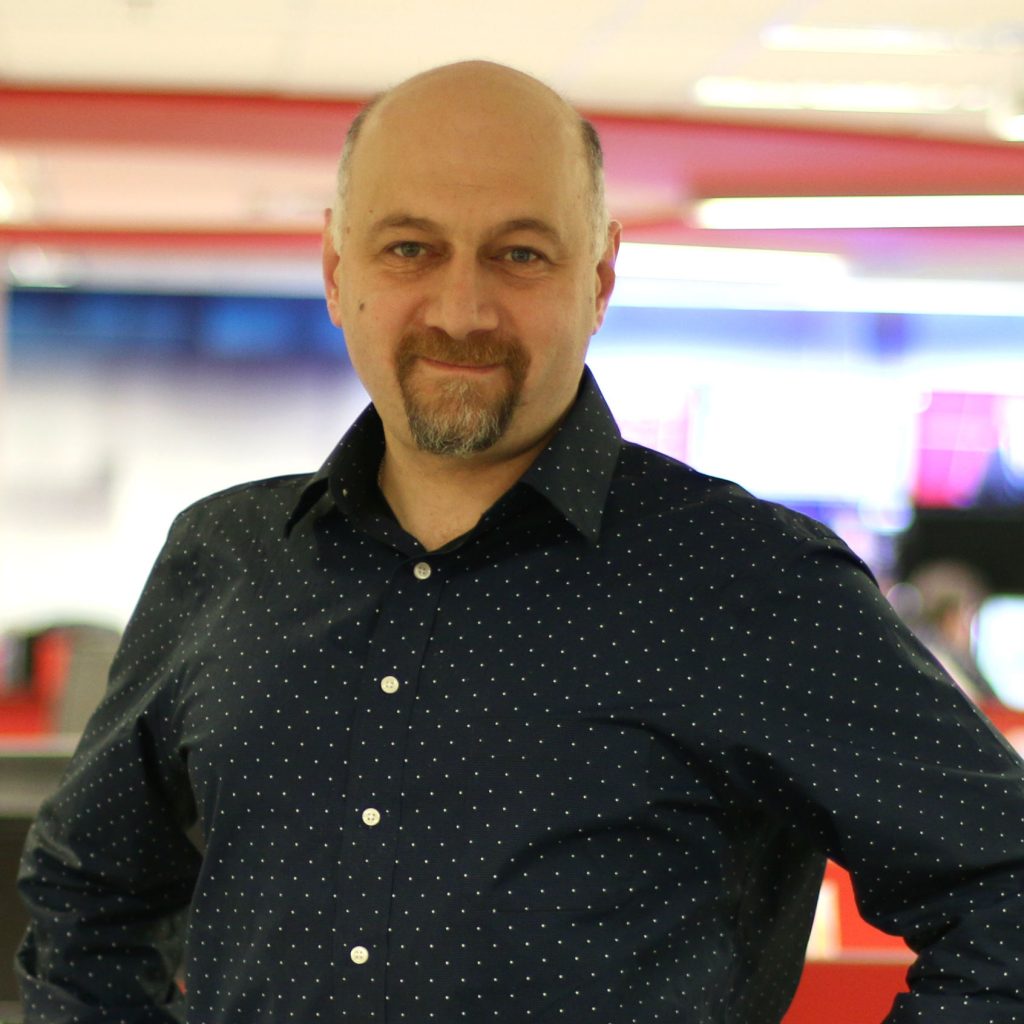 Levon Sevunts is an award-winning journalist based in Montreal, Canada. Born and raised in Armenia, Levon started his journalistic career in 1990, covering wars and civil strife in the Caucasus and Central Asia. He immigrated to Canada in 1992 where he learned English and continued to pursue his lifelong passion for journalism. His assignments have taken him from the streets of Montreal to the Canadian High Arctic, from the Hindu Kush mountains of Afghanistan to the killing fields of Darfur in the Sahara.
In 2010, Levon founded Radio Canada International's specialized Arctic news site, Eye on the Arctic. His short documentary Seal Ban – The Inuit Impact became 2011 Webby Awards Honoree in News and Politics Individual Episode Category.
Twitter: @levonsevunts
Email: levon.sevunts(at)radio-canada.ca