Soldiers gather in Yukon, Canada for military exercise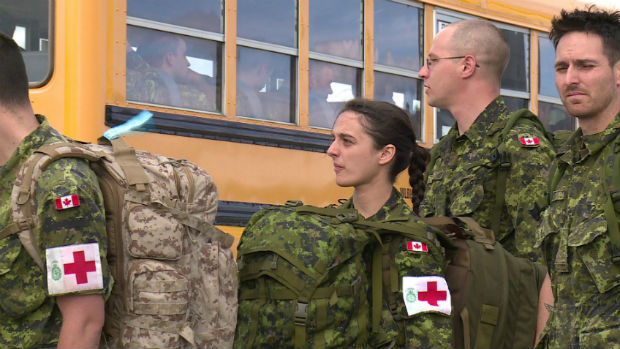 Operation Nanook kicked into high gear Sunday with the arrival of 200 soldiers from the eastern Canadian province of Quebec.
They're members of a specialized immediate reaction unit and would be among the first army units to arrive to help the territory cope with a major disaster like a forest fire.
Many of the Quebec members are from the Royal 22nd Regiment, also known as the Van Doos. For some, it's their first time visiting Canada's northwestern Yukon territory.
"I'm going to see the country, I'm going to see some different population and tradition," said Corporal Alexandre Papineau-Levesque.
Operation Nanook is an annual training exercise that's been held in the North since 2007. Last year the exercise was held in the Western Arctic and in Hudson Bay.
This year's training will take place from Aug. 2 to 23 in Whitehorse, Yukon's capital city, and three locations in the eastern Arctic territory of Nunavut.
The exercise in Whitehorse, from Aug. 4 to 9, will focus on wildfire management and will include a simulated evacuation of a Whitehorse subdivision, a bus crash and a biohazard exercise.
Another 150 troops arrive in Whitehorse Monday, adding onto the total of 500 military personnel who are coming to the territory for the exercise.
Operation Nanook shifts to Nunavut next week where three separate exercises are set for Cornwallis Island and Resolution Island, where Canadian Rangers will conduct a sovereignty patrol at King William Island.
The exercise is expected to cost $10 million, about $2.5 million of which will be spent in Whitehorse.
Governor General in Whitehorse
Canada's Governor General David Johnston and his wife Sharon will arrive in Whitehorse Monday afternoon to observe Operation Nanook.
Ranking military officers will greet their plane just after 5 p.m. at the Whitehorse airport.
On Tuesday, they'll observe an emergency preparedness exercise before heading to the Takhini River subdivision to visit a Habitat for Humanity building. Johnston will then travelling on to Haines Junction for to visit the Da Ku Cultural Centre.