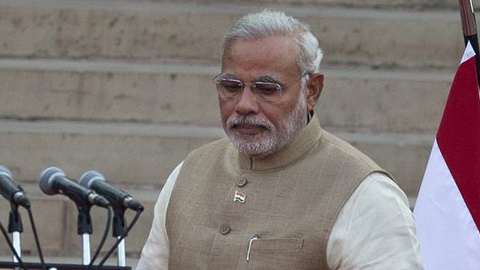 Monday's (May 26) swearing in of Narendra Modi as the new Prime Minister of India, not only raises questions about the future in India, but also in Canada, both in the Indian diaspora, and in the larger Canadian mainstream eager to do business with India.
For most Canadians, if they are aware of Modi, it's because he's presented in the media as "business friendly" and the architect of an economic boom in his home state of Gujrarat.
But Modi is also a controversial figure for some. From an early age he has been involved with Hindutva, a Hindu nationalism and ideology determined to make India a Hindu state. He has also been criticized for his role in a massive attack of killings of 1000 or more Muslims in Gujarat in 2002. Those riots and Modi's role have been denounced by Amnesty International and other human rights organizations.
Despite the controversy over Modi, his anti-Muslim remarks, and his exclusion (up until now) from visiting such countries as United States and Britain because of the 2002 riots, the Indo-Canadian business community and the Canadian government are optimistic about Canada-India relations, especially the longstanding attempt to have a free trade deal between the two countries.
RCI's Wojtek Gwiazda spoke with Dolores Chew a member of CERAS, a Montreal-based forum on South Asia, about Modi's election, about reaction within Canada's Indian diaspora, the effect of Modi's election on Canada-India relations, and her concern that trade issues might trump human rights issues in Canada. Originally from India, Chew is on the faculty of Montreal's Marianopolis College and teaches history and the humanities.