Canadian Hunter Rescued From Ice Pan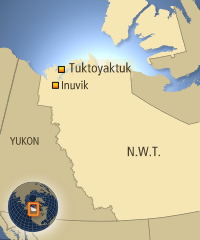 A hunter from Tuktoyaktuk, Northwest Territories, Canada, is recovering from a long ordeal in the Beaufort Sea late last week, when he became stranded on a drifting piece of ice for more than 14 hours.
Randall "Boogie" Pokiak and his daughter were driving their snowmobiles north of Tuktoyaktuk on Friday, when a piece of sea suddenly broke off and Pokiak started drifting away.
"He was up north hunting and the ice that he was on just broke loose from the main shore," Tuktoyaktuk RCMP Sgt. Calvin Roberts told CBC News on Tuesday.
"His 15-year-old daughter had to take their other snowmobile and travel by herself — actually, it was in a snowstorm — about 50 kilometres south of their location to the nearest camp," Roberts added.
Neither Pokiak nor his daughter carried a satellite phone or field radio at the time, so the girl drove to a cabin where someone had a cellphone, Roberts said.
She then had to travel for another 10 kilometres before she got a cellphone signal and called for help.
The RCMP initially planned to send out a plane, but Roberts said there was freezing rain in the area. Instead, the police dispatched a helicopter from nearby Inuvik, N.W.T.
Searchers later found Pokiak on the ice pan, which Roberts said was about 15 by nine metres in size.
Police say Pokiak was not injured from the 14-hour ordeal.