Canadian Northern Forsenics: Decomposition Study May Expand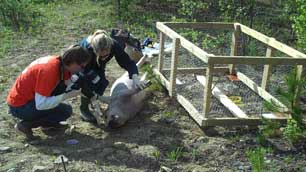 A Yukon-based forensic study on how carcasses decompose in Canada's North has the potential to expand into further research.
Yukon RCMP teamed up this summer with entomologists from the Ontario Institute of Technology in Oshawa, Ont., to observe how insects help animal carcasses decompose.
The entomologists travelled to Whitehorse and recorded insect activity on several animal carcasses that were left to decompose in a secluded area of the local dump.
The research project was conceived by Cpl. Jim Giczi, a Yukon RCMP forensic identification specialist, who said little is known about how bodies decompose in the North.
"When it comes to either a sudden death or a homicide investigation, it's another way for us to either corroborate evidence or to gather evidence — to help us, you know, locate bodies or where a body may have been," Giczi told CBC News.
Giczi said the RCMP eventually wants to produce a complete record of how some carcasses interact with the northern environment, from their death to their eventual absorption into the earth.
That information could better determine a person's time of death and provide other crucial details in homicide investigations, he said.
Research could continue underground
Two pig carcasses that were studied as part of this summer's research project have since been buried at the dump.
Giczi said he hopes to scan the area later with ground-penetrating radar to see what the carcasses look like underground. That kind of information could help in searches for shallow graves, he said.
"Studies like this have been done before, in particular in Ottawa. But of course, our bedrock is much closer to the surface than there, so there will be more artifacts present," Giczi said.
A separate study could look at how plant life is affected in the area where carcasses are buried, he added.
"With the carcasses underground, they do provide nutrients which also assist in locating shallow graves because you get … more plants in an area where a body has been buried," he said.
The RCMP says it plans to move forward with a larger partnership that will include the Ontario Institute of Technology, Yukon College, Simon Fraser University in B.C., the Canadian Police Research Centre and the Northern Research Institute.
In the meantime, the Oshawa entomologists are set to begin analyzing data from this summer's fieldwork. Their findings will be compiled into a paper that will be forwarded to the RCMP and other forensic authorities.