Canadian Arctic-Bound Mosque Makes Barge to Inuvik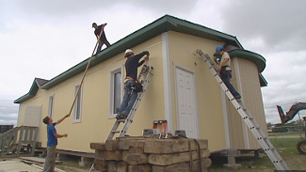 A mosque destined for the Arctic is inching closer to its final home in Inuvik, Northwest Territories, Canada., having made it on time to the final barge of the year.
The truck transporting the mosque arrived late Thursday in Hay River, N.W.T., where it is expected to be put on the barge around 12 p.m. MT Friday and floated down the Mackenzie River to Inuvik.
Built by a Manitoba-based Islamic charity, the mosque has been on a long and challenging road journey since leaving Winnipeg on Sept. 1.
Had the mosque missed Friday's barge, it would have had to wait until the river shipping season resumes in June.
"Thank God the mosque has arrived safely into Hay River. They arrived right before dark," Hussain Guisti, who heads the Zubaidah Tallab Foundation that raised the money to build and ship the structure, told CBC News late Thursday.
"The worst is over, thank God, and it should be on the barge around noon."
4,000-kilometre journey
By the time the mosque reaches Inuvik, it will have travelled 4,000 kilometres by truck and barge.
The mosque's road trip from Winnipeg was on schedule until it hit a weekend roadblock in Edmonton, with 1,000 kilometres of highway travelling still to go.
The Alberta government does not allow oversized loads on highways on Sundays or statutory holidays, so it had to wait until Tuesday morning to get back on the road.
But Guisti said it was the final part of the drive from Edmonton to Hay River that was the most challenging.
"All we needed was 400 kilometres and it took them around 13 hours because of construction," he said.
"There are no back roads to take. There is only that highway to Hay River."
World's northernmost mosque
Guisti said the mosque was supposed to be in Hay River on Wednesday, but the barge operators agreed to wait a couple of extra days.
Once the mosque arrives in Inuvik, it will become the world's northernmost mosque.
The Zubaidah Tallab Foundation decided to build the mosque to help fellow Muslims in Inuvik, located just north of the Arctic Circle.
For the past 10 years, Inuvik's Muslims have prayed in a converted one-bedroom trailer.
Dozens of those families currently send their children to live elsewhere in Canada because there is no mosque or Islamic education centre in town.
They have tried raising money for a mosque but the Islamic community there is just too small — only about 100 members.
It cost about $300,000 cost to build the mosque in Winnipeg and ship it north. That has saved Inuvik's Islamic community tens of thousands of dollars in labour and material costs, according to organizers.