One of Canada's Northernmost Cinema's is Going Digital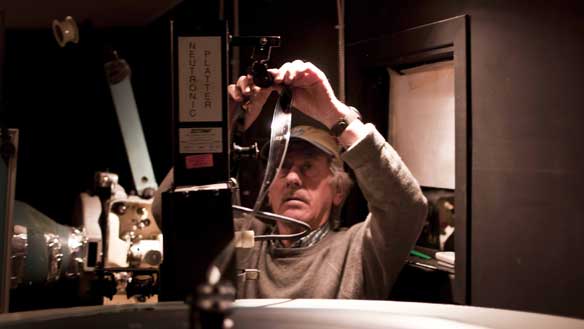 Iqaluit's movie theatre is about to replace its 1950s-era film projector with a digital equivalent, bringing one of Canada's northernmost cinemas into the 21st century.
Audiences watching first-run films at the Astro Theatre have had to hear the mechanical whirring and clicking sounds of the old film projector, which owner Bryan Pearson has been operating for the past 15 years.
"It really takes a lot of work to keep this system up and running," Pearson told CBC News.
But he said the old projector will soon be replaced by a $230,000 digital projector that will, among other things, bring 3D movies to the Nunavut capital for the first time.
"There'll be no noise, of course, because the whole thing runs silently," Pearson said.
No more film canisters
The Astro Theatre's current projector has been showing the latest Hollywood blockbusters on film for at least the past 15 years. (Chris Harbord/CBC)The 21st-century technology will fix one of the biggest hurdles that the Astro Theatre has faced: having to get movies flown from southern Canada up to Baffin Island in large, heavy metal film canisters.
"A five-reel film … weighs 80 pounds," Pearson said. "We spend about $45,000 a year on transportation."
When the digital projector arrives in Iqaluit in a few weeks, Pearson said the latest blockbusters will be shipped in advance on a computer hard drive so small that it can fit into a pocket.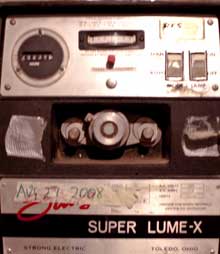 The move towards digital could bring Pearson closer to his dream of hosting an Arctic film festival in Iqaluit.
Having such a festival, Pearson said, has been "something I've thought about and people have asked about for years. But you know, flying films all over the bloody world — you can forget that.
"With the simple disk — the hard drive — it will be so much easier to do that," he said.
As well, Pearson said he may even start showing live simulcasts of Metropolitan Opera performances from New York.
As for the 1950s-era film projector, which continues to work despite its age, Pearson was unsentimental about parting with it.
"I'll be happy to take it to the dump, because that's where it will probably end up," he said with a chuckle.