Arctic Snow-Kiting Trek Makes Guinness Record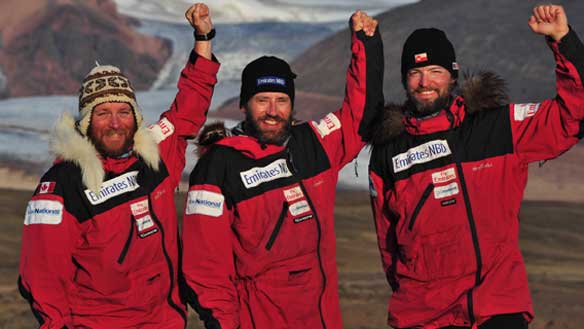 Two Canadian adventurers have set a Guinness World Record for kite-skiing across Greenland's massive ice cap last year.
Derek Crowe and Devon McDiarmid of Whitehorse, Yukon, along with British team leader Adrian Hayes, recently found out their expedition has been named the world's longest Arctic unsupported snow-kiting expedition.
"It gives you a little charge, especially in November when we all need a little bit of a lift," Crowe told CBC News from Whitehorse.
The Guinness World Records' website says the trio made a 3,120-kilometre "straight-line vertical crossing" of the Greenland ice cap during their 67-day journey, which concluded on July 25, 2009.
Crowe, McDiarmid and Hayes used wind-powered kites to ski from Greenland's southern Atlantic coast all the way to the northern Arctic coast, then back across to the west coast.
Much of the expedition involved crossing Greenland's inland ice cap, which covers 85 per cent of the country.
Crowe said recent attempts by others to duplicate their trek have come up at least 1,000 kilometres short.
"There's a very good reason that that hasn't been done before, because we were going uphill and upwind, and it was awful," he said.
"I still have the pain in my hips from the endless tacking that we did just back and forth, so I don't know how you'd break the record."
Still, 18 months after the expedition wrapped up, Crowe said he has "snapshots in my mind of flying across powdery snow, catching 20 feet of air and landing in a big puff of smoke, and just watching your buddies next to you just flying along.
"Thankfully, the really hard times have sort of faded away and now you get to relive all the glory stuff," he added.
McDiarmid, the other Yukoner on the record-setting trek, is currently in Antarctica and getting ready for his sixth ski expedition to the South Pole, Crowe said.