Nunavut's Qamanirjuaq Caribou Herd Numbers Still Strong: Biologists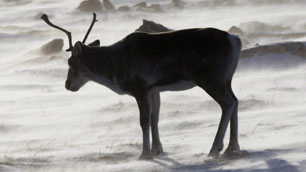 The Qamanirjuaq caribou herd in central Nunavut continues to have strong numbers, despite population declines in other major caribou herds in Canada's North.
The Qamanirjuaq herd's population has remained stable at around 348,000 animals, according to Nunavut government biologists who this week released results from their 2008 comprehensive survey of the barren-land caribou herd.
"Our conclusion is the herd is doing fine," biologist Mitch Campbell told CBC News. "It has probably declined since 1994, but not seriously.
"For some reason — we're trying to look at some of the mechanisms — the Qamanirjuaq herd does not seem to be falling into the same problems that the western herds have been falling into over the last few years."
The Qamanirjuaq caribou herd's range straddles the Nunavut-Manitoba border and runs through Nunavut's Kivalliq region. The range extends into parts of southeastern Northwest Territories and northeastern Saskatchewan, according to the Beverly and Qamanirjuaq Caribou Management Board.
To the west of the Qamanirjuaq herd, the Bathurst caribou herd's population has plummeted to about 31,900 animals in 2009 from 128,000 animals in 2006, according to biologists in the Northwest Territories.
Aerial surveys
The 2008 survey is the first comprehensive count of the Qamanirjuaq herd since 1994.
The 1994 count pegged the herd's population at around 496,000, but Campbell said different surveying methods were used at that time compared to the latest count.
In 2008, Campbell and other government biologists took aerial photographs of the herd's breeding grounds, then counted the female animals. Biologists also conducted aerial counts of all animals in the herd during the fall rutting season.
Campbell said annual followup counts of newborn caribou since 2008 suggest the Qamanirjuaq herd continues to do well.
As for why that herd has remained stable, Campbell said its range may be richer in foods, and there may be fewer predators.
"We know that land use is not as intensive on the Qamanirjuaq range as it is on these other ranges, and that's a very obvious one," Campbell added.
Relief in communities
The latest population figures for the Qamanirjuaq herd come as a relief to Inuit hunters in Nunavut's Kivalliq region who rely on caribou for food and clothing.
Richard Aksawnee, president of the hunters and trappers association in Baker Lake, Nunavut, said he took two caribou during a hunting trip last Sunday.
"We're still seeing a whole bunch of caribou migrating through Baker Lake," he said.
Aksawnee said the Qamanirjuaq herd has been generally dependable through the years for feeding families and communities. However, he said community members need to make sure the caribou continue to prosper.
For example, public education campaigns help ensure local youth do not carelessly allow caribou meat to spoil, Aksawnee said.
"The elders and the youth, they're working together today," he said.