Town in Northern Sweden Rallies Youth Against Climate Change
Listen: {play}/media/jukebox/rs-youthclimate.MP3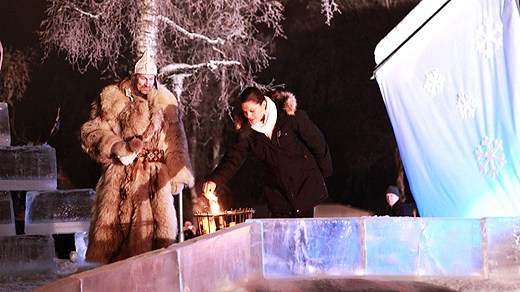 The failure of global climate change negotiations, first in Kyoto and more recently in Copenhagen, has led many towns and cities around the world to set their own ambitious targets for reducing greenhouse gasses and saving energy.
Although better known for its 400 year old winter market – the largest gathering of indigenous Sami people from across the Nordic countries– the town of Jokkmokk, just a few miles north of the Arctic Circle, in northern Sweden, is also hosting an international conference on climate change this week, mainly aimed at young people.
The biggest Nordic winter festival kicked off yesterday in the tiny Lappland town of Jokkmokk – just north of the Arctic Circle, It's also the most important gathering of indigenous Sami people in northern Europe, culminating on Sunday with Sami national day. And this year, in addition to the traditional Sami market – with its bustling trade in reindeer meat and handicrafts – the town is also hosting an international conference on climate change in the Arctic.
The district was the first in northern Sweden to sign up to EU targets for 20 percent cuts in greenhouse emissions and a 20 percent increase in energy efficiency and renewable energy within the next decade.
Jokkmokk district already provides 16 per cent of Sweden's hydroelectric power or close to 7 percent of the country's total electricity production
"In this Arctic and sub-Arctic region we will have to face temperature rises up to 4 to 6 degrees Celsius compared to pre industrial times," Jokkmokk Council's environmental strategist, Wolfgang Mehl, told Radio Sweden.
"This will cause very big changes for business, tourism, agriculture and the traditional lifestyle of the Sami people. Our politicians are well aware of this."
Helena Omma, is head of the Sami youth organisation, Saminourra, and works on a sustainable reindeer husbandry project. She says warmer winters pose a major threat to the reindeer meat industry.
"We'll get more thawing and freezing periods – that leaves layers of ice in the snow that makes it difficult for the reindeer to dig through to get food. That can cause them to starve," she said.
"One adapting strategy used to be to let the animals spread wider and eat tree lichen on spruce and pine trees but now with more intensive forestry there's less and less lichen around."
Meteorologist and climate change expert, Pär Holmgren, told a packed room, of mainly students and young environmental activists, that although the situation in the Arctic has never been so serious – with unprecedented levels of melting ice – there is an opportunity for change in the coming decades.
"This is a very slow process and all the climate change scenarios work on the presumption that mankind will not do anything about it," he said.
"And this generation of young people growing up is the first to know that there is a climate change problem. Just remember, we're not borrowing resources from the future – we're stealing your future."