Nunavut, Canada Minister Dismisses Researcher's RSV Concerns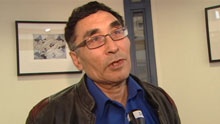 Nunavut's health minister has brushed off concerns raised by an infectious disease expert about a possible outbreak of respiratory syncytial virus (RSV) in the territory.
Dr. Anna Banerji, a pediatrics professor at the University of Toronto, is accusing the Nunavut government of "covering up" information that could identify a recent wave of flu-like illnesses as an RSV epidemic.
In a news article published Wednesday in the Canadian Medical Association Journal, Banerji said territorial health officials are not releasing RSV-related data.
Her remarks came as Nunavut's politicians are facing more questions about the deaths of two infants in Igloolik in the past month.
"I would find it very surprising if the recent deaths are not related to RSV," Banerji stated in the CMAJ article.
'Irresponsible' claim
But Health Minister Tagak Curley took issue with Banerji's claims, noting that the professor has disagreed with Nunavut health officials before on the topic of RSV.
"That's one doctor's opinion and she's only one doctor, and she [has] had a number of disagreements with the department," Curley told CBC News in Iqaluit.
"Our medical staff will not cover up anything, and as a minister I will not tolerate that," he added.
"I have credibility, I have integrity that I must deal with, and for her to indicate that we are covering up is irresponsible."
In 2009, a study by Banerji found that almost one-third of infants in the territory are hospitalized with lower respiratory tract infections, which are most often caused by RSV.
Banerji has since been calling on Nunavut health officials to give all Inuit infants palivizumab, a vaccine that is known to reduce RSV infections.
The vaccine currently is offered only to premature babies and those with chronic lung or heart problems.
In the CMAJ article, Nunavut chief medical officer Dr. Isaac Sobol said the territory's decision not to give palivizumab to all Inuit infants is based on an "internal review."
But Banerji said that decision ignores a recommendation from the Canadian Paediatric Society that all infants in northern and remote communities be vaccinated with palivizumab.
Mother awaits autopsy results
The mother of one of the deceased Igloolik infants said she is still waiting for answers about the death of her nine-month-old daughter.
Lizzie Qulitalik said she had taken her daughter, who had flu-like symptoms, to the local health centre three times in the two weeks preceding her death.
Qulitalik said nurses sent her daughter home with instructions to take Tylenol and use an oxygen machine. The infant died at home on Feb. 19.
The baby's body has been sent out for an autopsy, but Qulitalik said she still has not heard anything from that autopsy.
Officials with the territorial coroner's office say the autopsy results have not come in yet.